UPDATE: Who Is Andy Serkis Playing In The Force Awakens?
You must have been off-planet or living under the proverbial rock NOT to have seen or at least heard about the new The Force Awakens teaser trailer that dropped on the world on "Black Friday" . . . hmm, "Black Friday" may prove prescient, methinks. Well, anyway, everyone and their mothers worth their salt in the Star Wars Blogosphere have offered up play-by-play descriptions, explanations, and/or analysis of said trailer. But now we delve a little deeper into the mystery of the "Voice Over" after you jump to hyperspace!
The voice is Andy Serkis! That was confirmed on ABC's "Good Morning America." Mystery solved, so you can stop reading now. OR can you? See there was definitely a spectre of doubt hanging over the trailer as to just who provided that creepy voice in the tease. I, along with many millions of people around the world, erroneously believed it to be that of Benedict Cumberbatch. To briefly explain — Film Chronicles launched a rumor back a ways that stated that Cumberbatch was signed on to play a Sith villain and that he would have a small, but pivotal, role in Episode VII that would expand as the Sequel Trilogy continued. Then there was the spring-long, cheeky "I know something you don't know" denials that convinced people that Benedict was trolling us in similar fashion to his [JJ Abrams induced] Star Trek: Into Darkness "I am not Kahn" denials. We didn't really believe Benedict, or anyone else for that matter, but at some point Cumberbatch re-confirmed via a Q & A with The Iris on Twitter:
I would've liked a part in JJ's new Star Wars but it won't happen sadly

— The Iris (@TheIrisAU) April 12, 2014
This all matters because Andy Serkis — famed for his mo-cap work on Lord of the Rings, The Hobbit, Kong and Apes — has never sounded so cold and sinister before, at least this is my estimation. HitFix concurs:
"Look, I understand why there was some debate about the voice-over today. We've never really heard that voice come out of Serkis before. By now, though, one of the things we know about him is that he vanishes into roles, and it sounds like he's going to be doing something very different again this time."
His voice in TFA trailer is downright bassy, with more than a hint of malice as he simply recites a few simple phrases:
"There has been an awakening . . . Have you felt it? The dark side . . . and the light . . ."
It's creepy. It's haunting. It's daunting AND it's enough for you to believe he is playing a villain. I do. And here are some things we can now state for sure as FACT. According nydailynews.com, Serkis didn't even know that his dialogue was going to be used for the teaser trailer:
"(Director J.J. Abrams) said to me, 'Andy, just so you know you're all over the trailer, your voice is all over the trailer," says Serkis, "And I went, 'Oh, that's great, that's fantastic,' but I had no idea it was going to cause such consternation and intrigue."
Clearly this dialogue was NOT recorded just for the trailer as some fans around the web have suspected. This is dialogue from the movie, which means dialogue spoken by Serkis' character, whomever that may be as Serkis confirms in the same article:
Serkis shows a Jedi master's skill at deflecting potential spoiler questions about his role in movie that doesn't hit our galaxy until Dec. 18, 2015 — but did tease that the raspy voice was very much "emotionally rooted" in his top-secret character.
"Raspy" and "emotionally rooted" almost assuredly screams Top Secret "Sith" [read dark side practitioner] to me. Now, we suspect, according to a rumor reported by JediNews, that Serkis is playing multiple characters in the film. That isn't the question here. However, a slew of others have awakened. Have you felt it? Could it be that Serkis is playing the role that Benedict Cumberbatch was rumored to be "signed-on" for? Could the narrating character be the one that is brief, but pivotal in Episode VII only to expand in Episodes VIII & IX? And who might this character be?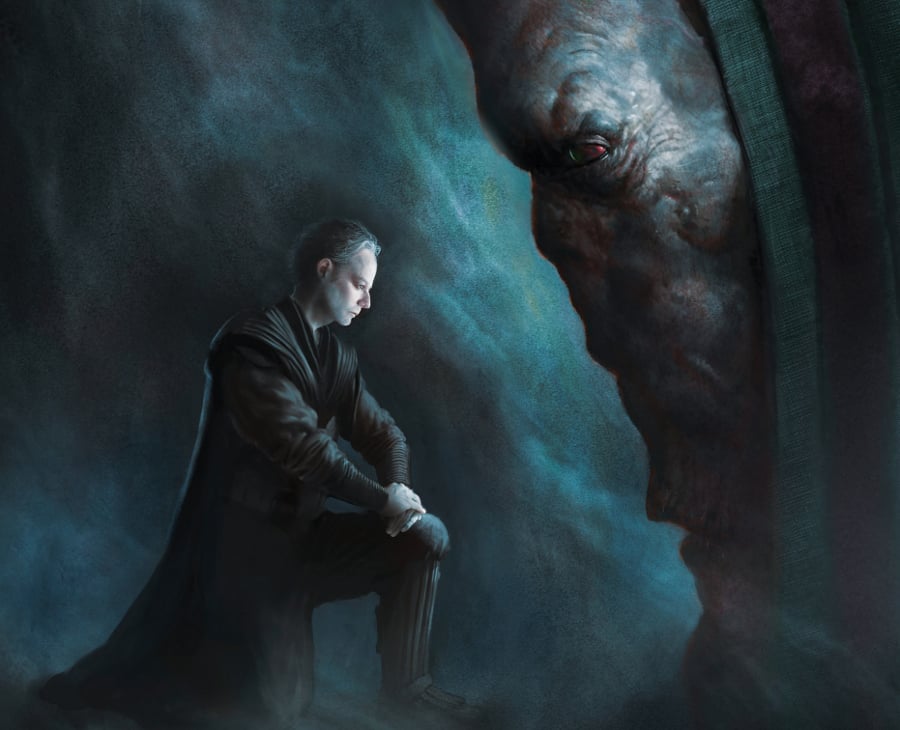 In order for us to answer some of these questions let's look at all the "evidence." Keep in mind this is all based on "inside sources" as well as rumor and conjecture, so take this with a heart dosage of salt as well as the caveat "buyer beware." RECALL that back on May 6th, 2014 Harry Knowles of Ain't It Cool News posted a brief report about the Episode VII subtitle, which he reported from an inside source was "The Ancient Fear." Obviously, this is wrong. However, in the same article he stated the following:
He also stated that "it refers to Max Von Sydow's villain who makes Pazuzu look like a pussy!"
We don't know that Max Von Sydow is playing the main villain. This could be misinformation to throw us off the real actor. However, it is safe to assume that describing the villain who can make "Pazuzu look like a pussy" is true as Disney would surely want a superior villain that could rival the likes of the most iconic villain ever — Darth Vader!   "What else ya got?" you may be asking. Well, I offer for your inspection another bit of "evidence" this time from Star Wars Underworld. According to their "sources" this is how Andy Serkis figures in the film. WARNING POTENTIALLY SPOILERIFIC INFO AHEAD!
1- Andy Serkis' character basically looks like an old man, zombie like, almost risen from the dead.   2-  He is being referred to as "Uber", similarly to how Ridley is being called Kira and Nyong'o is being called Rose.   3- "Uber" has communication with Adam Driver's Sith character, and a character played by Domhnall Gleeson. Serkis potentially is the Master pulling the strings from behind the scenes.   4- All three characters are part of the new "Empire" which Gwendoline Christie's character is also a part of. She is confirmed to be playing a Chrome Trooper.
These are my thoughts based on this Star Wars Underworld info:   First, we have a character that looks like he is a zombie risen from the dead = RESURRECTION. When I saw the teaser trailer for the first time I thought, "That is Benedict Cumberbatch and he is playing Darth Plagueis!" Well, I was wrong about ol' BC but I've been a proponent of the Darth Plagueis theory and the teaser, as well as this new information, seems to have bolstered that potential. In fact it is a popular theory that has many proponents as our very first guest writer "Joe12Hawk" wrote the follow-up "Darth Plagueis Revisited." Without re-writing the whole theory here, "The tragedy of Darth Plagueis the Wise" suggests that Plagueis found a way to live forever, immortality, or at the very least a way to be resurrected as we of course learned from Revenge of the Sith:
"Darth Plagueis was a Dark Lord of the Sith so powerful and so wise, he could use the Force to influence the midi-chlorians to create life. He had such a knowledge of the dark side, he could even keep the ones he cared about from dying." 
Second, IF Serkis' character is being code named "Uber" then that suggests that he is THE baddie of all baddies. This is what the word "uber" means according to Merriam-Webster:
über-

prefix ˈü-bər, ˈue-bər —used to indicate that someone is a great or extreme example of a particular kind of person : better, larger, or greater than
In every way, shape and form this simple word suggests that this main character, most likely main villain, is greater than anything we've seen before. This tiny, four letter word potentially describes a villain that "cheated death," a main villain that could make "Pazuzu look like a pussy."
Third, IF "Uber" is Plagueis it makes perfect sense that he would again be controlling his puppets — in this case Adam Driver's "Darth Revan"-looking character — pulling the strings from behind the curtain as he had been all along while Emperor Sheev Palpatine (a.k.a "Darth Sidious") mistakenly believed he was the true puppet master, building the "first Galactic Empire!"   Which leads to the last point — Darth Plagueis truly would have been the wisest, fiercest, and baddest ass in the entire galaxy if he conveniently disappeared behind the perceived curtains of death to allow his minions to work his will — do the heavy lifting — while he waited to reap the rewards.  "A new Empire?" Perhaps a "Sith Empire?" After all, Darth Plagueis desired to and, in actuality, destroyed Darth Bane's "Rule of Two." This was covered in the "Darth Plagueis" novel by James Luceno (who also wrote the new canon novel "Tarkin") and should Plagueis make a triumphant return in Episode VII will surely become canon once more. Joe12Hawk, who has read the "Tarkin" novel, even informed me of the following quote which expounds the Plagueis/Sidious relationship:
"Darth Plagueis had once remarked that 'the Force can strike back.'"
The Force Strikes Back! Could that be a subtitle someday? We'll find out. But that thought seems to leave little doubt that Anakin Skywalker, "The Chosen One" of prophecy, was created by the will of the Force in response to Darth Plagueis. Therfore it would be reasonable to believe that the Skywalker lineage — perhaps in "Kira Solo" — would be left to fight the Plagueis plague.
BUT before we allow the fans to digest and debate all these new ideas we would be remiss if we did not mention some interesting plot similarities that were brought to light, through The Cantina forum, by a member called "Jedi Master Kalu." Kalu brought to our attention an old video game called "Jedi Knight: Jedi Academy." He also spelled-out the plot for us:
Thousands of years after the Sith Empire, during the New Republic era, the Dark Jedi Tavion Axmis (Driver/Christie?) made an attempt to bring Marka Ragnos (Serkis?) back from death, using an old Sith artifact, known as the Scepter of Ragnos in order to siphon the Force from many Force Nexuses all spread across the galaxy, empowering the Disciples of Ragnos. Tavion's goal to resurrect Ragnos almost succeeded, but her operation was overthrown by the Jedi Jaden Korr (Boyega/Ridley?), defeating Ragnos' spirit, and enclosing him in his tomb once again.
This may not be the exact plot, however, IF a plotline were used in which a Master Sith (a la Plagueis) were to be resurrected then this seems to be a very plausible way to do it. We know you have opinions one way or the other — or even a little nerd rage — so be sure to share them with us in the comments section or join The Cantina community and get in on the conversation that is sure to last for years to come!
UPDATE!
A couple of interesting tidbits came to our attention in the last few days that seem to support the "Andy Serkis is playing Darth Plagueis theory."   1- On Wednesday, Viral Hide posted an article about a recent conversation Andy Serkis gave to Entertainment Weekly which "debunked" some rumors and speculation revolving around him. Fair enough. However, we've tracked down another article, thanks to "Joe12Hawk," this time from dailymail.uk also from Wednesday, which expounds on the EW info. Expounds quite a bit, actually, in a way that supports the theory:
Andy would also not reveal whether he would be seen on screen or through performance capture.   'I can't say a single thing about that. I'm sorry!' he laughed. 'These things will all come out in the fullness of time, I promise.'   Then there's the character himself. Judging from the voice, he sounds weary and wise. Has Andy's alter ego been involved in some harsh action in the galaxy over the years?    'I have to be very careful about how I answer these questions,' he said cagily. 'The character… he's been through some stuff.'
Just the vagueness about whether or not he's playing a mo-cap character is intriguing enough, given the fact that his Imaginarium is handling the mo-cap work. What's REALLY intriguing here is that Serkis describes his character as "been through some stuff." This suggests that this character is old, weary, perhaps war-weary, and, as the article states, wise. "Did you ever hear the tragedy of Darth Plagueis, the wise?" Darth Plagueis is dead . . . or so we think. And if he somehow, some way cheated death and has been resurrected I believe that qualifies as "some stuff" in spades!
Then Serkis went on to say the following:
'I'm not leading a band of gymnasts or acrobats,' he laughed, adding that he had not heard the rumour that the title of the movie would be The Ancient Fear. 'No, no, it's always just been called Episode VII to this point,' he revealed. 'Then I knew it was called The Force Awakens. It's very pertinent.'
The Force Awakens perhaps refers, as a double entendre, to the Force awakening in the new generation of users, both Jedi and "Sith," but also as in the Force (the enemy entity) awakening after a long slumber. In both cases the title is deemed pertinent. But, if these subtle hints are enough, there was an Official tidbit that also supports this conjecture.
2- On Wednesday the Official Twitter account for Star Wars Tweeted the following:
#WisdomWednesday – "A fallen enemy may rise again, but the reconciled one is truly vanquished." #CloneWars 4.21

— Star Wars (@starwars) December 17, 2014
Astute readers will notice that this is a quote from The Clone Wars, but the timing seems to be a little bit too coincidental to the Serkis interviews hitting the net.