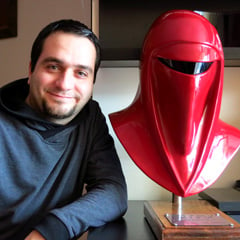 Val Trichkov (Viral Hide)
Val is the owner and creator of SWNN (est. October 30, 2012). He was first introduced to Star Wars back in 1986 watching Return of the Jedi in a theatеr so fully packed that he had to bring his own chair from home, since they sold more tickets than the available seats. This is an experience he will never forget. Ever since then Star Wars became an important part of his life. Val is married with one kid and works as digital compositor in the VFX studio Cinemotion.
Location: Sofia, Bulgaria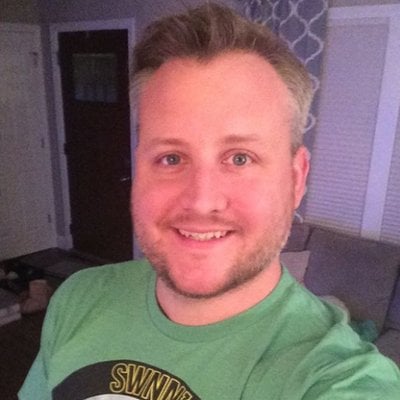 John Hoey
John Hoey is the lead editor and senior writer for SWNN. He has loved Star Wars since the first time he watched The Empire Strikes Back with his Dad. John writes articles and reports weekly for the site, oversees content alongside EIC/owner Val Trichkov, and helps with editing, proofreading, and social media. John is also the host of our official podcast The Resistance Broadcast. He also hosts a nostalgia movie podcast called Just Like The Movies. You can find him on Twitter @JohnnyHoey. 
Location: CT, USA
Kyle Larson (Kyle)
Kyle enjoys everything Star Wars, especially when it comes to comics. He is a writer, coffee roaster, and avid runner living in Portland, Oregon. His science fiction and fantasy novels can be found here.
Location: Portland, Oregon, USA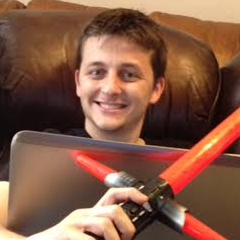 R. Grant Davis (Pomojema)
Grant has been a fan of Star Wars for as long as he can remember, having seen every movie on the big screen. When he's not hard at work with his college studies, he keeps himself busy by reporting on all kinds of Star Wars news for SWNN and general movie news on the sister site, Movie News Net. He served as a frequent commentator on SWNN's The Resistance Broadcast.
Location: Texas, USA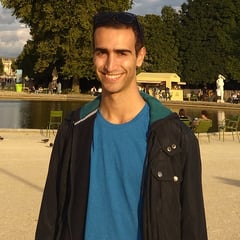 Miguel Fernández
Miguel has been writing for SWNN since the beginning of the COVID-19 pandemic, which is probably the only good thing that came out of that for him. He is a massive Star Wars fan, especially the movies. As one of the younger members of the team, he grew up with the prequel trilogy, though he vastly prefers the original trilogy and the Disney-era movies. He is a fan of the sequel trilogy, especially The Last Jedi, which is his favorite theatrical experience, ever. He loves traveling, spending time with his friends and is a huge movie fan. He also writes for SWNN's sister site, Movie News Net. His favorite movie of all time is Lord of the Rings, which had a similar impact on him than the Star Wars movies did on most people that grew up with the original trilogy. When he is not writing for either site, you will probably find him talking about movies anyway, or complaining about how cold it is outside. He is currently a PhD student in Particle Physics, as a member of the LHCb experiment at CERN.
Location: Galicia, Spain
Francisco J. Ruiz
Francisco J. Ruiz is that guy who has watched Jurassic Park a thousand times and loves Star Wars. He went into The Phantom Menace at age 7 thinking it was a sequel to Return of the Jedi (then everything made sense). His hunger for movies is only matched by his love for video games. He graduated in English Studies from the University of Malaga, in Spain. As he keeps writing about what he enjoys (and doesn't) for websites all over, he's continuing his studies and professional journey. You can find him on Twitter @RadioactiveJawa.
Location: Malaga, Spain.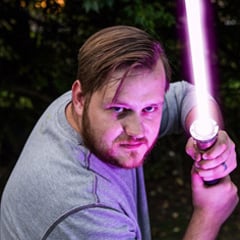 James Baney
James is one of the Leaders of the Resistance on SWNN's podcast. After his run in the music industry playing for metalcore group "The Devil Wears Prada", he started making YouTube videos and running social media for a local speaker company. While he has always been a Star Wars fan, once Disney purchased the franchise James took the full dive into the lore watching all the shows and movies, reading the comics, novels, short stories, news and speculation. You can hear his passion for all things Star Wars weekly on "The Resistance Broadcast". James can be found on Twitter @Mirahtrunks and on the podcast's account @RBatSWNN.
Location: Dayton OH, USA
Lacey Gilleran
Lacey is a co-host on SWNN's official podcast The Resistance Broadcast. You can see and hear her Monday and Thursday recapping the news and having deep discussions with the rest of the TRB crew. When not podcasting, Lacey provides live coverage for events like Star Wars Celebration, New York Comic Con, and more! A Star Wars Fan since 2nd grade, she has always been drawn to the characters and adventures in a galaxy far, far away. You can usually find her either watching The Force Awakens for the 100000th time, or looking for art, toys and collectibles to add to her ever-growing collection. Geek out with Lacey on Twitter at @laceygilleran or her Instagram at @laceygilleran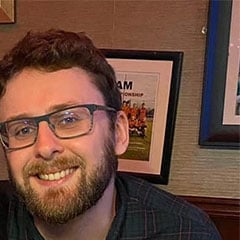 Tony Gorick
Tony is a self-proclaimed candy connoisseur with a passion for Star Wars and roller coasters. Whether he's playing a Pokèmon video game or watching classic Saturday morning cartoons, he does so with unsettling enthusiasm. In his free time he works in marketing and communications for a retro arcade and restaurant in his hometown. Soon he hopes to finish writing his first novel and finally accomplish that dream.
Location: Lancaster, PA, USA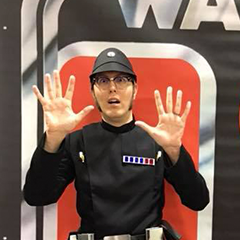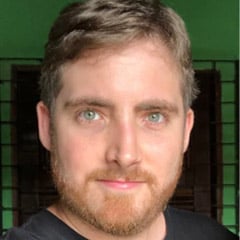 Darby Harn
Darby Harn is a novelist, freelance writer and podcaster. His novels include Ever The Hero and A Country Of Eternal Light. His short fiction appears in Strange Horizons, Interzone, Shimmer and other venues.
Trevor Mill (Trevor)
Trevor is an Engineer, life-long Star Wars fan, and Star Wars memorabilia collector since seeing the first movie in 1977. He is an occasional writer for the Star Wars News Net blog, staff guest on The Resistance Broadcast, and forum moderator in the SWNN Cantina. Trevor is married with grown children, and his other vices besides Star Wars are Mad Max, Firefly, and building hot rods.
Location: Montana, USA
Former contributors and friends to the site: Jordan Pate (Hardcase), Tim Levers (Rebo), Jelena Bidin (LadyMusashi), Chris Miller (Alamact).