UPDATE! Star Wars Battlefront – Single Player Content Incoming. New Reveal Expected at Celebration!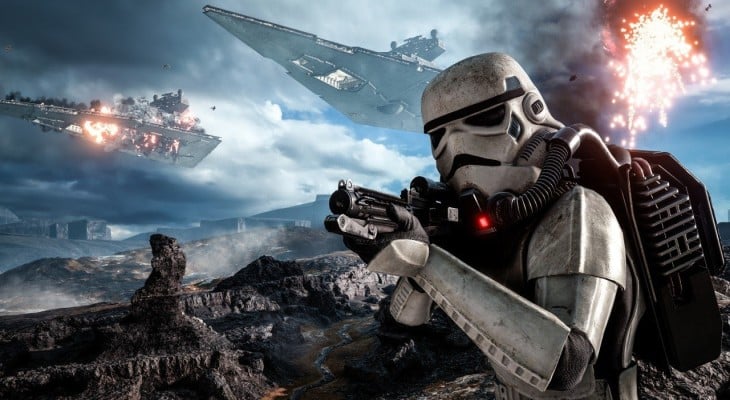 Star Wars Battlefront's long awaited offline singleplayer mode, also rumoured to be a variant of Instant Action from the original Star Wars Battlefront games, is releasing to players BEFORE the Death Star DLC releases in September. Ontop of this, the lead game designer of Star Wars Battlefront also revealed that a reveal or announcement for Star Wars Battlefront is to be expected at Star Wars Celebration!
Firstly a major Star Wars Battlefront reveal is going to be shown at Star Wars Celebration. There is no confirmation, as to the content of said reveal, however it has been confirmed by Battlefronts lead game designer Dennis Brännvall.
Dennis Brännvall revealed on Twitter last night that some form of Battlefront news would be revealed at SWCE (Star Wars Celebration: Europe)
@victorpadron59 ah gotcha. A little early to say, wait for celebration?

— Dennis Brännvall (@DICE_FireWall) July 13, 2016
Obviously we have no details regarding the content of the reveal, whether it be focused on the upcoming Death Star DLC or perhaps a behind the scenes look at the state and future of Star Wars games.
Moving on, Dennis Brännvall confirmed that Offline Singleplayer Content will be releasing BEFORE the Death Star DLC, this has led many to speculate that the content will be landing to players in August or early September.
This was confirmed in the embedded tweet below where Dennis replied to a question regarding the singleplayer content in relation to the schedule of the Death Star DLC.
@svnmelter yes

— Dennis Brännvall (@DICE_FireWall) July 13, 2016
Now as many of you already know, Instant Action, has long been rumoured to be the "Offline Singleplayer Content" that DICE have been referencing, or at the very least a variant of it.
I would just like to remind everyone to briefly curb their enthusiasm, Instant Action is not confirmed.
There is a sizeable amount of evidence to suggest that it is indeed the offline singleplayer content we are looking for,
But until DICE or EA confirms it themselves we should maintain the stance of treating it as a rumour.
Check back to SWNN tomorrow for coverage of Star Wars Celebration!
May the Force be with You!
UPDATE!
Here's a little something to tide you over: a bit of an outline on what's ahead, courtesy of DICE themselves.
To get right to the point, we've been listening to your feedback and your desire for more offline modes. Today we're excited to officially announce a new mode, Skirmish, for all Star Wars Battlefront players. The new mode will be available starting July 20 and offers players the option to play offline against bots in a solo mission or with a friend using co-op split screen (console only). Skirmish can be played on a difficulty level of your choosing and across two modes, Walker Assault and Fighter Squadron. With multiple locations that span the galaxy, from the frozen planet of Hoth to the lava encrusted planet of Sullust, we hope Skirmish brings players a new way to enjoy Star Wars Battlefront.
It seems as though this "skirmish" option is something that will be expanded upon over subsequent patches to include other modes, but for now, it ought to throw a bone to players who want to hone their skills away from friends and rivals. This sounds kind of like the Instant Action mode, albeit under the lens of the other existing modes of the games.
In other news, the Death Star expansion is set for a September release, and will feature. DICE are also emphasizing that more space-based gameplay will be emphasized, essentially teasing the implementation of space battles within the game (as would be expected with the latest expansion, which revolves around the space station). We'll cover more information about Battlefront in the days ahead, so be sure to stick around.