The Force Awakens Teaser Trailer: A Shot-By-Shot Analysis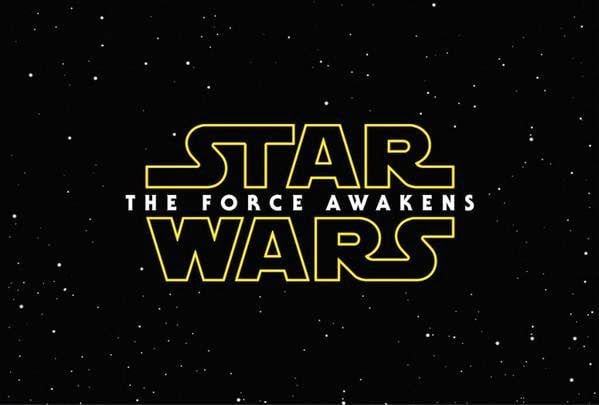 By now everyone and their mother has written a shot-by-shot. Hell, even my mother has written one. Well, that is an exaggeration, BUT it's totally true that she has seen the trailer several times and has some strong takes. (For the record, she hates the beach ball droid. LOL) Even in today's information overload of FaceSpace, Twitter, and Instagram, news of The Force Awakens teaser trailer is unprecedented, but, then again, Star Wars is the supernova of movies franchises, a phenomenon unto itself. We showed you some early fan reactions and celebrity responses and my local TV and radio stations have even discussed this as well, so here's my take . . . after the jump.
BLACKOUT
Return of the Jedi ended on a happy note but all is definitely NOT right with the galaxy. Darkness still prevails . . . we fade in.
DESERT
A return to Tatooine it is surmised. Or maybe not. We shall see.
THE VOICE
I first thought Benedict Cumberbatch with his proper British accent and deep bass. I also think he would have been perfect. However, we are being told that the mysterious, and quite sinister, voice is that of Andy Serkis, this was even confirmed on the Disney-owned ABC "Good Morning America" show. Andy Serkis, well done! Perfectly done! And if there wasn't enough love for Serkis before with his brilliant mo-cap work on Rings & Hobbit as well as for his second unit direction on Rings & Hobbit and his mo-cap work on Kong & Apes, he will become a household name after TFA. My guess is that Serkis plays the main villain for the Sequel Trilogy — a character that has returned from "sleep."
There's been an awakening . . . Have you felt it?
BOYEGA TROOPER
"Look, sir, droids!" NOT! Rumors of this trooper's defection have been greatly accurate. Moses is the chosen one to lead his people through the desert of Tatooine. His modern armor looks badass. The OII on the original version is replaced by a black dot — some sort of magnet to hold a backpack? — and some faint notches. This is the first time we've seen a stormtrooper sans helmet and he seems to be stalked by an Imperial Probe Droid from the sound of things.
BEACH BALL DROID
Reportedly Daisy Ridley's droid takes robots in a new and whimsical direction. Looks CGI to me but I have read that it's a practical droid, presumably built by the Episode VII droid crew of Lee Towersey and Oliver Steeples. This spherical droid can go everywhere. Makes a great sidekick for a young lady stranded on a rough desert and rock planet. Is the "F1FA" droid urgently rolling to alert Daisy to something?
STORMTROOPERS
We caught a glimpse of trooper life in Attack of the Clones and especially in The Clone Wars. However, in the Original Trilogy these guys were flat-out s*** shots and purely canon fodder. No more. As I suspected the new and improved stormtrooper will be humanized, deadly, and redeemed. Their new blaster rifles should help with their aim. You will come to fear them as these guys will bring the storm!
THE DESERT DAISY
Beautiful! She pops off the screen! Great casting! Daisy's character is a straight 1 to 1 translation of the late, great Ralph McQuarrie concept that was unused during A New Hope production. She's focused and ready for action. Some wonder if that's a lightsaber strapped to her speeder. I doubt it, but it looks like some kind of  pike or staff weapon. You can see it in this shot but not in the one below, which suggests two different shots entirely at different time frames spliced together.
LAND SWOOP
It's not a pod . . . It's not a speeder . . . so what do we call this new vehicle? Engine? Swoop? A boxy-looking, and completely incidental, rectangle never looked so stylish and sexy as divine Miss Daisy speeds toward TMZ's leaks. Signature sound FX really burst to life as nothing screams "Star Wars!" like Ben Burtt's sound.
OSCAR THE GROUCH
Generally, Oscar Isaac plays edgy characters that are like a loaded gun in that you never know when its gonna go off due to his intense performances. Examples include Drive, Suckerpunch, and The Bourne Legacy. Rumored to be a pirate, or someone along these lines, it seems that is false as he is an X-Wing pilot, although he could be a convert I suppose. Isaac brings an unusual intensity to the pilot role with the likes of Jek Porkins. Maybe he's just pissed because someone socked him in the eye and he's looking for payback. The new helmets are Hella cool! So, now, I have to ask — Is Oscar the grouch named "Antilles?" Will he be "Red Five?" Or maybe "Black Five?"
X-WING v2.0
The new X-Wings are in a word — "X-citing!" The shot of the trio swooping across a lake, kicking up a wake with the scream of their engines conveys a sense of urgency and pending doom. Such a simple and quick shot X-emplifies the new era of Star Wars and the Sequel Triology at large which calls to mind the Dale Pollock quote about having read the treatments for the ST, "It was originally a 12-part saga. The three most exciting stories were 7, 8 and 9. They had propulsive action, really interesting new worlds, new characters. I remember thinking, 'I want to see these 3 movies.'"
THE VILLAIN
Is this Darth Revan? Who is it? Rumors and speculation aside I wager we don't know who this is or who is playing him. BUT it has been confirmed that StarWarsUnderworld's costume test photo leak was, in fact, true.
 The dark side . . .
EXCALIBUR
And one sword to rule them all . . . Excalibur was the sword of King Arthur, knight of the round table and King of the realm Camelot. One of the oldest and greatest mythologies in human history, it speaks to ancient wars between light and dark, good and evil. The controversial new sword taps into this wealth of mythology in one fell swoop. Mark Hamill spoke of this back in '83 so it's easy to see the connection: "He (George Lucas) at one time asked, 'would you consider playing an Obi-Wan-type character handing Excalibur down to the next generation?'" Hamill said, apparently mixing his Star Wars and Arthurian mythologies even more than usual (Alternatively, Luke's lightsaber had a name and no-one ever knew). "I said, 'When would that be?' and at the time he said, 'Aww, around 2011.'" This ancient artifact, one of the first lightsabers IMO, with its angry red blade, unstable like fire, vented to the sides as a sort of hilt. I cannot fathom the consternation this has already caused without knowing or understanding what it is, but everyone is entitled to their opinion and mine is that it is sufficiently E P I C !!!
BLACKOUT
. . . And the light.
MILLENNIUM FALCON RISING
The darkness that pervades the galaxy will always be met by the heroes — the light side — ALWAYS! To the blare of John William's iconic trumpets we see the first "Legacy Character" perform an impossibly dangerous maneuver to engage Tie Fighters as the ol' girl Millennium Falcon swoops head-on toward it's prey in an aerial dogfight — the first we've seen — almost assuredly flown by Han Solo. The only thing missing is Chewie's mighty wookiee roar.
STAR
The Force Awakens
WARS
DECEMBER 2015
OVER BLACK
We hear the very first sound of Luke igniting Anakin's lightsaber in A New Hope. At least that is what "Good Morning America" claims, which gives credence to the rumor that this lost lightsaber (recall it was lost on Bespin) is somehow brought into the story as a Darth Vader artifact that the"Grave Robber" is searching for.
FINAL ANALYSIS
The team of Disney/LFL/Bad Robot has prevailed in every possible way. The teaser trailer was absolutely magical, using 88 seconds of gold to maximum affect. But the beauty for Disney et al is that the brilliance of JJ Abrams was able to cut together such a fantastic clip while revealing almost nothing. Say what? Think about it for a second. All of the rumors we've heard all summer long and the various "leaks," controlled or otherwise, has created an atmosphere of speculation with a hint of confusion, doubt, and skepticism. Knowing exactly what is out there — here in the Blogosphere — JJ almost exclusively used leaks to fill the trailer and it worked brilliantly. Cases in point:
* Boyega as a stormtrooper was confirmed

* Daisy Ridley living in the desert was confirmed

* The new-look stormtroopers were confirmed

* "Darth Revan" and "Excalibur" — for want of labels — leaked from StarWarsUnderworld were confirmed
In the meantime we did NOT see other elements which we know about but remain in question:
* The BIG 3 of Han, Leia, and Luke

* Chewbacca

* The droids = R2-D2 & C-3PO

* Gwendoline Christie or Lupita Nyong'o, Adam Driver or Max Von Sydow, or Domnhall Gleeson

* Jedi or their lightsabers

* Force powers

* Exotic aliens
In fact, the only disappointments were that we fans were robbed of seeing Greg Grunberg or Warrick Davis who is rumored to be playing a lightsaber-wielding Jawa. Actually, I made that last part up, but I'm sure someone somewhere IS disappointed that they didn't get to see Warrick Davis. The bottom line is this — As of this writing we're 381 days away from the world premiere of Star Wars: The Force Awakens and the world can't wait!