The Star Wars Episode 7 Production In Review: A Writer's Roundtable (Part 1 of 3)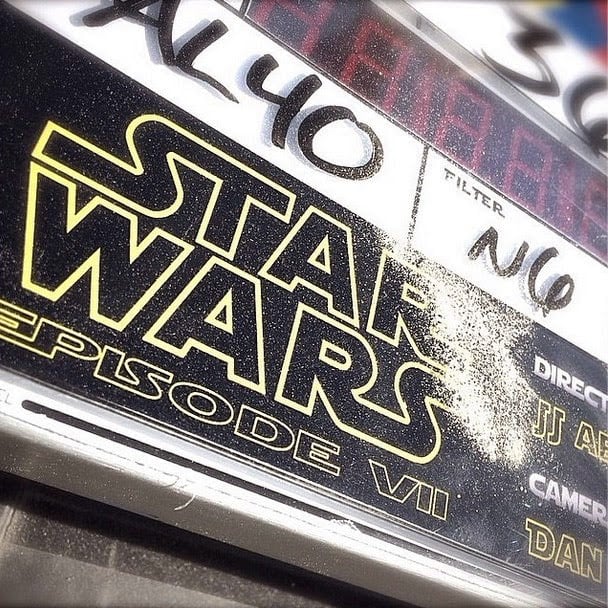 A little movie that people might want to go see went into production this summer on May 16th, 2014. Sure, it will be an easy piece of cake, 'cause like no one in the world is going to be scrutinizing every last detail of that. Yeah, right! Make the jump to take a walk with us down memory lane as the StarWars7News team reviews the busy and eventful production thus far.
On October 30th, 2012 the world wide web EXPLODED with news that more Star Wars, specifically Episodes VII, VIII, & IX, would finally, at long last, be made. From that point forward fans all over the globe began anticipating the moment the film would premiere. However, like the loyal, die-hard fans that we are in this unprecedented age of total information awareness, we find ourselves watching every second of the hotly anticipated production. Here, now, we present The Episode VII Production In Review:
MARCH 18th, 2014 > The Official Site announces that Principal Photography is set to begin in May of 2014, with the production's base of operations being Pinewood Studios in London, England. Episode VII may not be premiering in the traditional May slot, but nonetheless keeps its ties to May.
MARCH 21st, 2014 > Viral Hide reports, via JediNews, that Star Wars: Episode VII will begin filming in Iceland. Without JJ Abrams and a full cast and crew it is presumed that this is second unit photography, most likely scenic shots for digital environments or matte paintings etc…
Some 2nd Unit photography was done in Iceland . . . What do you suppose Iceland is going to be used for?
Pomojema: I can't say for certain, but I doubt that it'll be Hoth. Maybe it'll be used as the planet where the final act of the film goes down, according to certain rumors? I imagine that they could go back there to shoot a handful of scenes.
Viral Hide: Definitely some establishing shots for a snowy planet. I doubt it'll be Hoth. The Iceland scenery is much different from Hoth and Hoth doesn't make much sense. It was a temporary refugee base for our heroes. There's nothing else there.
Echo-07:  Agree with both of you, NOT Hoth – broaden the galaxy by introducing more planets.
APRIL 5th, 2014 > Disney Chairman Alan Horn announces that Episode VII is already filming, presumably, second unit shots in Iceland! Approximately one month later, around May 4th, it was revealed through Twitter, as well as some other sources, that there was a small "incident" with a helicopter during the shoot while filming around the glacier. Thankfully, no one was hurt.
The helicopter landed in a mishap at Eyjafjallajökull. Crew were not injured. The helicopter, which is of type TF – HDW Ecureuil was in filming on the glacier. According to sources Dab Trés here to discuss taking a team of Star Wars VII under the direction of Marc Wolff , specializing in film grips from the air. Last Mission Everest Wolff was directed by Baltasar Kormákur. (Google Translation)
Through the same Icelandic article it was also revealed that the second unit director is Marc Wolff. All the reports of glacier shots prompted a storm of speculation around the net that Hoth would come into play at some point as well as the following, and mildly SPOILERIFIC, rumor via BleedingCool:
Because I kept reading about the Iceland shoot and would bring it up in pretty much every Star Wars chat I've had, I've been included in a few off-the-record conversations about the location. Nobody could go so far as to tell me which characters would turn up in the scenes, however, and it wasn't until today that I got some idea.

The best lead on who we might see in action on Hoth is probably (and improbably) 2000AD and Warhammer alum Gordon Rennie. According to a recent Facebook update, he's been chatting to an unnamed member of the 2nd unit team who has been shooting in Iceland and they revealed to Rennie that the scenes will feature Chewbacca and "old skool" Stormtroopers.
APRIL 11th, 2014 > Viral Hide reported via THR that filming was getting set to begin in Abu Dhabi, United Arab Emerits. The desert conditions of the locale immediately suggested that this was a return to Tatooine.
APRIL 16th, 2014 > Star Wars fans receive an exciting surprise as an Abu Dhabi newspaper, The National, breaks the story of Episode VII filming, complete with our first production photos that appear to show a practical set piece of an AT-AT foot pad, which is pretty exciting as they've never been seen on Tatooine up to this point: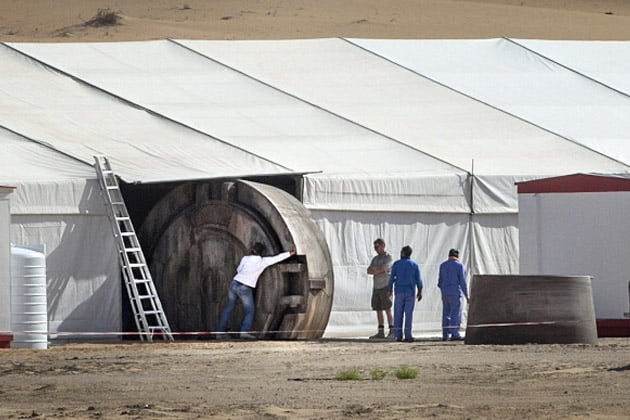 How did you feel when the first pictures were leaked from the early Abu Dhabi 2nd Unit shoot? What'd you think about the alleged AT-AT foot pad?
Pomojema: I really hope to see more armored vehicles like the AT-AT in the Sequel Trilogy as a whole; I felt that they were underused in Return Of The Jedi, which is my favorite Star Wars film.
Viral Hide: My first thought was: That's a helluva big set prop that probably will end up in the BG of a certain shot. I sense Jawas.
Echo-07: (Laughs) UTINNI!!! I LOVE Jawas! I want to see a Jawa Jedi! Just kidding, but you can't have Tatooine without Jawas. 
Dekka129: Well, first of all it was a major rush to see some of the first images of a new Star Wars film production – it's been awhile since we had something like this to enthuse over. The specific image of a walker foot, though, sent images spinning through my head of an old desert battlefield with all but a few larger chunks of wreckage like this foot pad probably reclaimed by the elements… and THAT just sounds massively cool (though whatever they were actually filming could also be a million and six other things besides this…)
APRIL 22nd, 2014> Alan Horn announces that the second unit shoot in Abu Dhabi is complete!
APRIL 26th, 2014 > Excitement builds as Harrison Ford is spotted in London, home of Pineweood Studios and home to the Episode VII production! In subsequent days Mark Hamill and then Carrie Fisher are spotted as well, all but declaring that the production is beginning to ramp-up!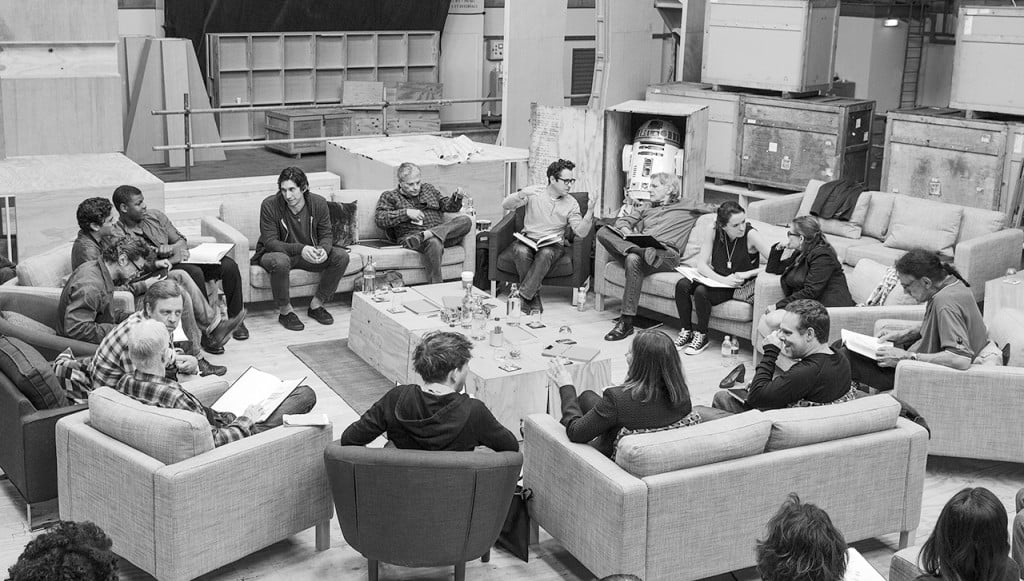 APRIL 29th, 2014 > The Official Site releases the first Official Cast Announcement, which confirms that Harrison Ford, Mark Hamill, Carrie Fisher, Peter Mayhew, Kenny Baker, and Anthony Daniels all reprise their legendary roles! This announcement is accompanied by a "Table Read Photo" as well as the list of the new cast members to include newcomer Daisy Ridley, Domnhall Gleeson, Oscar Isaac, John Boyega, Adam Driver, as well as Andy Serkis and acting legend Max Von Sydow.
Director J.J. Abrams says, "We are so excited to finally share the cast of Star Wars: Episode VII. It is both thrilling and surreal to watch the beloved original cast and these brilliant new performers come together to bring this world to life, once again. We start shooting in a couple of weeks, and everyone is doing their best to make the fans proud."
What did you think about the OFFICIAL cast announcement? Any surprises? Anything shocking or disappointing?
Pomojema: I was more relieved that Disney didn't go with hiring any of their Disney Channel stars, not that I really expected them to. I love the so-bad-it's-good masterpiece of a film that is Flash Gordon, so Max Von Sydow's presence was a real treat for me. I also liked that they hired Andy Serkis, not only because he's a good actor, but because his presence likely means that there will be a degree of CGI in the film (though a more reasonable degree to make sure the actors have something to react to).
Viral Hide: I expected plenty of new unknown actors, but honestly I expected 1-2 names that are really famous. Surely Max von Sydow and Oscar Isaac are famous but I expected even more. Something from the ranks of Gary Oldman and Michael Fassbender (just for example).
Dekka129: I was relieved that we didn't get any of the big tween heartthrob names that had previously been bandied about, for a start. I admit to being a bit apprehensive about the fact that so many of the younger cast members don't have much of a body of work from which we can get a sense of what their acting chops are like, but I think that's only natural. Plus… Max von Sydow in a Star Wars movie? Hell yeah!!
What did you think about Dennis Lawson snubbing Disney? Surely he passed-up a BIG payday?
Pomojema: It's his call – or, in my opinion, loss – that he didn't want to come back for more, and I can respect his decision. What makes no sense to me, however, is that he dismissed the possibility of showing up for a Star Wars role again as being "boring." Why would being a part of a Star Wars movie be boring in any capacity?
Viral Hide: This guy is taking his job too professional. Obviously he never felt anything for the franchise. He is better off.
Echo-07: I think it's a shame. He's missing a once-in-a-lifetime opportunity. 
Dekka129: As a fan of his work, both in Star Wars and elsewhere, I was disappointed. However, I can also completely understand his decision. Since his appearances in the original Star Wars trilogy, Lawson has built himself a very respectable stage and TV career and I can certainly see why he wouldn't want to go back to doing glorified extra work in Star Wars.
MAY 4th, 2014 > JJ Abrams and Lawrence Kasdan release a May the Fourth Day video greeting to fans from London and also reveal that more casting announcements are forthcoming.
MAY 5th, 2014 > Bob Iger reveals the SECOND photo of a character from Episode VII – Chewbacca!!! Peter Mayhew looks right at home.
These were the exciting days of pre-production that led us into the official start of production on May 16th. Watch for Part 2 as we roll into the heart of Principal Photography, continuing our first ever Writer's Roundtable!