UPDATE 3! Rumor: Star Wars: Episode 7 to Feature Scenes With…SPOILERS.

A legal dispute over who has the right to provide extras for Star Wars: Episode 7 revealed a very curious tidbits about the story of the upcoming movie. The following story might contain small spoilers so continue reading at your own risk…



Possible SPOILERS!


(May 18, 2014)
From MailOnline (via JediNews):
It is a story set a long time ago in a galaxy far, far away where Jedi knights battle an evil empire.
But before even a phaser has been blasted or a lightsabre drawn in the highly anticipated new Star Wars movie, the first battle is expected to take place at the High Court over who will supply the hundreds of stormtroopers and wookies.
And at the centre of the legal fight is 32-year-old Eleanor McLaughlin who is accused of trying to steal a lucrative contract to provide extras for the forthcoming seventh instalment of the sci-fi saga.
British agency Mad Dog Casting is suing her for up to £250,000 after claiming it had entered 'mature' negotiations to supply extras for crowd scenes that involve aliens and other creatures last year.
However, it argues McLaughlin, a former employee, quit the firm to set up her own casting agency and also started competing for the £1million contract.
Fears have now been raised that the legal fight could delay the shooting of some of the big crowd scenes for Star Wars: Episode VII.
In legal documents submitted to the High Court, the firm accuses Miss McLaughlin, whose film credits include the latest James Bond movie Skyfall, Pirates of the Caribbean and World War Z starring Brad Pitt, of taking the personal details of thousands of extras from its database.
It adds that through her new company called 'We Got Pop', Miss McLaughlin emailed them touting work and took 'further steps to pursue the Star Wars Episode VII opportunity'. Miss McLaughlin denies the allegations.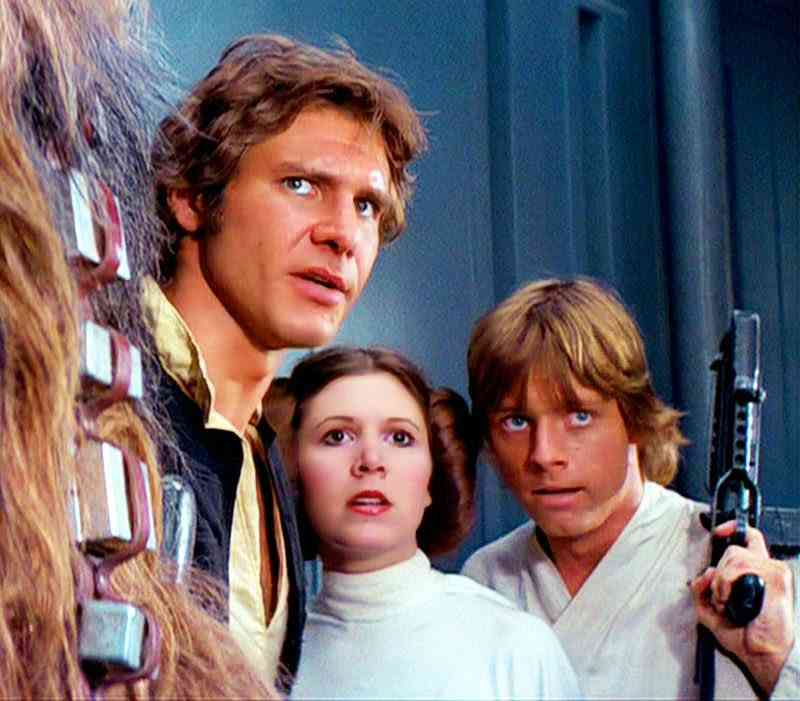 Filming has already begun on the movie which will reunite many of the original stars.
Harrison Ford, Mark Hamill and Carrie Fisher will reunite for the new Star Wars film almost 40 years since the original cast members first appeared on screen together. The trio were pictured in a rehearsal room reading through the script for the seventh instalment of the hit sci-fi saga.
Directed by Hollywood star JJ Abrams, the £120million movie also features original actors Anthony Daniels, Kenny Baker and Peter Mayhew – reuniting to play C-3PO R2-D2 and Chewbacca respectively.

As always all these bits are just rumors until we hear something official from Disney/Lucasfilm. I just hope that this won't cause delays with the filming process.



UPDATE!

I don't know if the writer of the above article was speculating about the stormtroopers and wookies, but here's another report suggesting the same thing.

From BleedingCool:
Because I kept reading about the Iceland shoot and would bring it up in pretty much every Star Wars chat I've had, I've been included in a few off-the-record conversations about the location. Nobody could go so far as to tell me which characters would turn up in the scenes, however, and it wasn't until today that I got some idea.
The best lead on who we might see in action on Hoth is probably (and improbably) 2000AD and Warhammer alum Gordon Rennie. According to a recent Facebook update, he's been chatting to an unnamed member of the 2nd unit team who has been shooting in Iceland and they revealed to Rennie that the scenes will feature Chewbacca and "old skool" Stormtroopers.
I expect these would be longshots with stunt Chewie and stunt troopers, and that they would be meant to be cut together with close-ups of "real" Chewie and other lead characters, shot at another time and in a friendlier location.

I don't know if it's a coincidence with the above report but it also matches the report we shared with you about the helicopter crash with some 2nd unit crew in Iceland. Whatever it is, it's just a rumor for now.


UPDATE 2!

A slight clarification from the first writer of the article:

@stan4prez examples – hope that helps?
— Ryan Kisiel (@RyanKisiel) May 18, 2014
Still I doubt there's anyone here who thinks that the sequel of ROTJ won't feature stormtroopers and wookies. The troopers might be slightly redesigned, but my bet is that they will be there.
UPDATE 3!

Even more signs for stormtroopers on the set:
From another extra on #StarWarsEpisodeVII on 18th May – "stunts, explosions, robots, star troopers, yes yes I need more sand in my mouth!"
— Daisy Ridley News (@DaisyRidleyNews) May 29, 2014
@MakingStarWars they were Polish so I think that's what they might mean.
— Daisy Ridley News (@DaisyRidleyNews) May 29, 2014