UPDATE 2! Investigation on the Abu Dhabi and Cairo Rumors + First Image from the Star Wars: Episode 7 Set. Is That the Foot of an Imperial Walker?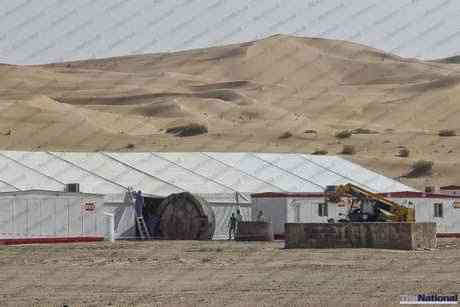 Few days ago THR gave more weight to JediNews rumor that Star Wars: Episode VII will shoot in and around Abu Dhabi, which is part of the United Arab Emirates, beginning mid-May for a four-week shoot. Now a local news site posted an image supposedly taken from the set and made an investigation if the rumors are legit…

From TheNational:
The National photographer Mona Al Marzooqi has captured what are believed to be the first images of Star Wars: Episode VII set deep in the Abu Dhabi desert.

The photos, taken on Tuesday morning in the dunes near Qasr Al Sarab resort, reveal a large encampment of tents with four to five workers moving around what appear to be parts of a filmset.

It is one piece of equipment in particular, however, that is the most suggestive: a giant, round, grey disc, which bears a striking resemblance to parts of an escape pod on which C3P0 and R2D2 crash-landed on Tatooine in the original, 1977, Star Wars: A New Hope film.
According to sources within the local film industry, crew members have already been hired for the Abu Dhabi leg of the secret production.

However, no one at the petrol station, two cafes and two shops in the closest town, Himeem, had any inkling of a nearby movie set or unusual construction.

"I live around here, it's totally my home area and I'm sure if anything as big as that was going on I'd know about it," said an Emirati farmer.

"I'm always here, and I've definitely seen nothing like that. It's just business as usual."
That round object doesn't look like an escape pod to me (the image above) but I could be wrong. Still it does look like a set prop.
UPDATE!
And thanks to carlo senno from the comments for pointing this out. This prop does look like an Imperial Walker's foot:
And even better image from JCF: (click for bigger)
And do you remember that AT-AT tweet from Bad Robot a few months ago? 🙂
We're back! pic.twitter.com/iERc4Ei5hc
— Bad Robot (@bad_robot) January 6, 2014
UPDATE 2!
Here's a great investigation from the same site TheNational on the topic.
We began our enquiries (about a possible filming happening in Cairo). Scepticism was instantly appeased when several solid sources in the Egyptian film industry claimed that there was absolutely no way on Earth it could be going on without them — or someone they knew — having heard about it, and they hadn't. It was, said one, actually taking place in Jordan — a rather more plausible option and a place that has provided the backdrop for a few massive blockbusters (Transformers, Zero Dark Thirty, The Hurt Locker).

But no, The Royal Film Commission of Jordan, which oversees all such productions, flat out denied it.
Initial digging proved predictably fruitless, with twofour54 — the only Abu Dhabi production company really big enough to handle such a project and the parent organisation of the Abu Dhabi Film Commission — saying they hadn't heard of anything. But then, slowly but surely, other teasing nuggets of info started coming out of the woodwork.

A rather big cheese in the local industry revealed he'd known about the shoot "for ages", but couldn't say more despite our best attempts at Jedi mind trickery. Other sources hinted that a production crew had been hired, while production companies in Dubai said they weren't involved as it was "all happening in Abu Dhabi". A contact, not in the film business, claimed to know someone who spotted Abrams on a flight to the capital in recent weeks. It seemed we were on to something.

In perhaps the most amusing bit of investigative reporting, a friend told us that her colleague had been chatting to a fellow via the iPhone app Tinder, who — in a gross act of flirtation — had revealed that he was an assistant director on a major film shoot in Abu Dhabi, inviting her to guess what? That's right, Star Wars.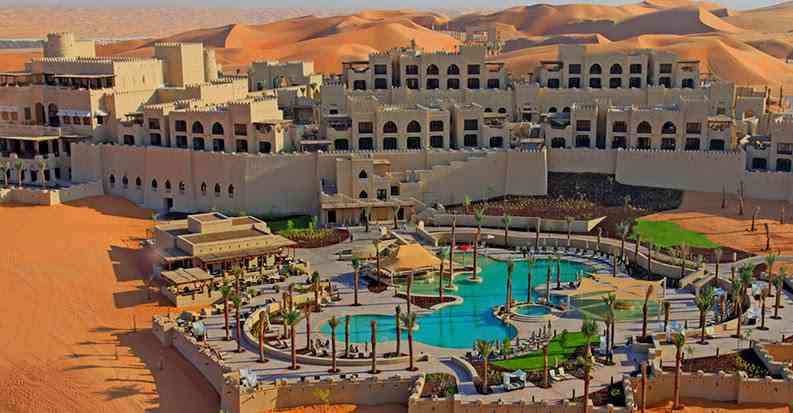 Unconfirmed but reliable sources later stated that the hotel at Qasr Al Sarab, the vast fort-like resort out in the Liwa Desert, been booked up long in advance and was indeed housing the cast and crew, but that filming itself was happening elsewhere, no doubt out in a specially created set. Also, there are rooms available now and through most of May — save for a week-long block starting on May 19 — we checked.

If you were not convinced that they will be filming in Abu Dhabi, you should be now.