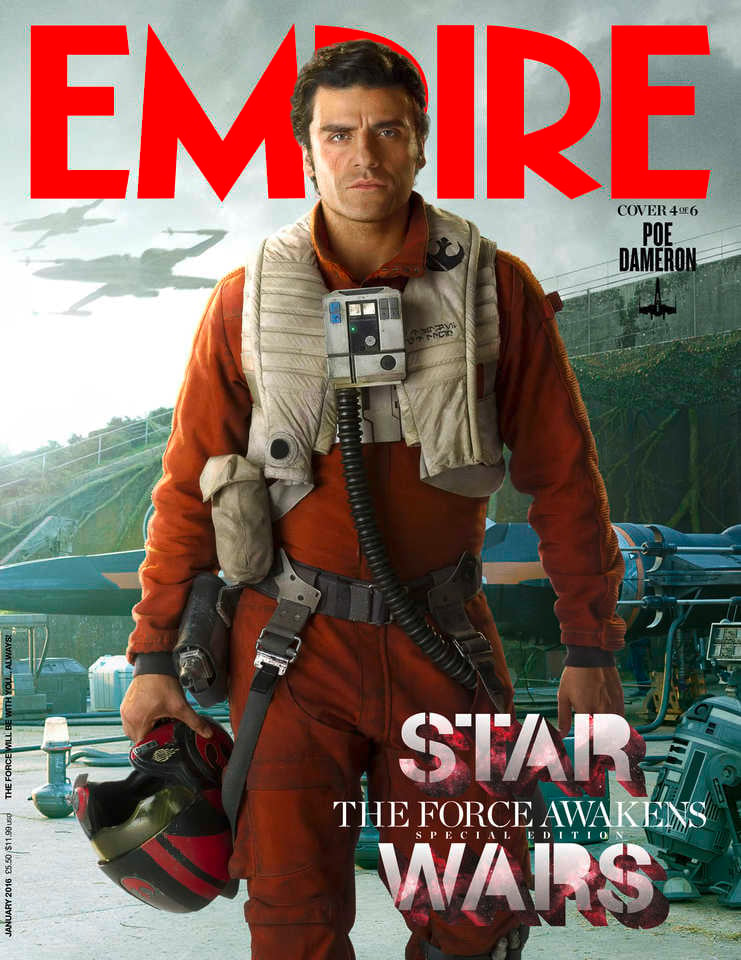 The covers feature Rey, Finn, Poe. Kylo Ren, Captain Phasma and Han Solo. The issue is due for release on November 26th. Check them out…
From Empire:
Luminous beings are these covers, too: as fantastic as these look here, they're even better in the flesh, making use of 3D technology so dazzling, you'll want to frame them immediately.

However, we recommend you at least read the actual issue, before dashing off to the framers. Issue 319 is stuffed to the absolute brim with Force Awakens coverage, featuring interviews with practically everyone involved in the film. Read revealing insights from JJ Abrams, Kathleen Kennedy, John Boyega, Daisy Ridley, Adam Driver, Harrison Ford, Carrie Fisher, even Mark Hamill – a man conspicuous by his absence in LucasFilm's marketing so far.

Empire's Force Awakens issue: an essential purchase. Available from November 26, at all good newsagents. The circle, as somebody once put it, is now complete.
Fantastic covers! I love the Poe cover with the black astromech in the back (similar to R2-Q5). Chewie looks awesome as well. Which one is your favorite?
Update!
Empire also revealed new image with Poe Dameron:
A hotshot Resistance X-wing pilot, Dameron is sent on a special mission by "a certain princess", crossing paths with John Boyega's Finn before their "fates are forever intertwined". If said princess is Leia (now "referred to as General", according to J.J. Abrams), then Ms. Organa's orders certainly look set to put the wheels in motion.
We've already seen this scene from the Behind the Scenes video showed at SDCC. And many of you know, who the Stormtrooper is…
Update 2!
Empire also revealed a limited edition cover with a Kylo Ren figure:
But if that wasn't enough, there is also an extremely Limited Edition special issue, for dedicated Star Wars fans only. Partnering up with Hasbro, we've included an official action figure of Kylo Ren with certain Force Awakens issues. Only 4,500 copies of this special issue will be printed, making it an instant collector's item.
And also they revealed the cover that all subscribers will be getting:
Oh my! Subscribers, C-3PO and R2-D2 are coming soon to a planet near you. pic.twitter.com/ohMWgzOpgj

— Empire Magazine (@empiremagazine) November 24, 2015