SWNN's The Resistance Broadcast – Episode 94 – Is The Kenobi Film Still On? With Special Guest Anthony Breznican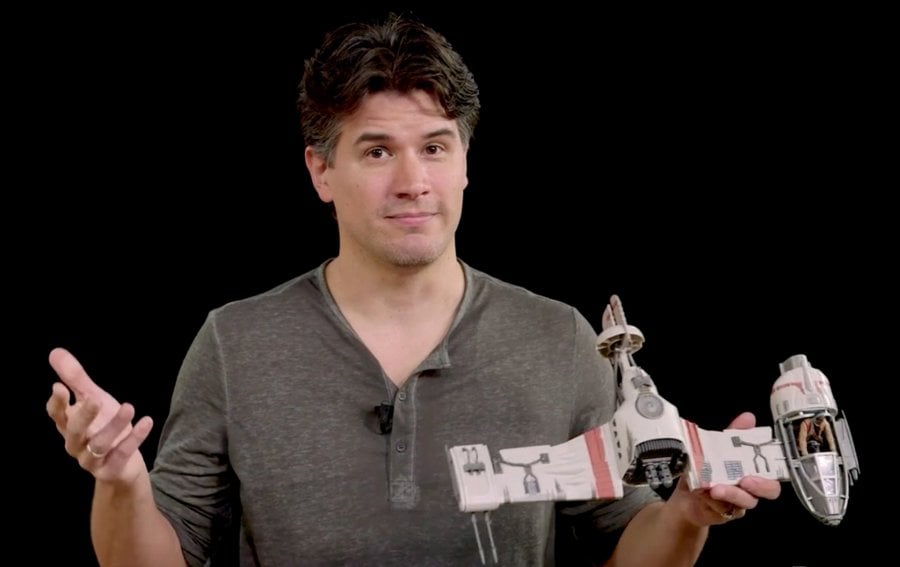 On this episode of The Resistance Broadcast, we discuss….
Poll Results; SWNN Giveaway Results; EW Coverage On BB-9E; Overall EW Coverage; Rolling Stone The Last Jedi/ Daisy Done After Episode IX?; TLJ Topps Cards; Comics With Kenobi; Press Tour; TLJ Cinemark Noovie; Rian Johnson Q&A And BTS Pics; Empire Magazine Covers; Tweeting With The Resistance; Final Thoughts.
Leaders of the Resistance: James Baney, John Hoey, Bill Sheehy
Special Guest: Anthony Breznican
During our discussion with Anthony we brought up how a year ago he brought forth the theory that Rey was connected to Kenobi in some way. While he has not abandoned that completely, he does think the reason behind a lack of an announcement on the rumored (sort of announced, but not officially) Kenobi movie, is because Kenobi will have a further presence in this sequel trilogy. Breznican feels that the current filmmakers are not fans of Force ghosts, but moreso that the presence of Kenobi will be applied in some way, if at the very least by mentions. We already heard Kenobi in The Force Awakens via Guinness and McGregor, so perhaps more is on the way.  Breznican still believes a Kenobi film will happen after the sequel trilogy. This is purely Anthony's opinion and not based on any insider info, so don't take this as concrete, this is Anthony being a Star Wars fan just like all of us!
EW's coverage of BB-9E by our guest, Anthony Breznican: here
Rolling Stones TLJ Article: here
New Dialogue Shown in BTS Cinemark Noovie: here
Rian Johnson Q&A and BTS Pics: here
Empire COVERS, snowtrooper photo, and new pic of Snoke: here and here
TLJ Press Events (As of Recording)
French Press Conference: here
Mexico Press Event: here
Rian Johnson Twitter Event: here
Daisy Ridley TV Show Interviews: here
Also, a huge thanks to our weekly comic spotlight by Matt of Comics With Kenobi! For more information about what they do and their podcast, head over to their Twitter @ComicsWthKenobi! They make awesome content.
New #StarWars #comics this week? #StarWarsAdventures 4 from @IDWPublishing and #PoeDameron 21 and #MaceWindu 4 from @Marvel. All on sale Nov. 29. pic.twitter.com/EJFjVuHK2o

— Comics With Kenobi (@ComicsWthKenobi) November 26, 2017
#StarWars #Comics out this week include Darth Vader 9, Star Wars Legends Epic Collection New Republic TPB Vol. 3 and Star Wars Vol. 6 Out Among The Stars, per @comiclist. pic.twitter.com/IUNFaBBZDn

— Comics With Kenobi (@ComicsWthKenobi) December 3, 2017
If you would like to submit questions for the show you can Tweet at us at our Twitter account @RBatSWNN using hashtag #starwarsnewsnet, #theresistancebroadcast, #trb, #swnn, message us on the Cantina Forum in the questions and comments thread, or send an email to resistancebroadcast@gmail.com. Also follow us on YouTube HERE!
Thanks for listening, and if you like this episode, don't forget to hit the like button on SoundCloud and subscribe to us on iTunes, and Stitcher!
Thanks to The Yavin 4 for our intro music.
John Hoey is the Lead Editor and Senior Writer for Star Wars News Net and the host of The Resistance Broadcast podcast
"For my ally is the Force, and a powerful ally it is."