The Last Jedi Rolling Stone Coverage: Daisy Ridley Is Done Playing Rey After Episode IX
In their latest cover story, Rolling Stone speaks to The Last Jedi writer/director Rian Johnson and members of the cast, about their experiences making the film, its parallels against the backdrop of the world today, and working with the late Carrie Fisher in her final film.
The coverage and interviews are delightfully candid, and while it doesn't spoil anything for The Last Jedi, it takes us inside the world of making the film and shines some new light on the actors and the future of the franchise!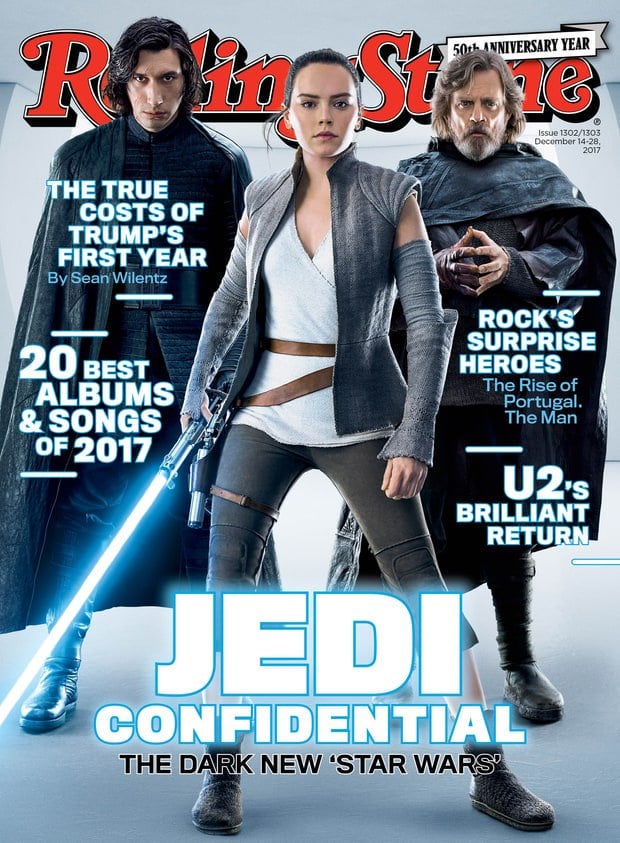 Daisy Ridley realizes that while Star Wars is an escape for us, a place we can take a break from the real world and run with our imaginations, it is also a reflection of society, which tonally this film continues to push at us thematically, that the lines between light and dark might be more blurred than ever:
"It's somewhat a reflection of society. But also it is escapism, because there are creatures and there are people running around with fucking lasers and shit. So, I think, a wonderful mix of both."
For a fandom with millions of people, and so much passion, regardless of infighting over stories or favorites, or plot devices, ultimately Star Wars is a family from the crew down to the fans. It is a truly uniting experience, a subculture, often a religion where people can come together to share their love for a mythology so rich with stories, especially now in a time where we are getting a new Star Wars film every year. Even the ruthless and brutal Captain Phasma can see that, as Gwendoline Christie opines:
"During testing times, there's nothing wrong with being transported by art. I think we all need it. Many of us are united in our love for this one thing."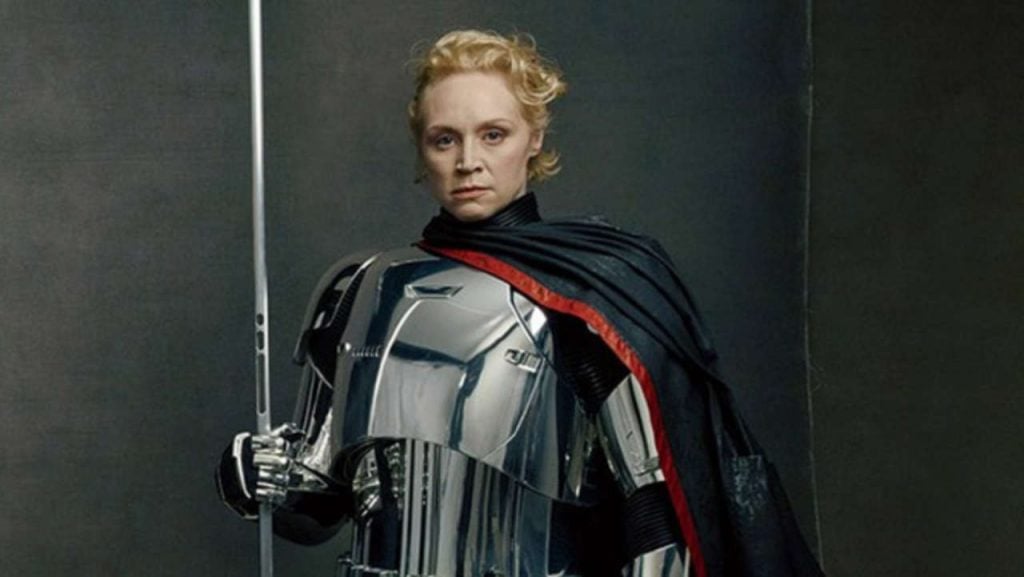 If you remember back to The Force Awakens marketing campaign, the trailers were quite dark at times, with serious musical undertones. The film wound up being much more light and fun than we anticipated, while keeping up with some of the serious plot angles of the story. Rian Johnson wants to let it be known that while the second act in a trilogy is often darker, he made sure to keep this film Star Wars, and promises it will still be loaded with charm and fun, amidst some of the darker events that may transpire:
"That's one thing I hope people will be surprised about with the movie. I think it's very funny. The trailers have been kind of dark – the movie has that, but I also made a real conscious effort for it to be a riot. I want it to have all the things tonally that I associate with Star Wars, which is not just the Wagner of it. It's also the Flash Gordon."
When the dust settles after The Last Jedi hits theaters, climbs the box office charts, becomes a fan favorite, we will, no matter how much we want to avoid it, have officially seen the last of Carrie Fisher in the saga. Johnson assures us that Carrie's role was complete, and that he altered nothing to adjust from her passing:
"We didn't end up changing a thing. Luckily, we had a totally complete performance from her. It's a sad reality…In terms of going forward, time will tell what ends up getting done."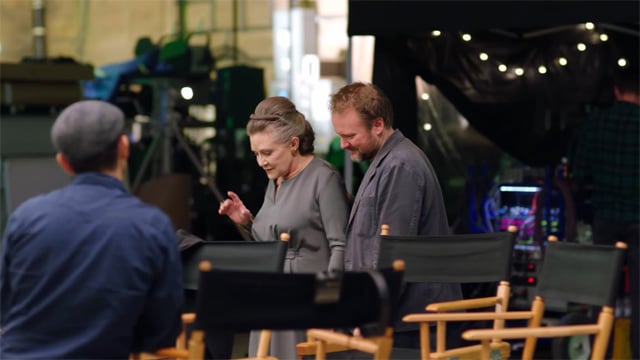 Johnson expressed how he continues to be confused by people shocked he could have written the story without any predetermined end-point or destination. Once again, making it clear that he was the decider of where the story went, and what happened to the characters:
He says no one dictated a single plot point, that he simply decided what happens next. And he's baffled by fans who are concerned by the idea that they're "making it up as we go along": "The truth is, stories are made up! Whether somebody made this whole thing up 10 years ago and put it on a whiteboard and we all have to stick to that, or whether we're organically finding it as we move forward, it doesn't mean that any less thought is being put into it."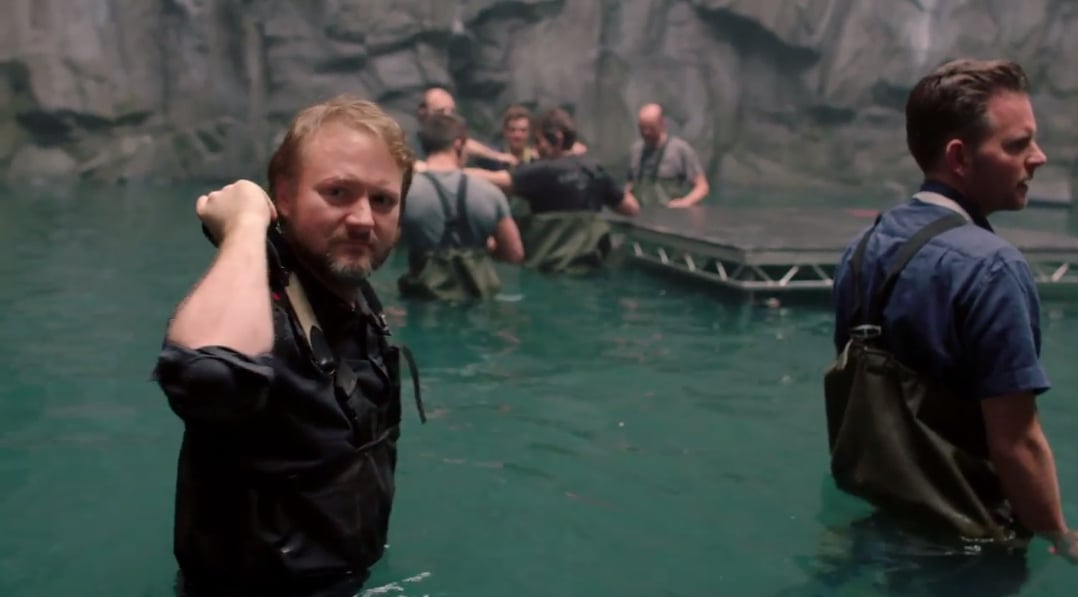 Rian Johnson and Mark Hamill sat down together, talking about how Luke's story came to be in The Last Jedi, off of where he left off in J.J. Abram's film. Johnson joked with Hamill that he almost toyed with the idea of making Luke blind at one point! Like an old monk or samurai (this was before that device was applied to a character in Rogue One). The two talked about how they clashed over Luke's story in the film, ultimately growing closer together through understanding. Hamill's shock that Luke has become so defeated with a lost sense of hope is endearing, it shows how much that character still means to him 40 years later.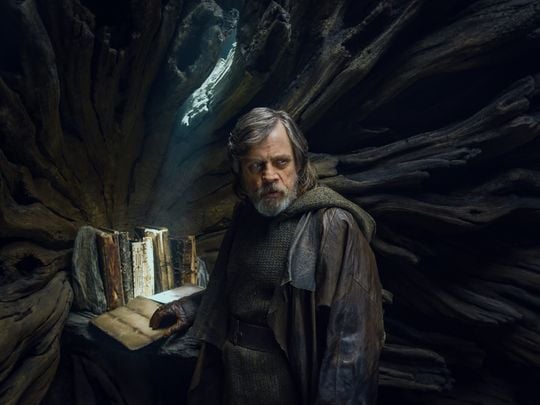 When asked about Luke's hardships from the beginning, Hamill compared it to life. That at times he wishes he had Luke's life rather than his. Johnson explains that yes Luke has gone through horrible events in his life, but that's what makes him the great hero, he never turned, he always found a way to endure:
"It's the life of a hero, man," says Johnson. "That's what you've gotta do to be a hero. You've gotta watch people that you love burn to death!"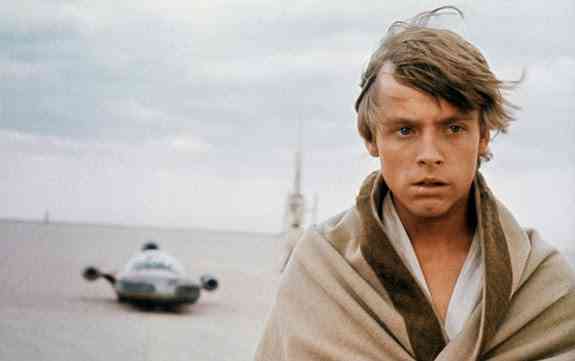 Adam Driver
Adam Driver who we haven't heard much from in the promotion for the film, perhaps since he famously tongue-in-cheek said he would prefer if the film had no trailers at all, praised Johnson for taking on and executing with brilliance, the task of not only writing and directing a Star Wars film, but continuing off of the story that another writer began:
"If I had that job, I would be stressed out. To pick up where someone left off and carry it forward, but also introduce a vocabulary that hasn't been seen in a Star Wars movie before, is a tall order and really hard to get right. He's incredibly smart and doesn't feel the need to let everyone know it."
What drew him to Kylo Ren were the complexities of the character. It wasn't just "the bad guy" versus "the good guy" to him, which attracted him to the story. He touches on the fact that Kylo Ren is younger than him (Adam is 34), but appears to retract immediately, to not throw new theories into a tornado:
"You have someone who's being told that he's special his whole life, and he can feel it. And he feels everything probably more intensely than the people around him, you know? There is a little bit of an elitist, royalty thing going on," he says, reminding us that the character's estranged mom is "the princess. I think he's aware of maybe the privilege." He does acknowledge playing Kylo Ren younger than his own age of 34: "I don't want to say how much younger, 'cause people will read into it. . . ." He flushes, and later says he regrets mentioning it at all.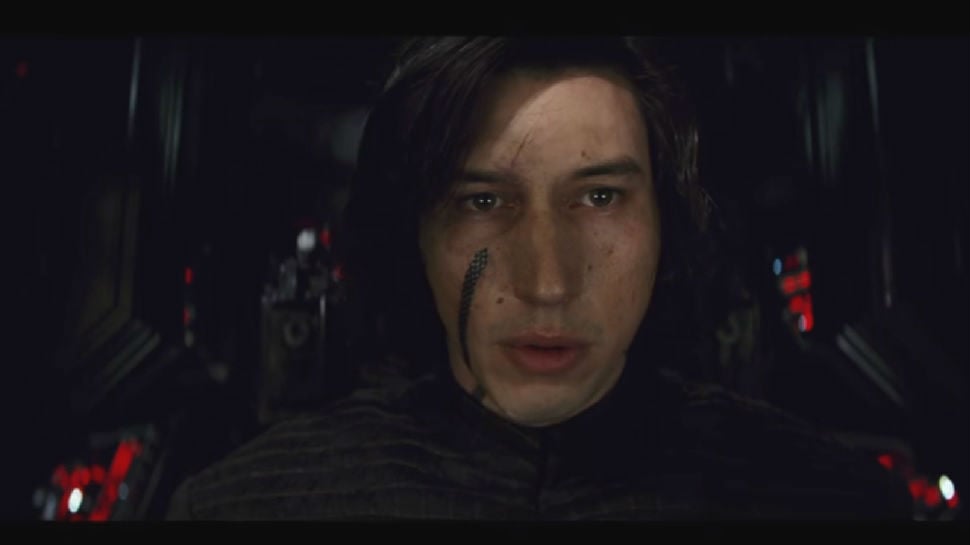 Driver makes a good point, one we have seen as early as Kevin Smith's Clerks (1994), that while the Empire was indeed evil, they were still people, at work, with jobs, families, blown to nothing: 
"It's not like people weren't living on the Death Star … isn't that also an act of terrorism? Did they not have families? I see how people can point to examples that make themselves feel they're right. And when you feel in your bones that you're supported by a higher power on top of that, and you're morally right, there's no limit to what you'll do to make sure that you win. Both sides feel this way."
That is about as serious of a metaphor you can bring to the table for Star Wars, so to round it out by, bringing some "balance" or levity to the interview, he gives us an idea of the difference between watching Star Wars, experiencing the spectacle, compared to being on set when the cameras aren't rolling, but the atmosphere still looks the same:
"Watching Star Wars, it's an action-adventure," he says. "But shooting it, it's a straight comedy. Stormtroopers trying to find a bathroom. People dressed as trolls, like, running into doorways. It's hilarious." And when he wears his helmet, he can't see very well. "You're supposed to be very stealth, and a tree root takes you down."
Daisy Ridley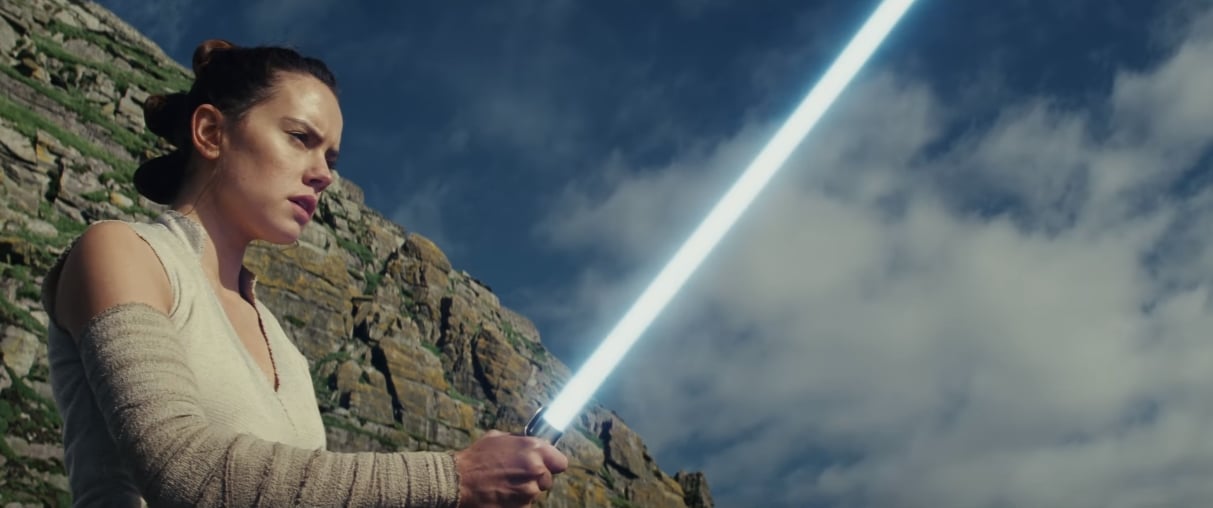 J. J. Abrams has recently stated that he sees Episode IX as the end of the Skywalker saga, and possibly the most shocking part of this Rolling Stone coverage is that Daisy Ridley has adamantly said she doesn't want to play Rey beyond the end of this trilogy, that this will be it. When asked she replied:
"No. For me, I didn't really know what I was signing on to. I hadn't read the script, but from what I could tell, it was really nice people involved, so I was just like, 'Awesome.' Now I think I am even luckier than I knew then, to be part of something that feels so like coming home now."
Rolling Stone's Brian Hiatt points out that answer actually almost sounds like a "yes":
"No," she says again, smiling a little. "No, no, no. I am really, really excited to do the third thing and round it out, because ultimately, what I was signing on to was three films. So in my head, it's three films. I think it will feel like the right time to round it out."
When asked if perhaps in 30 years, in her mid-fifties, if called upon, could she make a return as the legacy characters Luke, Han, and Leia have, she says possibly, but couldn't wrap her mind around that thought.
Star Wars: The Last Jedi hits theaters in 15 days! We will get many of the answers we are looking for, with more questions to come, in a movie that will be much lighter than we are being shown through marketing, with characters on both sides of the aisle between light and dark believing what they are doing is right.
SOURCE: Rolling Stone 
You can find me on Twitter @JohnnyHoey, and we'll be talking about this on The Resistance Broadcast @RBatSWNN!
John Hoey is the Lead Editor and Senior Writer for Star Wars News Net and the host of The Resistance Broadcast podcast
"For my ally is the Force, and a powerful ally it is."