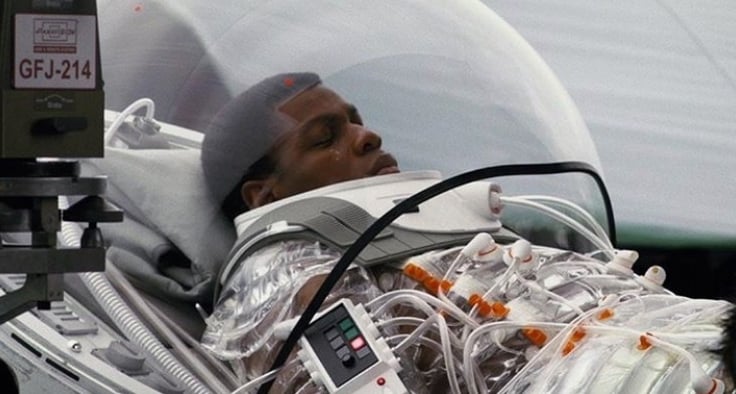 Going way back to before The Force Awakens was even released, people have been speculating about whether the character of Finn might be force sensitive or even become a Jedi himself. There were the trailers and posters that featured him prominently with a lightsaber. There were moments throughout the film where a viewer could make the conclusion that some level of force sensitivity was playing out. And, there was his ability to hold his own for a few minutes in single combat with Kylo Ren. But what does John Boyega think of that idea?
From Digital Spy:
Would I like to be a Jedi? I think it would be more interesting if they had more than one person be a Jedi – but I think that that is the one of the unspoken laws of Star Wars. They only have one who has to go away and train.
Honest answer or more misdirection? Clearly Boyega is indicating that Finn will not spend this film training to be a Jedi, but he also skirted around the issue of the character's potential force sensitivity. So what does he hope for as Finn's character continues to develop as the films progress?
I hope it takes an interesting turn; not in terms of being a Jedi, but there are loads more stronger characters in the Star Wars universe that can go up against Jedi and they don't necessarily have to be a Jedi. I would like to explore that more; the whole Boba Fett vibe. I would like to explore that for Finn, but who knows?
The idea that Finn might be heading down that Boba Fett type road rather than that of a Luke or an Obi-Wan makes sense given his character development thus far. But then again, there are many fans who even theorize that Boba Fett was force sensitive, so the door is never quite closed on these sorts of things. There's always room for a surprise or two. Especially now, with increased confidence that we will likely see more movies with these characters after this trilogy, there is plenty of time for Finn's story to develop. And, who knows what sort of unexpected twists and turns it might take along the way.
Head to Digital Spy for the full piece. And, let us know in the comments how you think Finn's character will develop over the long term.
Click HERE to check out and comment on this topic in our forum The Cantina