Disney Parks Tease The Last Jedi Updates to Star Tours Ride!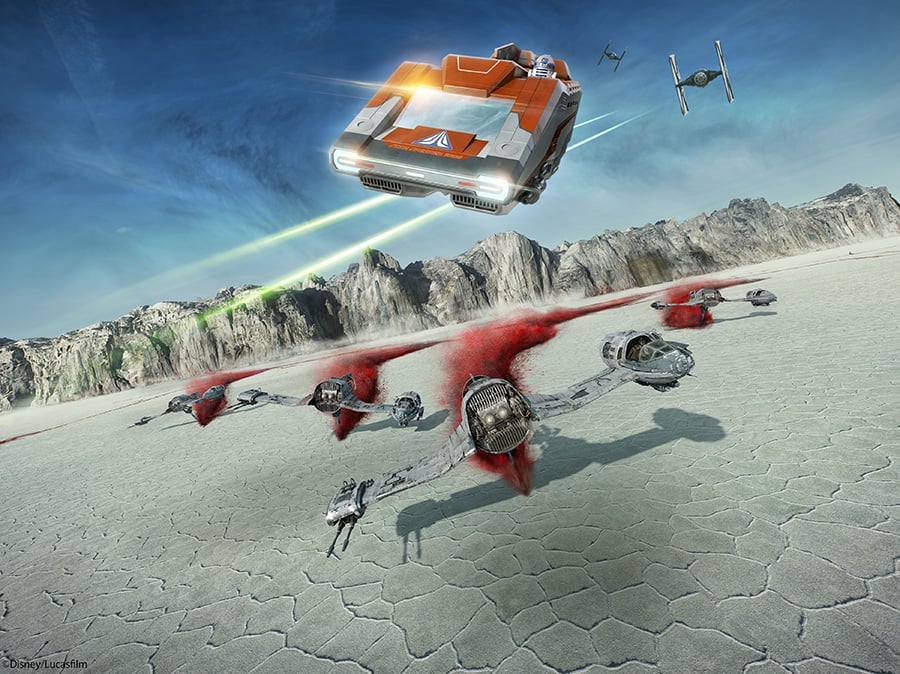 As it did when The Force Awakens came out, Disney's famous Star Tours ride is getting another update, this time with scenes pertaining to The Last Jedi!
The official Disney Parks website has revealed a teaser image showcasing the new updates to the famous Star Tours Star Wars ride at Disney World and Disneyland. Scenes and locations featured in The Last Jedi have been added to the ride, which will become available starting on November 17th! As we can see above, this one has us flying through a battle between TIE Fighters and ski-speeders on Crait!
The reveal didn't stop there, as the official release teased that Crait will not be the only new scene featured in the ride's upgrade.
We've shared all we can for now about the thrilling adventures waiting for you on Crait, but if you're thinking that's the only new Star Tours destination coming this week, all I can say is, "No. There is another."
What other locations will we see? Will we be speeding through Canto Bight? Hovering over the seas of Ahch-To? Star Tours has been a staple in Disney World and Disneyland for a long time now, and it's great to see they keep updating it to keep up with the incredible new planets, locations, and stories from the new films.
Source: DisneyParks.com 
John Hoey is the Lead Editor and Senior Writer for Star Wars News Net and the host of The Resistance Broadcast podcast
"For my ally is the Force, and a powerful ally it is."