Disney Parks Shows Off First Commercial and Pricing for the Star Wars: Galactic Starcruiser 

The Star Wars: Galactic Starcruiser has been in development for a long time. While details about what can be expected from this unique resort experience have been let out in drips and drabs over the last few years, Disney today dropped its first commercial for the resort and updated the official site to offer some key details.
First up, the commercial doesn't show off too much that wasn't already known, but it does give a new look at the standard rooms that will be available and sets the tone for the experience. The more illuminating parts of the new information released today involve the pricing and what is to be included in that cost.
It was always known The Galactic Starcruiser would not be a budget offering.  On that front there are no surprises here.  A two night stay in a standard room for two people in Disney World's off season (sample prices are for August-September 2022) comes in at $4809.  That goes up to $5,999 for a family of four. No sample pricing is given for the larger suites that will be available.
What's included in that price?  Disney has added some details there as well.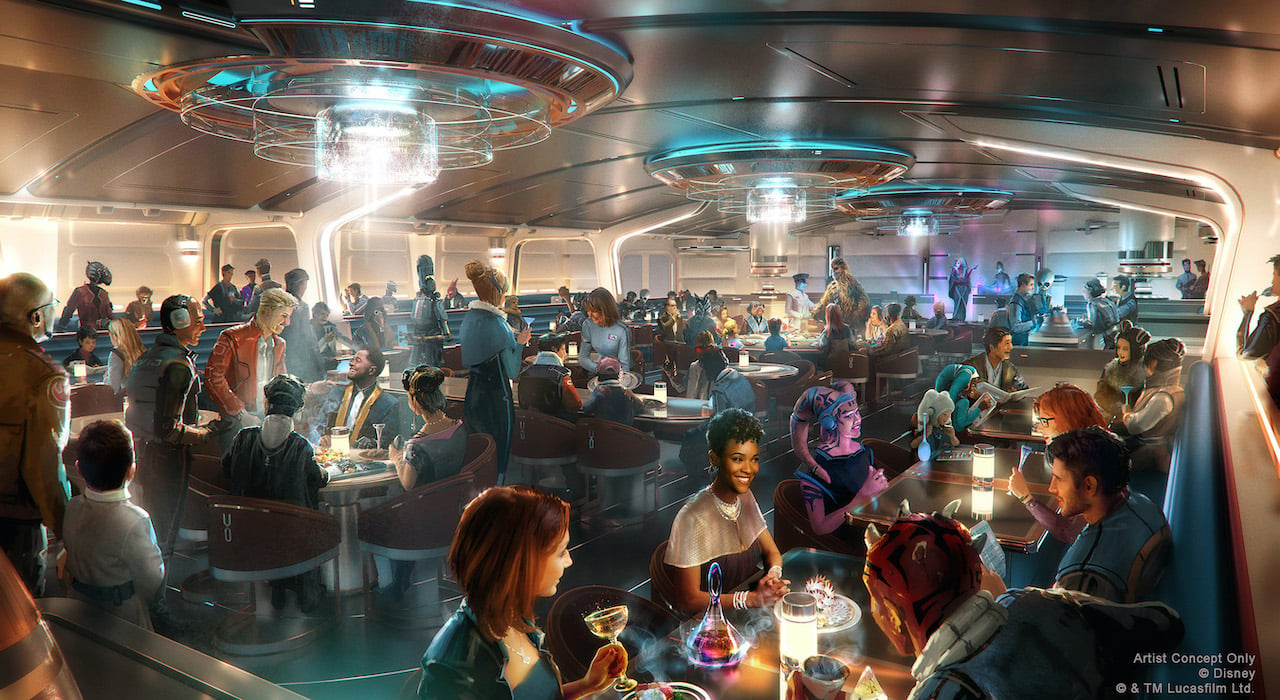 Your Star Wars: Galactic Starcruiser vacation package includes:
2-night stay in a cabin or suite
Ongoing, immersive and interactive entertainment, where choices determine your experience
Food and beverages on the starcruiser (excluding alcoholic and specialty beverages) and a quick-service meal at Docking Bay 7 Food and Cargo or other select locations at Disney's Hollywood Studios
Admission to Disney's Hollywood Studios for your planetary excursion to Star Wars: Galaxy's Edge
Valet parking
Exclusive Star Wars: Galactic Starcruiser databand (known on your home planet as a MagicBand)
As expected, the cost will work similar to a cruise line with most food, drink, and entertainment included in the cost of your room.  You also get the included "excursion" in the form of admission to Disney's Hollywood Studios park next door to the hotel.  That park also happens to be the home of Star Wars: Galaxy's Edge and it is expected the hotel will have a private entrance that leads directly to Batuu so you are never forced to leave the Star Wars experience if you don't want to.
The Galactic Starcruiser is scheduled to open next spring, so there is sure to be more pricing and detail provided in the coming months.  In the meantime, head to the official site for all the information that is available currently.