Rumor: New Brief Info on a Certain Episode VIII Scene Shot in Ireland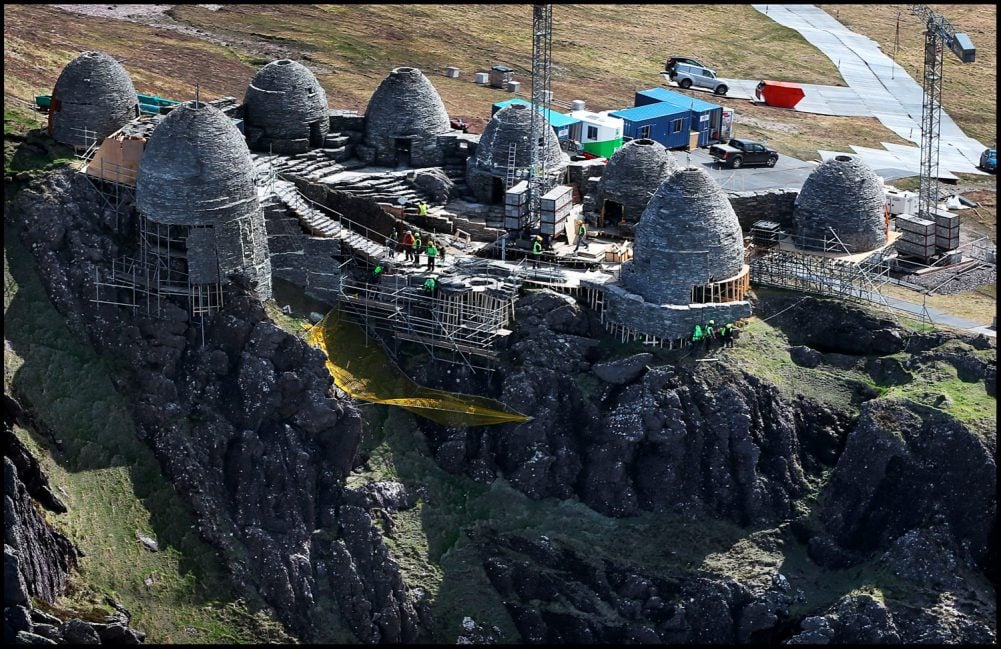 The German website StarWars-Union released a report by Thomas Riedel, who was on a family vacation in Ireland, and who managed to talk with an eye witness of the filming that took place in Malin Head. Read on for the details on what he heard.
SPOILERS AHEAD!

We know so far, that due to environment protection not all scenes on Ahch-To could be filmed on Skellig Michael. Lucasfilm had different sets in several locations in Ireland which served as stand-ins for Skellig Michael. A few months ago we shared several interesting reports from the set that can be found here.
Now StarWars-Union reports what may have happened on the set in the picture above.
Thomas Riedel talked to one of the residents there, whose son worked as an "contractor"  only 2-3 km away from the set on Sybil Head. He said the following:
The bee hive huts were made of fitting foam, which Thomas was able to find on site as well.

They filmed fighting scenes and Chewbacca participated in those fights.

It appears that the Knights of Ren disturbed Rey's Jedi training.

The filming took place till dusk and buildings could be seen from houses in that area that were 2-3km (2 miles) away.
This report matches with a description by MSW that we shared here and here. Still, this is the first time we hear about Chewie's involvement with the fight, although this was a no brainer since he arrived on Ahch-To with Rey and actor Joonas Suotamo who plays Chewbacca was spotted in Ireland.
Not much here, but still a good opportunity to bring back this exciting sequence for discussion.