New The Last Jedi Cast Photo and Two Brief Shots Shown at CinemaCon!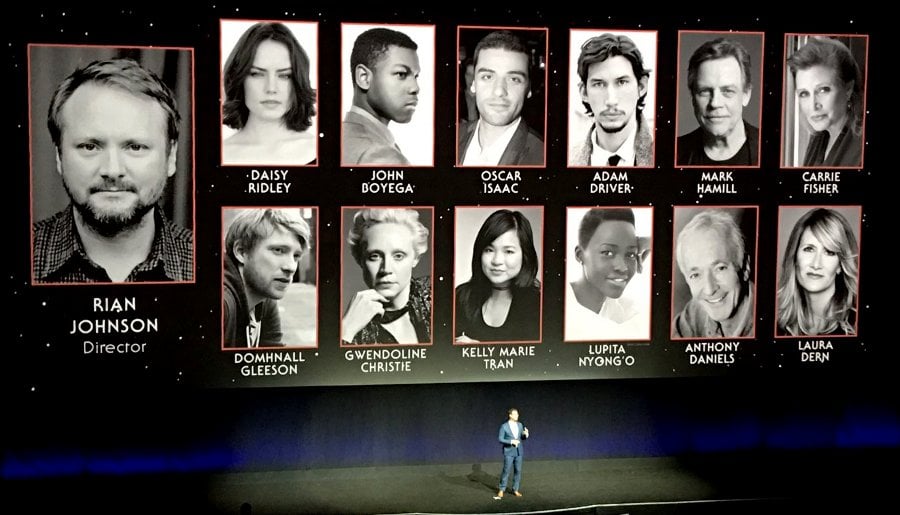 Yesterday Disney had a presentation at the CinemaCon convention, where they talked about their upcoming projects. During the intro of the presentation they showed two brief shots from The Last Jedi and later on showed a cool cast photo from the movie, featuring all the major players.
You can see The Last Jedi cast photo shown during the presentation below, shared by AintItCool's Eric Vespe:
Star Wars – The Last Jedi! pic.twitter.com/jqCDKcDf3z

— Eric Vespe (@EricVespe) March 29, 2017
Many fans are wondering why actors like Benicio Del Toro, Andy Serkis and Joonas Suotamo are not in the photo. I don't think we should read too much into this. It's a big cast team and it's normal that some of them will be left out from it.
And here's /Film's Peter Sciretta brief description of the two shots shown from The Last Jedi:
Just saw a short glimpse of Star Wars: The Last Jedi footage in a sizzle reel. Rey holding the lightsaber ignited, and her moving the rocks.

— Peter Sciretta (@slashfilm) March 29, 2017
As you can see these two shots were also among The Last Jedi footage shown during Disney's shareholders meeting from a few weeks ago. There is a big chance that we might see them in the trailer as well, which will be released during Star Wars Celebration Orlando in 2 weeks time.
We're almost there…