The Star Wars: Episode 7 Production In Review: A Writer's Roundtable (Part 2 of 3)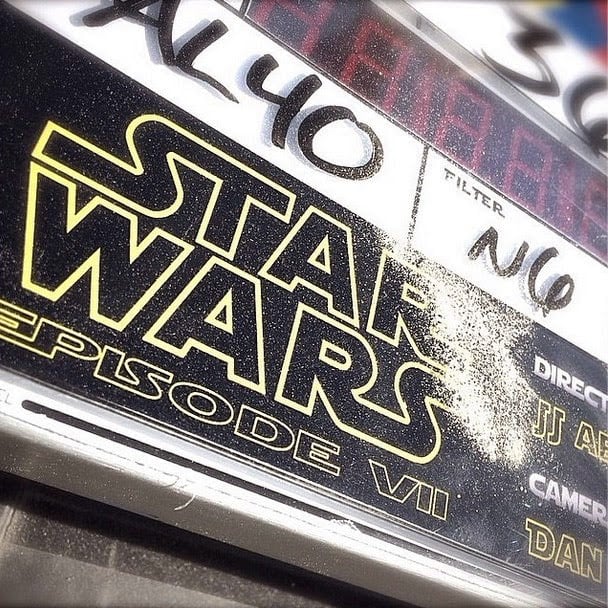 In Part 1 of this special Episode VII Production In Review series we looked at the thrilling days of pre-production that led up to the Official start of Principal Photography. In Part 2, the StarWars7News crew takes a look back at Principal thus far as we comment on some of the highlights and key "events" that shaped production, after the jump.
DAY ONE:
MAY 16th, 2014 > Star Wars: Episode VII, code-named "AVCO," begins Principal Photography in Abu Dhabi! It would be some days before we find out which actors are involved with this portion of the shoot. Also, a simple, yet unmistakable sign is posted at Pinewood Studios, signifying the launch of this massive enterprise!
How psyched were you when they announced the start of production on May 16th?
Pomojema: Not nearly as psyched as I am now. I pretty much live off of Star Wars rumors at this point in my life, and I'm not ashamed to admit that.
Viral Hide: Well honestly nothing can be compared to the October 30th announcement!
Echo-07: It was definitely different from the other days, but kicking-off a new Star Wars production was still a special day and a day I never really thought we'd see for the ST.  
DAY SIX:
MAY 21st, 2014 > JJ Abrams releases a video introducing fans worldwide to their fund-raising initiative called "Force For Change" designed to raise money for Unicef. The surprising video is shot from one of the Abu Dhabi desert sets – "an ages old market" — that leaves little doubt that Tatooine makes, yet, another appearance in a Star Wars film. The video also reveals a practical alien character, possibly a H'drachi, in the background: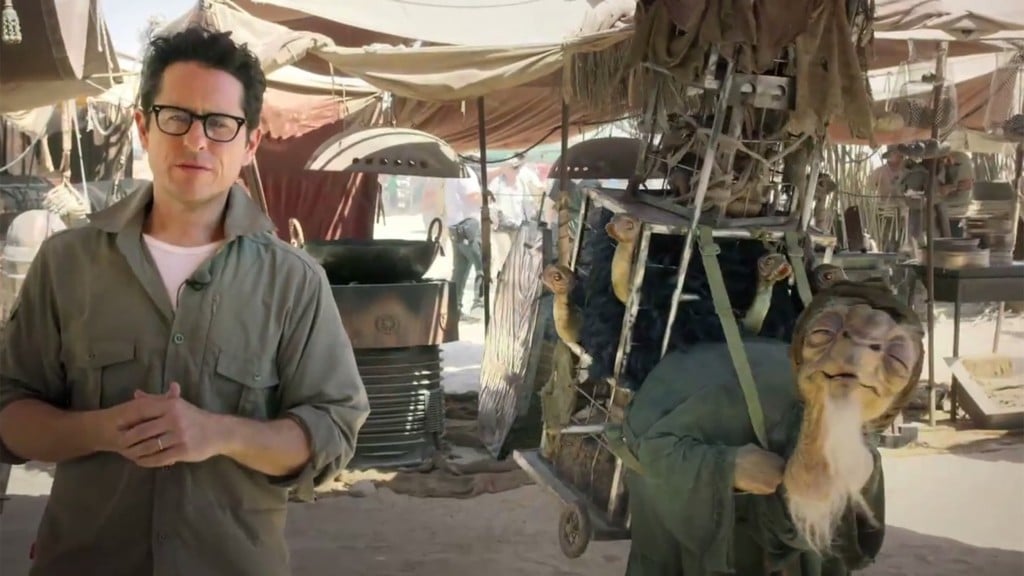 What did you guys think of JJ's Force For Change video from the Abu Dhabi set?
Pomojema: The London one was better (X-Wing! Rebel Pilot! Mouse Droid!), but I loved seeing the Muppet move around. Jim Henson would be proud.
Viral Hide: He is really trying hard to do something very, very close to the OT feel. I hope they're only trying to mimic the feel not the whole story structure, plot twists etc. The new Rebels show is trying too hard to mimic the OT and I think that's not necessarily a good thing. Everything needs a soul of its own.
Echo-07: I thought that JJ's penchant for his secretive "mystery box" strategy would mean we wouldn't see anything like that video, so it was a HUGE surprise IMO.
DAY SEVEN:
MAY 22, 2014 > We learn at least a couple of the actors involved in the Abu Dhabi shoot include John Boyega and Daisy Ridley.
Ridley & Boyega evoke memories of the 2013 audition script, looking for "Rachel" and "Thomas":
THOMAS (kidding) Can't you go any faster?

RACHEL Shut up and eat your apple.
DAY SEVENTEEN:
JUNE 1st, 2014 > Bad Robot Tweets a picture from London, signifying that the two week Abu Dhabi leg of the shoot has successfully concluded! The photo features an exuberant JJ Abrams and Kathleen Kennedy as they toast to a successful first leg of a long journey.
#robotsinlondon pic.twitter.com/6JgPIxHJns

— Bad Robot (@bad_robot) June 1, 2014
DAY EIGHTEEN:
JUNE 2nd, 2014 > Day 18 is a big one as TMZ, the TV tabloid, releases 45 spoiler pics from the Abu Dhabi shoot, definitely revealing more details about the presumed Tatooine sets.  
What did we think of the TMZ leaked pictures, without getting spoiler-ific?  
Pomojema: Well, they certainly quenched my appetite for news. Nonetheless, I'm glad that they focused mainly on the sets instead of trying to pester the stars of the show.  
Viral Hide: Well they didn't show anything actually, didn't they? Still I loved the huge creature. But, as with the AT-AT foot, it probably will end up in the BG of some shot. It was weird though that all the people on the photos were … humanoid. Someone should expect more diversity from an alien world.  
Echo-07: You bring up a good point, Viral, as IMO I don't think they were "leaks" at all. I think JJ and co. hid all the really cool stuff they wanted to save as a surprise, including alien extras.            
Dekka129: I've been fascinated by what we've seen so far, not just from TMZ, but from other sources like JJ's Force for Change videos. Most of the pics certainly tend to look like a certain "planet furthest from the bright center to the universe", but who knows? One thing's for sure… they all look very "Star Wars-ey", and the TMZ pics have created some interesting general story scenarios in this old noggin of mine (though again, they are probably very different from what we'll actually see onscreen.)
We also reported on this day, via the Official Site, the Official Announcement that Oscar winner Lupita Nyong'o, Twelve Years A Slave, and Game of Thrones fan-fave Gwendoline Christie are joining the production.
"I could not be more excited about Lupita and Gwendoline joining the cast of Episode VII," says Lucasfilm president Kathleen Kennedy. "It's thrilling to see this extraordinarily talented ensemble taking shape."
What do you think of Lupita Nyong'o and Gwendoline Christie? Did critics jump the gun?  
Pomojema: About accusing the film of underwriting the female parts? Yes, I do think so, considering that casting was still underway at that point. But Lupita and Gwendoline are wonderful actresses, and I'm glad to see that they're going to be a part of the Galaxy Far, Far Away.  
Viral Hide: Never heard of Lupita before, love Gwendoline in GOT, though. Obviously there's much more attention to female characters this time around.    
Dekka129: When DON'T critics jump the gun? In this case, we know so little about what they'll be doing in the movie that I'm not sure what there actually is to criticize in the first place. I think both of these actresses are fantastic choices for the Star Wars universe, and I'm very interested to see what roles they end up playing.
If by criticism you are referring to concerns over there not being enough female characters in the movie, I think that was quite overblown, yet understandable given the casting of episodes 1-6. At the same time, I think that the responses decrying the notion that "political correctness" is driving the more diverse casting of Episode VII has been just as out of proportion.
DAY NINETEEN:
JUNE 3rd, 2014 > TMZ releases even more spoiler pics this time from Pinewood Studios, revealing some interesting "sets."    
DAY TWENTY:
JUNE 4th, 2014 > In response to the TMZ leaks, Bad Robot releases a spoiler pic of their own, revealing another interesting set piece that seemingly confirms that one famous, and fastest, hunk o' junk in the galaxy is set to make her return.
pic.twitter.com/wQYfaVtwFU — Bad Robot (@bad_robot) June 4, 2014
JJ released a "spoiler" pic of his own from aboard the Falcon. . . does the Falcon count as a female? Does it help boost the total female count?
Pomojema: I don't want to comment on this one, because I'm having Vietnam-like flashbacks to when all those commentators posted freaky videos to the comments section.
Echo-07: (Laughs) Fair enough . . .
Viral Hide: It's great with all the paying attention to the details. Fans appreciate it.
Echo-07: Yes, as I recall they even bought dice too from someone on eBay. What do you think, Dekka?
Dekka129: Maybe, maybe not. But the Falcon is still the sexiest flying rust bucket this side of the Corporate Sector!
DAY THIRTY:
JUNE 16th, 2014 > Harrison Ford breaks his left ankle/leg while on the set of the Millennium Falcon. According to various reports he was struck by the hydraulic gangplank entrance ramp that leads inside the ship. At first, reports are sketchy as to how serious the injury is and only in subsequent days do we learn that Ford is sidelined for up to eight weeks in order to recover. Abrams and co. are forced to shuffle the shooting schedule, which then included a two week hiatus in August to allow Ford more time to recover.
Harrison Ford broke his leg virtually one month after filming began — What did you think?
Pomojema: I was unpleasantly surprised, but I largely felt like things were going to work themselves out and that he would be back on set soon – I didn't really entertain the idea that the movie was going to be delayed – and it seems like this was indeed the case.
Viral Hide: I really never thought that the incident was really serious. Surely it could have been, but somehow I thought that he'll be OK in no time.
Dekka129: My initial reaction was rather unprintable. The dark irony of Harrison Ford finally agreeing to play Han Solo again after years of trying to put the character behind him, and then having his ankle broken right there on the Millennium Falcon set just had me shaking my head and uttering "colorful metaphors". And at the same time, I was afraid that this might radically alter the story for Episode 7 if Harrison was out of commission for very long – and JJ and everyone had seemed VERY excited about the screenplay as it was. Luckily, it doesn't seem to have been too serious a setback.
Echo-07: I agree with the unprintable, colorful metaphors, however, unlike you guys I thought it would delay the release of the film — my first reaction was May 2016 here we come! But, thankfully, that doesn't appear to be the case.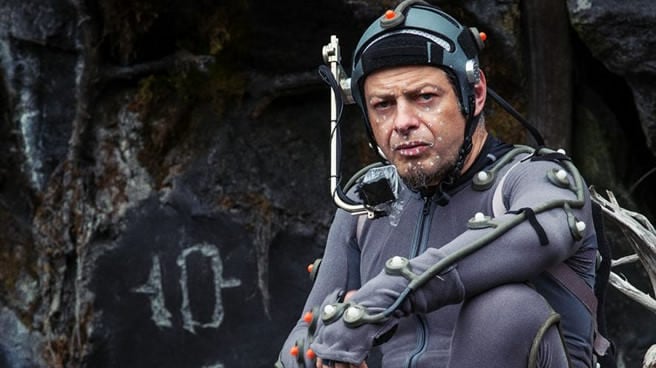 DAY FORTY-TWO:
JUNE 28th, 2014 > Andy Serkis confirms that he is playing a motion-capture character in Star Wars: Episode VII. Serkis, and his Imaginarium, are famed for bringing CGI characters to life such as "Gollum," "King Kong," and "Caesar" from Planet of the Apes. The speculation begins as to just what kind of alien Serkis is playing and whether or not he is a "Good guy" or a "baddie."
We found out that Andy Serkis, mo-cap master, is indeed playing a mo-cap character, but what kind of alien is he playing? Good guy or bad guy?
Pomojema: I'm going to guess that it will be a chaotic/true/lawful neutral character, given that that's what most of his mo-cap characters have been as of late – specifically, Gollum (who eventually becomes a villain), King Kong, and Caesar. My guess is that it will be a character that acts neutral for a majority of the movie but ultimately sides with good when push comes to shove.
Viral Hide: I think there's is still no official info on whether he is playing a mo-cap character or not. Of course I'm 90% sure that he is but that's not official. I think there will be a fully CG creature with an important role in the movie. I'm just speculating on this.
Echo-07: Three words — Son of Jar-Jar . . .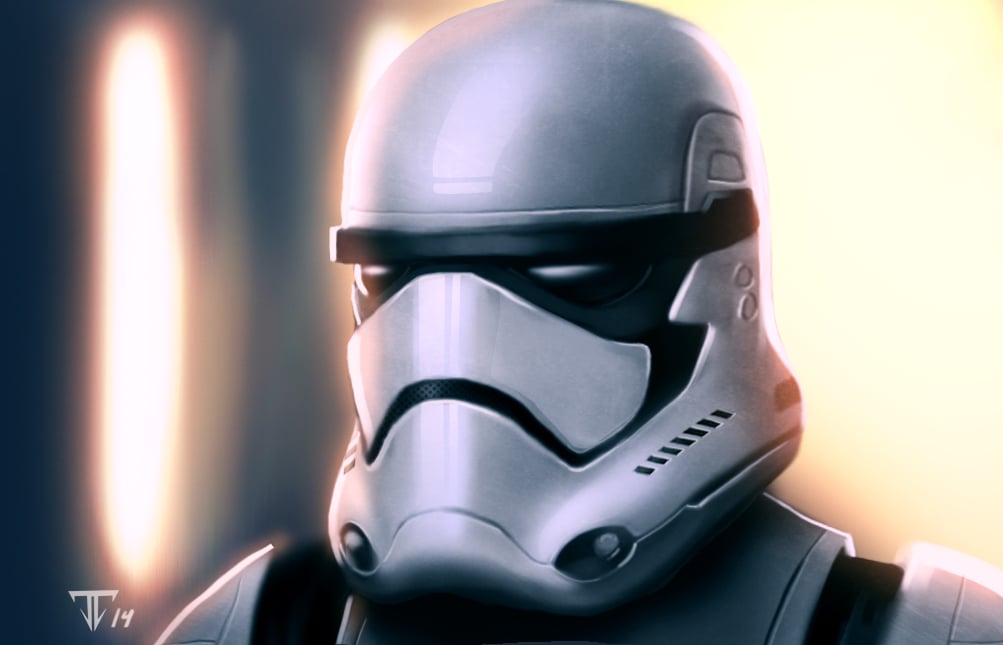 DAY FORTY-SIX:
JULY 2nd, 2014 > After a trip to London where he was allowed to visit the various sets of the production, Kevin Smith returns to the states to share his excitement with the internets. Smith couldn't talk much about the visit because of the NDA, however, was able to confirm such already confirmed items as lightsabers, blasters, the Millennium Falcon, and the appearance of Stormtroopers.
What did you think about Kevin Smith's excitement after visiting the set?
Pomojema: I generally agree with his enthusiasm (such as for the movie Man Of Steel, which I personally consider to be one of the best superhero movies ever made in spite of being divisive), so his ecstatic response pretty much erased any doubt in my mind that Disney could screw this up.
Viral Hide: I think this was the best indication so far that the movie is in good hands. We all know Kevin and he surely was impressed.
Dekka129: I don't have the problem with Kevin Smith and his movies that a lot of folks seem to. He's a big ol' dork just like me and (I suspect) just like a lot of us here, who just happens to have had the opportunity to build a career letting his id run free in fun but admittedly low-brow comedies. But one thing's for sure – the guy LOVES Star Wars and grew up with it very much the way we all did. Had he come out of his set visit making measured, diplomatic statements about how good the movie was going to be, I'd have been concerned. But the fact that he could barely contain himself, and that he has repeatedly skirted the edges of his NDA agreement like an ovegrown kid who's too excited to keep something big to himself… well, personally I think that's a very good sign indeed. It proves nothing, but suggests plenty.
Echo-07: Those are great responses, one and all. I couldn't have said it better.
That's a wrap for Part 2 of "The Episode VII Production In Review" roundtable. Be sure to check back soon for the conclusion of this series as filming ends its two week hiatus and ramps-up again. In Part 3 we take a look at everything else that came after Day Forty-six and even sneak a peek at what's to come after the hiatus.