Han and Chewbacca Play Different Games in New TV Spots for Solo: A Star Wars Story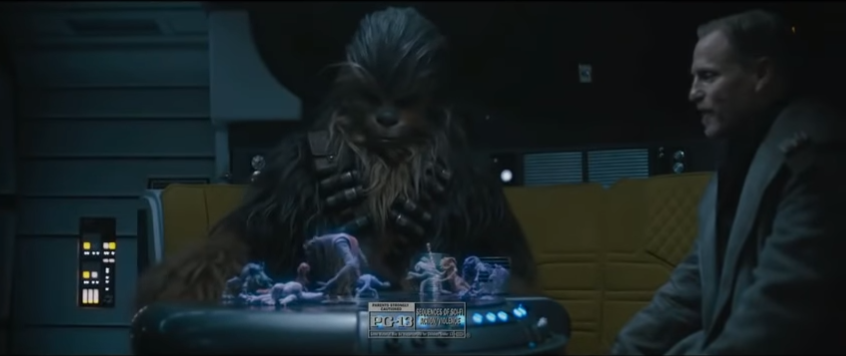 With Solo: A Star Wars Story only a mere 17 days away, the anticipation has reached an all-time fever high as we enter a week filled with junkets, press screenings, and an onslaught of new TV spots. In the first, our team is given their specific designations with Woody Harrelson's Beckett dubbed "The Leader" ,Emilia Clarke's Qi'ra as "The Brains", Chewbacca as "The Muscle", Lando taking over as "The Smuggler", Han Solo designated "The Outlaw" and Phoebe Waller-Bridge's L3-37 as, well, "The Droid". We get another look at the Jon Favreau-voiced Rio Durant giddy over seeing a real live Wookiee and an interesting shot of Qi'ra removing an ornamental sword from its sheath in Dryden Vos' antique room.
Here are the clips that we first saw posted together on the comicbook.com YouTube channel.
If Qi'ra is preparing for a showdown with the crime boss himself, this shot makes a nice contrast to one in the following TV snippet which features the two of them looking especially comfy together, as he informs the team that they'll "need an incredibly fast ship" to pull off their big heist. Han assures him they have the pilot but ponders, "who's going to be my co-pilot" just as a familiar shaggy arm touches his shoulder. Of course, that particular arm might seem affectionate in the moment but the minute you put try and beat him in Dejarik, all bets are off. "No, you can't wipe them off, they're holograms", Beckett coos at the annoyed Wookiee. Chewbacca might not get any better at this game but we all know what happens when he loses…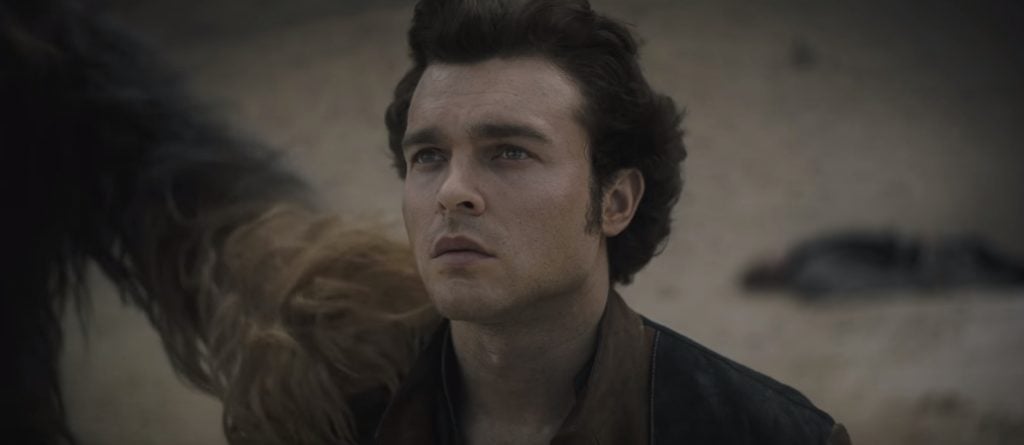 Another of the short trailers focuses on the fateful card game between Han and Lando, featuring great shots of many of the creatures seated around the Sabacc table.  "Whoa whoa whoa, slow down Han, might want to quit while you're ahead" intones a very relaxed Lando, holding court, and clearly enjoying the competition. Han is quick on the uptake and flashes Lando his trademark smirk: "might want to quit while you're behind".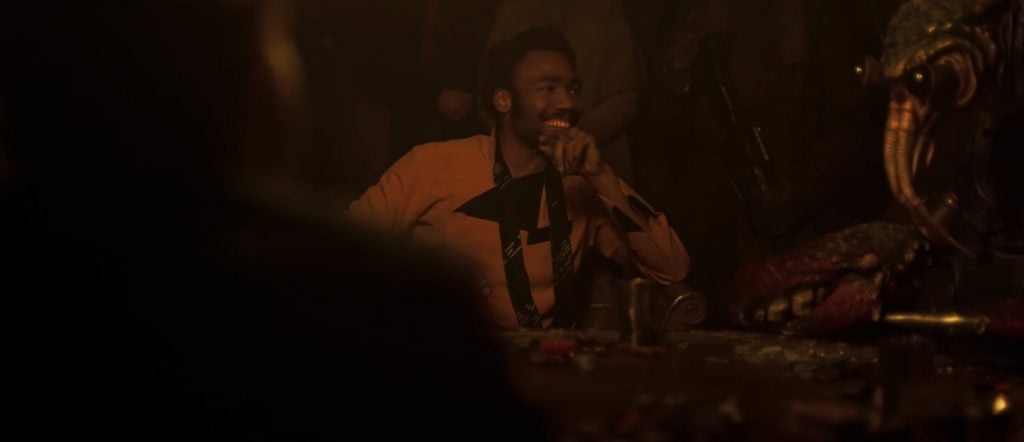 In the final spot, Lando informs Han that he's "come to the right place" as our scruffy nerfherder tosses his coins onto the table, ready to play. We also get to see the mysterious Enfys Nest on her swoop bike as she barrels down towards the Conveyex, blasters firing. But the most interesting shot arrives at the end of the trailer as Han and Chewbacca, in chains, are led away from a ship. "When have I ever steered you wrong?" asks Han as the walking carpet roars in disapproval. But behind the two friends, partially obscured, is a figure in the iconic guard costume of  Tamtel Skreej, the alias Lando adopted when he infiltrated Jabba the Hutt's palace in Return of the Jedi. It's hard to determine who is underneath the helmet in this split second frame but it looks as if the future administrator of Cloud City might be adding another suit to his wardrobe closet by film's end.
It really seems like these TV spots are getting better and better! What did you think?
Under the twin suns of Los Angeles, Chris continues to mourn the loss of Admiral Ackbar while championing the rights of Ewoks everywhere. Follow him on Twitter and Instagram @Chri5Manning for all your pun needs.