Star Wars Insider #195: Baby Yoda, Rise of the Resistance, and Greedos!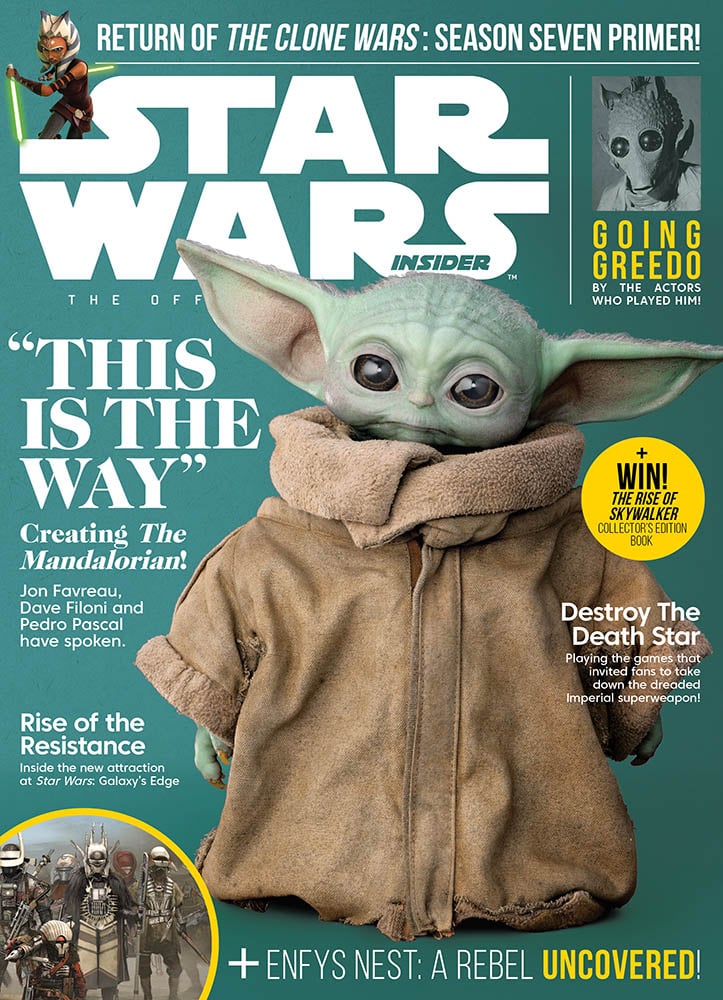 If you want to sell your magazine these days, your best bet is to make your cover feature Baby Yoda aka the Child aka the adorable little frog eating, soup sipping green munchkin. And that's just what Star Wars Insider did with their most recent February/March issue.
Issue 195, currently available on newsstands in the US and hitting UK shops on March 5, offers something for everyone. Eager for more of The Mandalorian? Not only is there an interview with Jon Favreau and Dave Filoni on the making of the series but Pedro Pascal details what it's like to wear the armor. Can't wait for more Clone Wars episodes to drop on Disney+? There's detailed character arc breakdowns for Anakin, Ahsoka, Maul, and Rex to help you get caught up. Looking to join a boarding party at Disney for Rise of the Resistance? Well… they don't have any fast passes available but they do dive into the creation of the attraction with the Imagineers responsible for the ride.
And if you're an old school Star Wars fan who happens to like bounty hunters who shoot second, Insider catches up with Paul Blake and Maria De Aragon who both donned the suit of unlucky Rodian, Greedo. The deep dive not only features behind the scenes stills of the costume being fitted and applied but also explains why two people wound up portraying a character who only appears in one scene. There's even an anecdote involving George Lucas saving a choking Greedo!
Pick up your copy of Star Wars Insider at newsstands or subscribe here and bring home Baby Yoda's cover debut today!
Under the twin suns of Los Angeles, Chris continues to mourn the loss of Admiral Ackbar while championing the rights of Ewoks everywhere. Follow him on Twitter and Instagram @Chri5Manning for all your pun needs.