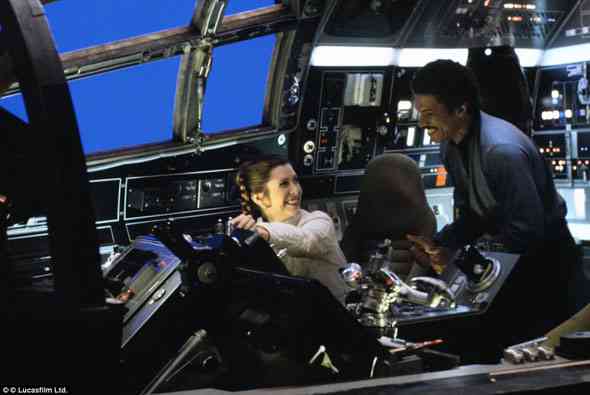 This week on our Star Wars Weekly News:
How a World War II drama influenced the space battles of Star Wars: A New Hope; Ron Howard thanks fans for purchasing advanced tickets to Solo; Star Wars Episode 1: Podracer gets a game re-release; EA and DICE are adding a special 'The Han Solo Season' feature in their Star Wars Battlefront II game; Opening night fan events for Solo: A Star Wars Story offer exclusive gifts for those who attend; a group of fans are building a full-scale version of the Millennium Falcon's The Empire Strikes Back cockpit and more.
Our weekly roundup of the news, notes and chatter featuring Star Wars stories from around the world you may have missed is back. First we start with a very cool article that explores a film that inspired George Lucas' iconic original Star Wars film. From the very beginning, George mashed together his saga from borrowed scraps of the past inspired by cinema long forgotten. Slashfilm's Bryan Young recently took an in-depth look at how the infamous Death Star at the end of the original Star Wars film was based on the World War II drama film, The Dam Busters.
Check out 'How the World War II Drama The Dam Busters Influenced the Space Battles of Star Wars: A New Hope here.
Greg Dietrich, Jake Polatty and a group of fans are building a full-scale version of the Millennium Falcon's The Empire Strikes Back cockpit and WIRED has an exclusive look at the project. Check it out!
These Star Wars fans are building a full-size Millennium Falcon cockpit pic.twitter.com/ksSyvSj6GK

— WIRED (@WIRED) May 4, 2018
Ron Howard says "we thank you for your support" (to fans) after the upcoming standalone film sold more than double what Black Panther did during its first 24 hours of sales. "Never tell me the odds!" – Han Solo
From all of us at #HanSolo we thank you for your support and for putting down your CREDITS early. We're saving you a seat at the Sabacc table. #idiotsarray #straightsabacc https://t.co/1Zn1Sw1Z8n

— Ron Howard (@RealRonHoward) May 5, 2018
Variety shared a first look at a brand new poster designed for the Chinese market. The artwork features the movie's stars under the slogan: "Unbridled hero. Extraordinary partners." I've seen a lot of poster over the years, but this is easily the coolest looking one in the galaxy. The way Han is holding his gun is very Solo like….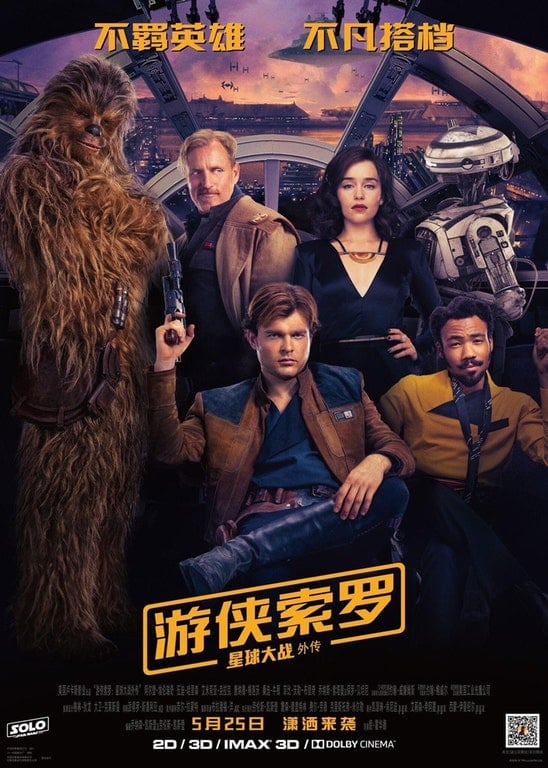 When the original Star Wars surpassed Jaws to become the highest-grossing film ever, Steven Spielberg wrote an affectionate and very public note to his friend George to congratulate him on reaching the milestone. More recently, Jurassic World producer Frank Marshall shared a statement congratulating Star Wars: The Force Awakens for its huge opening. Now, the official Star Wars Twitter account shared a message from Lucasfilm President Kathleen Kennedy that continues the tradition:
Congratulations, @MarvelStudios and @Avengers: #InfinityWar. pic.twitter.com/PnHfaouOlP

— Star Wars (@starwars) May 1, 2018
Here's an exclusive look at a never-before-seen image, courtesy of Total Film Magazine magazine, as Han and Qi'ra attempt to evade capture in a landspeeder.
"I've built a racer. It's the fastest ever! There's a big race tomorrow on Boonta Eve." – Anakin Skywalker
After being teased through Twitter, Good Old Games has re-released Star Wars Episode 1: Podracer. The game is available here for just over $11 dollars.
Start your engines. Podracer is back on PC for #StarWarsDay! https://t.co/W3ppcVhsw pic.twitter.com/eUNe0NKLya

— Star Wars (@starwars) May 3, 2018
EA and DICE are having a special 'The Han Solo Season' feature in their Star Wars Battlefront II game. Recently, their official EA Star Wars Twitter page posted the following: "We've got a really good feeling about this."#StarWarsBattlefrontII: The Han Solo Season arrives this month. Details come out of hyperspace next week."
We've got a really good feeling about this.#StarWarsBattlefrontII: The Han Solo Season arrives this month. Details come out of hyperspace next week. pic.twitter.com/no3RQS4FJ5

— EAStarWars (@EAStarWars) May 3, 2018
Ahead of its release later this month, Illustrator Mark Raats shared an exclusive look at the official (Australian exclusive) poster for the new Solo film. It's a beauty!
"I was thrilled to have been asked to create this new artwork for the new Lucasfilm/Disney movie SOLO. I was even more delighted in that I was freely permitted to find a visual solution that wasn't yet another 'floating head' composition of all the actors but rather, a series of illustrations that hopefully capture the spirit of the movie. Thank you to the amazing team at Lucasfilm/Disney for granting me the honor of creating poster art for one of your franchises again. The fact that you purchased the original painting from me even before I put the first brush to board was an even greater honor. May the 4th be with you!"
Official (Australian exclusive) @@DisneyLucasfilm Poster for the new @starwars movie @SOLO.

Thank you to Lucasfilm/Disney.
May the 4th be with you!#Disney #Lucasfilm #Solo @RealRonHoward @Event_Innaloo #StarWarsANUZ pic.twitter.com/qk7WjZ1wm2

— Mark Raats (@mark_raats) May 3, 2018
"Punch it Chewie!" Be the first to see the new Solo: A Star Wars Story film one hour before everyone else at AMC's Opening Night Fan Event. Ticketholders will receive a pair of AMC-exclusive replica dice, a regular popcorn, poster, and button set. Other theaters are joining in for fan events around the world but this one has Han's famous dice!
Disney just dropped brand new Star Wars themed emojis for their upcoming Solo: A Star wars Story release. Check them out!
Check out the new Twitter emojis for Solo: A Star Wars Story! #HanSolo #Qira #Lando #Chewbacca pic.twitter.com/Bl4QRRi863

— Star Wars (@starwars) May 4, 2018
Solo: A Star Wars Story is just a couple of weeks away and with that in mind, Funko brings us this cool trailer that takes you on a Millennium Falcon adventure. Find your Smuggler's Bounty box here.
Our Solo: A Star Wars Story collector box is available now! https://t.co/mRVeWGwhQz #MayThe4thBeWithYou #StarWarsDay pic.twitter.com/9osfCMGrwZ

— Funko (@OriginalFunko) May 5, 2018
We know that the legendary John Williams has written a special theme for Han Solo, however, John Powell is taking it further revealing that he has written five new themes for the Solo film. Can't wait to here what they are.
And now for a bit of less official news, and perhaps something that wasn't supposed to get out. As Star Wars fans, many of us are accustomed to seeing C-3PO and R2-D2 in the saga films. When it comes to Rogue One, many of us were surprised to see that they made an appearance, although it made sense considering that it was subtle foreshadowing for the Leia cameo that closes out the film. But when it comes to Solo, fans are wondering if a C-3PO/R2-D2 cameo would add anything to the movie or if it would be distracting… And now it sounds like we'll find out how it plays out in a few weeks. In a podcast interview for 'Cape Up with Jonathan Capehart' (Washington Post), Mark Hamill may have let a tidbit of information slip about our favourite golden droid:
Jonathan Capehart: What does C-3PO have to do to earn his freedom? Is he just stuck working for the Skywalker family forever?

Mark Hamill: Ha-ha-ha-ha! [Anthony] Daniels was so happy, 'cause he's in every single Star Wars movie. Every single one. All the Prequels, he's in Rogue One, he's in Solo… Whoops! I hope that's not, erm… But anyway, he's in Every. Single. Star Wars movie. That's not such a reveal – all Star Wars fans expect him to be in every movie.
While there isn't much to go on besides Mark's word, we are now led to believe that yes indeed Anthony Daniels is reprising his role as C-3P0 in Solo: A Star Wars Story – or at least that he'll have a cameo outside of his mostly-golden suit (remember, one of his legpieces is discolored so that it's silver). If we are to believe Hamill, what kind of appearance would Threepio have? A minor cameo? A quick walk-by in the background? We can assume that since he is given to Captain Antilles at the end of Revenge of the Sith and is still working aboard the Tantive IV in Rogue One and A New Hope that Antilles and the Tantive IV or possibly Bail Organa/Leia would have some (probably unseen) presence as well? A mercy mission to Kessel? Or perhaps this is the story of how his leg piece went from being gold to silver? Personally, I don't see how having C-3P0 in the film would make much sense, but with only a few weeks to go, we are bound to find out if this is true and if so, what Threepio is up to.
Special thanks to Austin D. (Dark-Porkins) for help on this post.
BEFORE YOU GO:
The Star Wars themed area at the Disneyland resort in Anaheim, California, is rapidly taking shape. This week, Reddit user "ImaginationCrafterYT" posted a gorgeous image of the skyline of Disneyland's Star Wars: Galaxy's Edge Planet Batuu. Check out the camera shot below: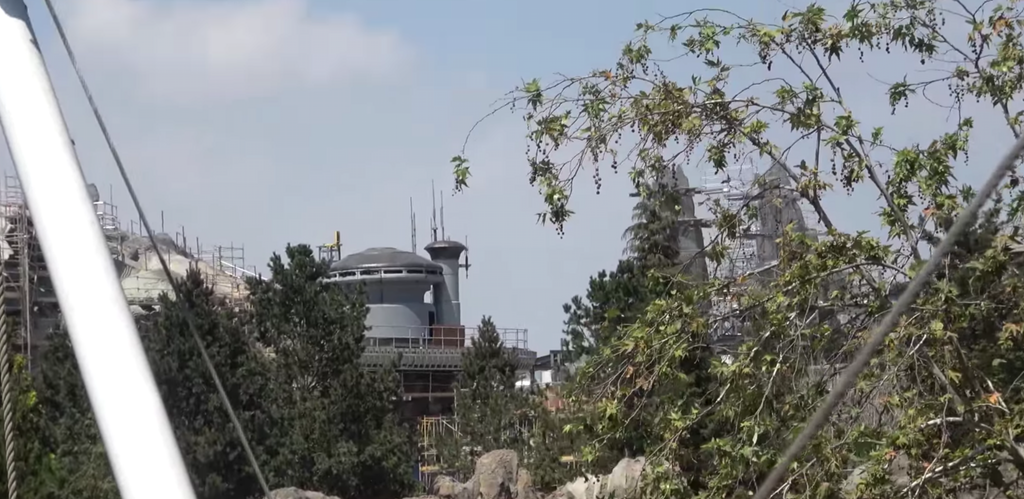 "RAWRGWAWGGR!". Star Wars: Roar for Change reached the maximum donation goal of $1 Million to Support UNICEF. The goal was reached within 4 hours of the campaign starting thanks to fans of both the Star Wars franchise and the K-Pop boy band BTS:
Thanks to fans from around the world & the #BTSARMY, we reached our maximum donation goal of $1M. Funds unlocked through this campaign will help @UNICEF provide food packets to children suffering from malnutrition. Happy #StarWarsDay! Learn more at https://t.co/YWzgNoK6es. pic.twitter.com/gpvsFANzJv

— Star Wars (@starwars) May 5, 2018
Stay tuned for more next week. May the Force be with you!
Click HERE to check out and comment on this topic in our forum The Cantina