"Star Wars: Galaxy of Adventures" Season 2 Premieres Tomorrow. New Trailer Revealed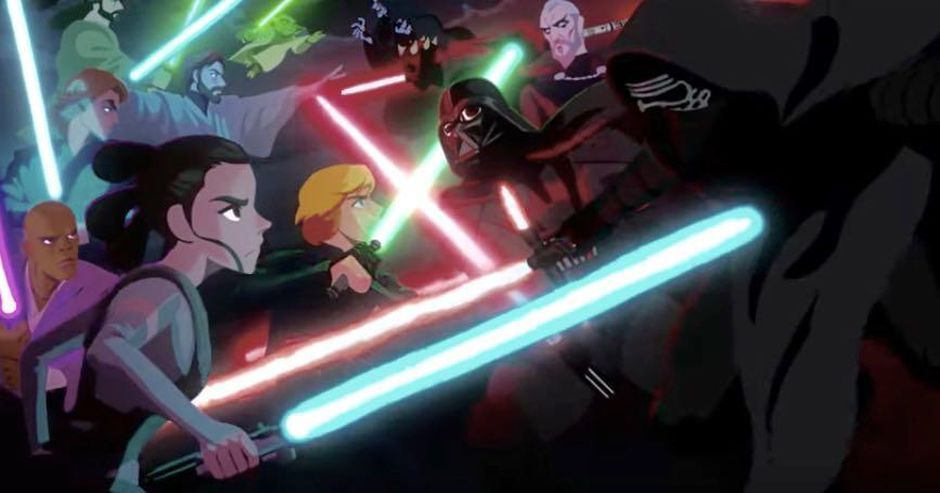 Finally, some good news.
While 2019 may have given us the final chapter in the Skywalker saga and introduced us to the meme-friendly Child, 2020 is showing no signs of a Star Wars content drought. While The Clone Wars continues to drop new episodes on Disney+ every Friday, tomorrow will give us even more content when the second season of Star Wars: Galaxy of Adventures hits YouTube. The first episode, now exclusively available on Yahoo,  features the newest Skywalker: Rey.
Star Wars: Galaxy of Adventures features snack-sized episodes that spotlight characters and moments across the entire saga with the intention of re-introducing the galaxy far, far away to younger viewers and longtime fans alike. Previous episodes have specifically spotlighted the original trilogy's films but this season intends to leap forward to cover events depicted in the sequel trilogy that began with 2015's The Force Awakens.
There's this broad swath of time between Episodes VII and IX — like six months to a year — and and that gave us an opportunity to say, 'We've rendered scenes that people are familiar with and made interesting montages, but could we tell a story? Could we fill in the gap in a fun one-minute way and really showcase the characters?
Adam Waugh, Vice President of Lucasfilm's Story Group, also wanted to use these mini-episodes to strengthen the resolve between the sequel trilogy's heroes and showcase their camaraderie. And while there's no Rose Tico-centric episode this season, Waugh assures fans of the character that Rose will be "woven through the shorts". Getting her own episode, however, is another popular woman of Star Wars: General Leia.
She's the core of the franchise in so many ways. The cool thing about the Leia short is it shows over the generations how her leadership has inspired so many people, building to that moment in Episode VII where it's time for her to pass the torch to Poe. That's the way we approach all of these stories: it has to have some substance and reflect values that kids can be inspired by.
While Star Wars: Galaxy of Adventures helps to bridge the gap between films and reveal new stories about the characters we've come to know and love, there is one new addition to the universe that fans would thrill to see in animated form. "It would be fun to see Baby Yoda",  Waugh laughs.
Watch a clip from the new season and check out brand new episodes of Star Wars: Galaxy of Adventures tomorrow, March 13, on YouTube.
And here's the season 2 trailer:
Under the twin suns of Los Angeles, Chris continues to mourn the loss of Admiral Ackbar while championing the rights of Ewoks everywhere. Follow him on Twitter and Instagram @Chri5Manning for all your pun needs.