UPDATE! New European Date for The Force Awakens Blu-Ray Release and More on the US Special Editions!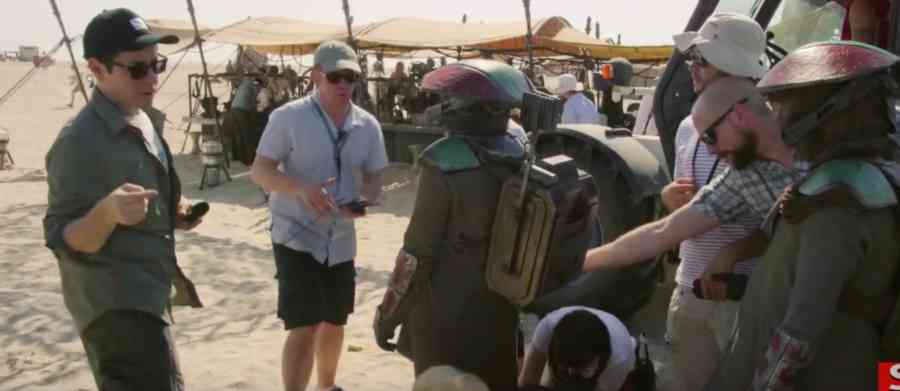 While there's still not an official word from Disney about when the Blu-ray release of Star Wars: The Force Awakens is set to arrive, there have been a few details suggesting when the estimated time of arrival should be in a few regions – subsequently hinting that an official announcement may be imminent.
As we've previously reported, JediNews snagged an image revealing that the street date in the United Kingdom is April 18.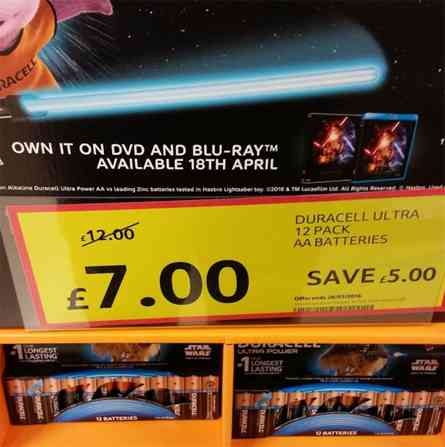 However, we've recently come across a bit of information suggesting that this isn't necessarily the date that every region is going to get their fix of SWTFA goodness. A reader of ours (who we'll call "Guy D") gave us some exclusive information about the Belgian release of the film on home media, which appears to be 2 days earlier than the UK.
It's hard to get a grip on the official release date of the Blu Ray and DVD's for The Force Awakens. However, at my work (Delhaize, which is an international big supermarket across Europe) gave me this paper with information how we'll display the DVD's and what the display will feature next to The Force Awakens.

This means that every 'Delhaize Supermarket' in Europe is supposed to have this Display from The Force Awakens on 16 April. Which means this is THE release date and we HAVE to make it available at that date. We got this from an official company in Belgium who is supplier of Disney/Star Wars movies.
And here's the actual proof:
It seems a bit odd that Belgium will be getting the movie two days early, but it does suggest that the movie will ultimately arrive in mid-to-late April in most markets. On another note, it's not entirely clear if the OT/PT releases alluded to above are more reissues or entirely new releases of the films, and Guy D wasn't entirely sure of what to make of it either. He suggested that it might just be for the French-language and German-language releases of the movies, so for the time being, it's best to err on the side of reissues.
I should also note that the site which previously revealed the digital version's arrival as being March 15 has mysteriously blanked out on the release date – suggesting a minor delay has taken place and that the movie won't be arriving on April 5. The Digital Bits has suggested that the release date in the United States may have shifted to April 19 to account for the UK's date, something which would be supported by the release date in Belgium being close to releases in both the United States and the UK. Aside from release dates, however, the people at TDB have revealed that the Best Buy is going to get an exclusive steelbook version: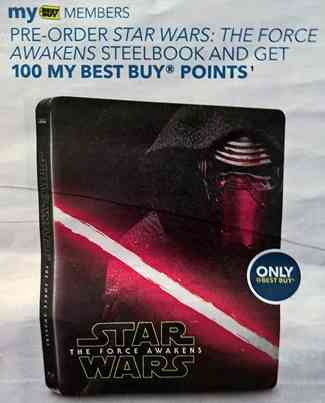 And not only that, but people who pick up the movie at Target will get an additional 20 minutes of special features:
So whatever the case is on the official release dates, it seems extremely likely that we'll be hearing something in the next few days. We'll be sure to keep you covered on this front and more, so stay tuned.
UPDATE!
Here's a look at what appears to be the Walmart exclusive Blu-ray set. Judging by the description, it suggests that the Blu-Ray dates will be unveiled tomorrow. Pre-orders will be accepted from March 3 through April 4. This also suggests that the movie will be released on April 5. We will see tomorrow… (via MillenniumFalcon.com)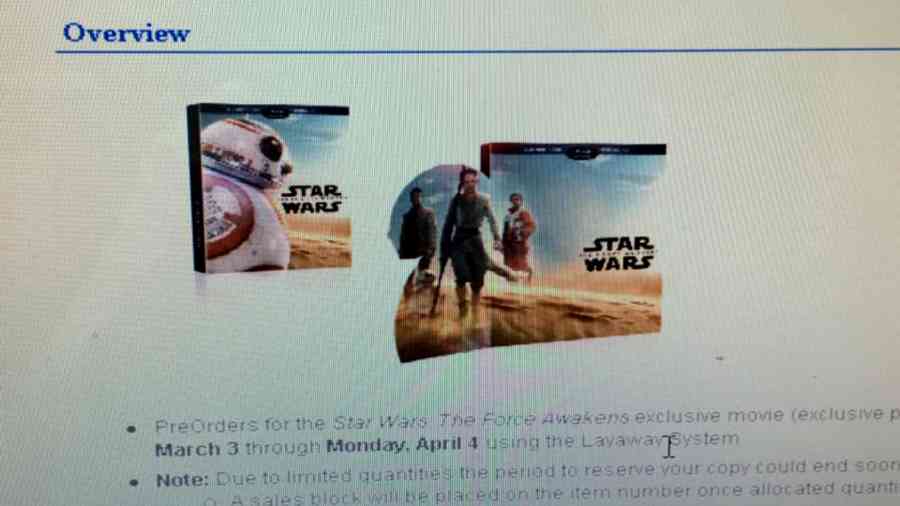 Grant has been a fan of Star Wars for as long as he can remember, having seen every movie on the big screen. When he's not hard at work with his college studies, he keeps himself busy by reporting on all kinds of Star Wars news for SWNN and general movie news on the sister site, Movie News Net. He served as a frequent commentator on SWNN's The Resistance Broadcast.