UPDATE! New Details and Photos from the Star Wars: Han Solo Shoot at Fawley Power Station!
As you already know the untitled Han Solo spin-off film is currently filming at the Fawley Power Station in the UK. A few days ago we got some photos from the set courtesy of TMZ, and yesterday one of our readers that lives nearby sent us several new photos as well as some curious rumors heard around the set. Proceed for the details…
POTENTIAL HAN SOLO SPOILERS!!!
May 21, 2017
First a quick recap on the Han Solo filming so far: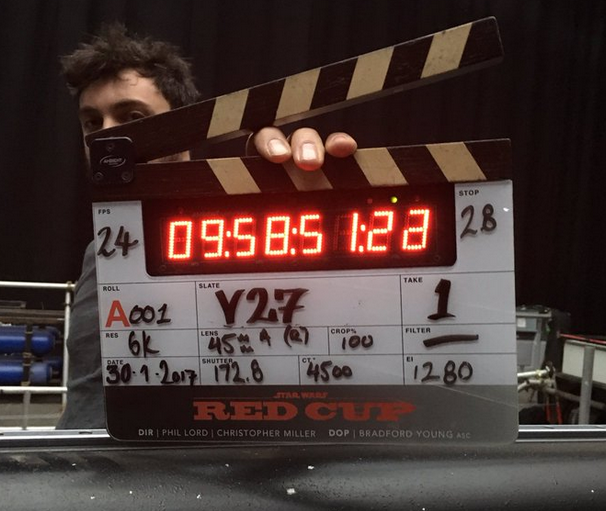 On January 30th, Han Solo officially began principle photography (here). They most likely first started filming at Pinewood Studios in the UK.
The next filming location that we know about is the filming currently taking place at Fawley Power Station in the UK.
By the end of May filming will proceed to the Spanish island of Fuerteventura (here). We've already seen a desert set being build there (here).
After that filming is expected to move to Italy for 3 weeks at Three Peeks (here).
Now that we've established some sort of filming timeline, let's go back to the filming currently taking place at the Fawley Power Station in Southampton (UK).
A few days ago we shared with you that this location is officially confirmed to be part of the Han Solo shoot (here), and just a few days later TMZ shared exclusive photos from the set (here).
Now one of our readers that lives close to the filming location sent us a few photos taken from outside the fence of the set. You can see them all at the end of the article. Here are two intriguing shots: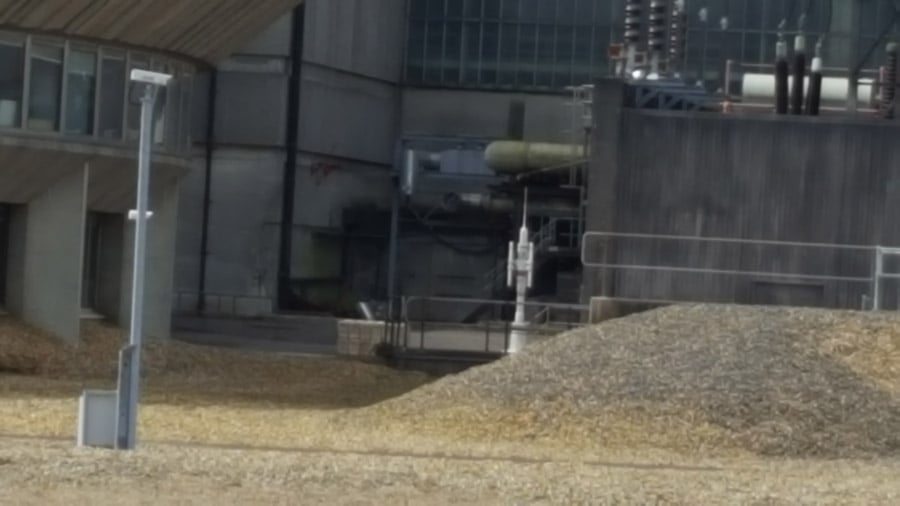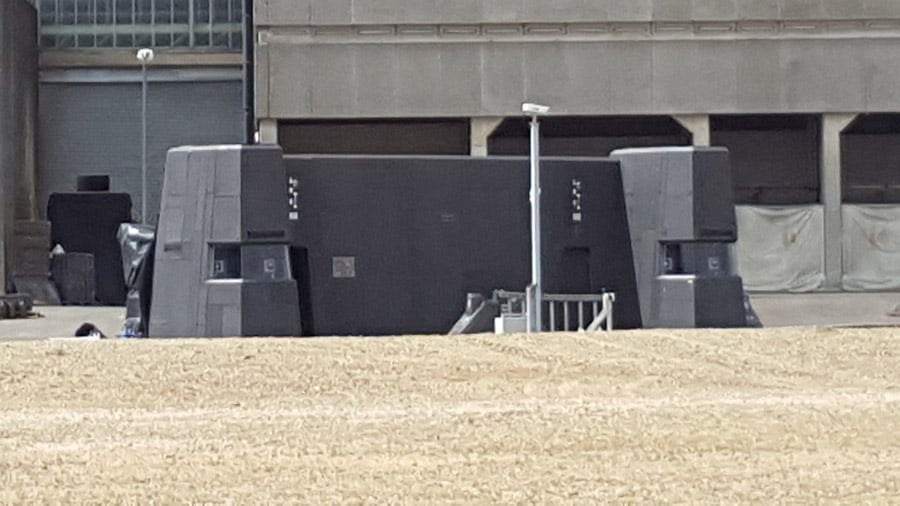 From the two photos above, we can suggest that this is a desert like planet host to an imperial base of some sort. We see sand (don't tell teenage Anakin), some pole-based structures similar to the iconic Star Wars moisture vaporators, and that building/structure in the second photo certainly looks like something built by the Empire.
In addition to these photos our reader shared several interesting bits he heard around the set.
They've been on site for a while now
Rumor has it they might finish filming by early next week (probably by the end of this weekend)
They are shooting internal and external scenes
You could see clouds of what looked like dry ice floating out of a hanger door, and what sounded like squealing tires from inside
Some locals have seen stormtroopers walking around
Others said they saw Emilia Clarke on site yesterday
Many of you probably noticed that one of the vehicles on set, (revealed by TMZ), is emblazoned with a white Imperial Crest:
To summarize, we have imperial looking structures, vehicles with the Empire's Imperial Crest on them, and rumored stormtroopers spotted on set. We can safely conclude that this location is an imperial compound or something of that nature.
It's interesting that in the non Star Wars canon (now known as Legends) Han Solo has some backstory with the empire (via Wookieepedia):
Solo entered the Imperial Academy at Carida, serving with distinction. He was kicked out, however, when he stopped an Imperial officer from beating a Wookiee named Chewbacca with a neuronic whip for resisting capture. In gratitude, the Wookiee swore a life debt to Solo, protecting him with his life and a bond of friendship formed between the two that was unbreakable.
Again, this is not canon. However, we know that Lucasfilm is not afraid to lightly borrow from Legends stories, and sometimes even completely revive ideas (Thrawn). It would be interesting to see if they try to pull something similar in this movie, in regards to Han's now Legends back story.
Also we should remember that Lucafilm President Kathleen Kennedy described the Han Solo film as a "Heist Western". So another possibility is that Solo is at this imperial compound to steal something or free someone. From what we've seen in the TMZ photos, it seems that Alden Ehrenreich's Han is going through some rough times at this location. You can clearly see he has facial cuts and bruises, which makes sense since we all know Han "prefer a straight fight."
With the photos we've seen so far and the info about some tire squealing sounds, we can speculate that Han Solo is in for some intensive action.
We've also seen Alden behind the wheel of one of the vehicles spotted on set:
Now is a good time to mention that Han Solo's costume as seen in the TMZ photos, which is a black shirt with a white vest (seemingly a direct contrast to his outfit from A New Hope). Many people were confused that he was wearing a black coat, but this is just the robe that all cast members use to conceal the real costume (as seen in the photo above).
And here are the rest of the photos sent by our reader: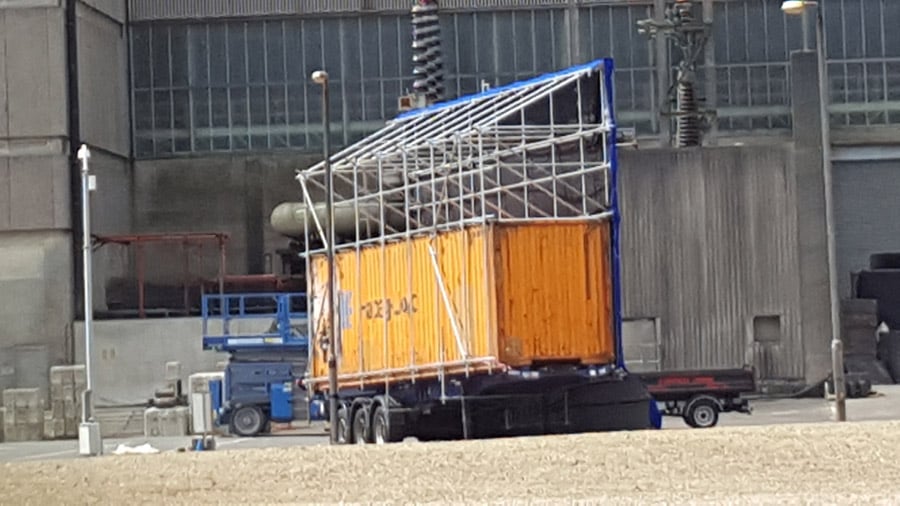 Make sure to share your opinions on this filming location in the comments below.
Special thanks to Neil Stevens for the photos and the info.
UPDATE!
May 22, 2017
We've got another interesting rumor from the set.
According to our friend there was a mock-up of a large space ship built in one of the hangers. He couldn't say if the ship was the Millennium Falcon or another.
Many months ago we heard a rumor from one of our sources that Solo will have a different ship at the beginning of the stand-alone movie. Of course this is not surprising at all and makes sense, especially since we know that Han won the Falcon from Lando in a card game. Also, weeks ago, Borys Kit from THR said that he heard the movie will tell the story how exactly Han got the Falcon from his friend:
A couple of sources tell me the #HanSolo spin-off will tell how Lando Calrissien lost the Millennium Falcon to Han.

— Borys Kit (@Borys_Kit) October 21, 2016
We can only wonder if this ship built on the set is Han's new ride, the Falcon, or a completely different ship. One thing is sure – if they really built a real model on set, then it's definitely a ship important for the film's plot. We just have to wait and see. Again, these are just rumors at this point, so take them with a grain of salt as always.