Temuera Morrison Teases "Wow" Level Surprises Coming in 'The Book of Boba Fett' Finale
The Book of Boba Fett (season?) finale will debut February 9th on Disney Plus, and Temuera Morrison has teased big surprises are coming in the seventh chapter of the series.
In speaking with The Hollywood Reporter, in what feels like his five millionth interview about The Book of Boba Fett, series lead Temuera Morrison let it slip that while fans can expect surprises and excitement throughout the series, we are in for something big in the seventh episode, the season's finale.
"Yes, full of surprises. The Book of Boba 'full of surprises' series," Morrison says with a laugh. "Yeah, we've got some good stuff coming up. Ooh, wait till episode seven, wow!"
Big reveals in season finales are becoming a bit of a tradition in the early going with live-action Star Wars. The Mandalorian season 1 ended with Moff Gideon breaking out if his crashed TIE fighter holding the ignited Darksaber, and of course the big one, Luke Skywalker's surprise appearance via a cocktail of Mark Hamill and ILM magic in the show's season 2 finale. But now the original Mandalorian has center stage, the one for which all Mandalorians after him exist…Boba Fett.
A few months ago we exclusively reported one big (literally) moment coming our way, if you don't care to be surprised you can read about that one here. But definitely don't check that out if you want to stay as fresh as Boba's shiny white smile. While that should be a wild one, it likely won't compare to the impact of what Morrison is teasing. So as good as the series has been in the early going, as creator Jon Favreau masterfully lays the groundwork, the rest of the ride is shaping up to be something special.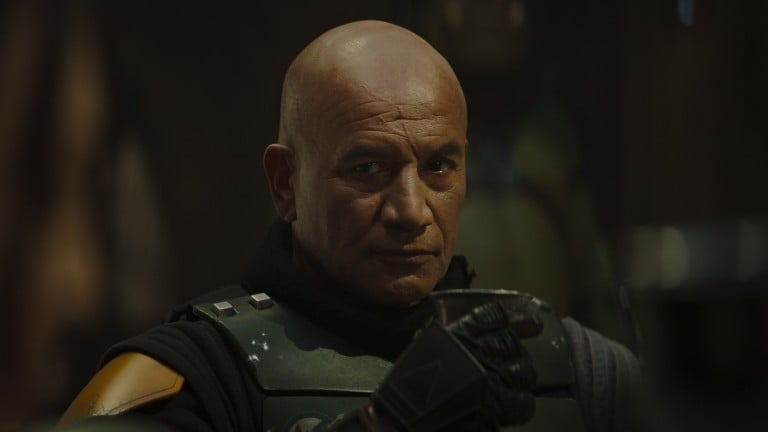 Let the speculation begin. Will it be a major familiar character cameo? A twist in the story? A noble end for someone of importance (don't check track listings on the back of the soundtrack CD)? We will find out in a little less than five weeks when the seventh and final (for now?) episode of The Book of Boba Fett premieres on Disney Plus. So when February 9th rolls around, east coasters set your alarms, west coaster stay up late, grab your favorite beverage and get ready for what is shaping up to be one hell of a finish.
John Hoey is the Lead Editor and Senior Writer for Star Wars News Net and the host of The Resistance Broadcast podcast
"For my ally is the Force, and a powerful ally it is."