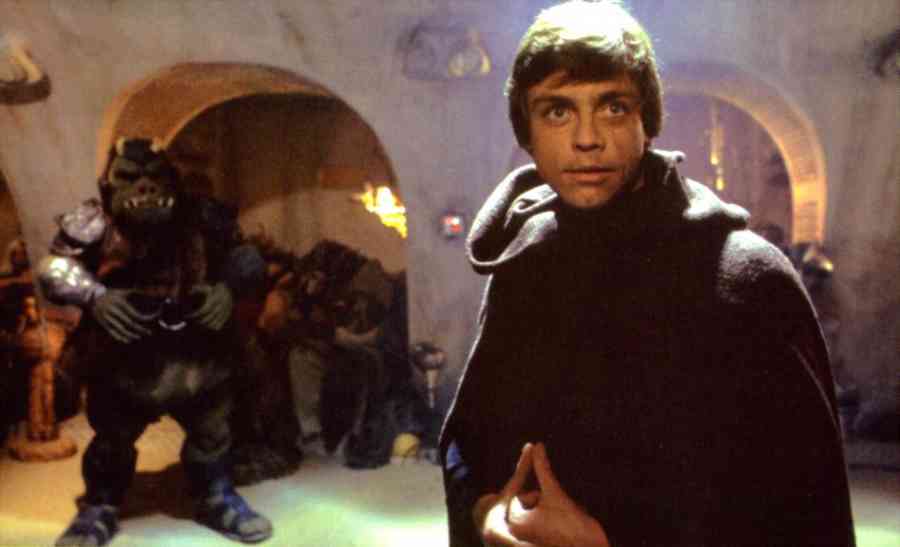 Yesterday, Making Star Wars posted another rumor, this time regarding Luke Skywalker's involvement with The Force Awakens. The rumor should be considered a huge spoiler so continue reading at your own risk…
Let's get straight to business. Here's what MakingStarWars posted about the final sequence of the movie:
MAJOR SPOILERS BELOW THIS POINT!
The heroes suffer a great blow when they lose their mentor figure [Han Solo]. But after a great duel with Rey and Finn versus Kylo Ren, the heroes return back to the base as heroes. At this point, it becomes clear that their current adventure together has come to an end.

We follow our main hero, Rey as she says goodbye to the important players in the film, Leia, Poe, and so on. Meanwhile BB-8, Artoo-Detoo, and See-Threepio decode a puzzle. Rey makes a special stop to say goodbye to Finn in the medical bay.

Rey, Chewbacca, and BB-8 then get into the Falcon and take off. Chewbacca playfully messes up her hair in an endearing gesture. Things are going to be alright, is what the Wookiee is trying to say, as far as I can tell.

I imagine like all Star Wars films, the end is silent with music playing. That's just my take though. But it seems likely here. They fly away to a new planet and the Falcon lands.

Rey walks up the stone steps. She comes up to a figure and puts the Lightsaber in his hand. Its Luke Skywalker.
That's it. That's Luke's involvement in the entire movie according to that report. I'm sure that Jason has a reason to post this, as he's seen some documents and evidence, but I'm also sure that there is  not a single Star Wars fan who would accept such story development in the movie they've been expecting for decades. I think that this is just a too risky move by Disney and J.J. Abrams, and they will never make it. Just think about it. The two most beloved Star Wars characters for the fans are Luke and Han. What's the logic of killing one and giving the other a minuscule amount of screen time if you want to win the fans for the future installments?
We have to remember that this movie will be the foundation of the Star Wars franchise going forward – a franchise that's about to enter in its own Golden Age for the years to come. You don't want to disappoint the fans with your first try, don't you? I've been hearing that the idea of the first movie is to be really simple and to present the story in a way that all viewers, new and old, would be able to understand it. Things started to sound too complicated with all these stories about plot twists and turns.
Of course this is just my opinion and I may very well be wrong. Actually to be honest, I also heard the rumors that Jason posted in the last few days from a different source. We mentioned part of these rumors in an article from a month ago HERE. And while our source didn't directly say that Han will die, he said that he will not be in the final scene of the movie. Also the same source told me that Luke has only one scene at the end of the movie. At that time I thought that it doesn't make much sense and I decided not to include it in our piece. Actually the same source told us something else we left from our report, but again I thought it was highly unlikely to happen. Who knows we will see what happens in the next few days.
I also want to point a few facts and rumors that stand against the rumor that Luke has only a few minutes of screen time. And I really doubt that all these were done just to mislead the fans.
1. Michael Arndt's script was supposed to be focused on the new generation of characters and the Big Three were taking a supporting roles. When Abrams and Kasdan took writing duties they changed that.
From TheHollywoodReporter:
The project has changed significantly since Oscar winner Michael Arndt split as writer on Episode VII in the fall, with duties taken up by Abrams and Lawrence Kasdan.

According to multiple insiders, the reason for the parting of ways was not due to a timeframe issue, as has been reported, but rather due to a difference of opinion of which characters to emphasize.

Arndt is said to have focused on the offspring of Luke Skywalker (Mark Hamill), Han Solo (Harrison Ford) and Princess Leia (Carrie Fisher), with the original trilogy's heroes taking on supporting roles. Abrams, however, wanted Episode VII to focus on the classic trio of characters, so audiences could have one more chance to enjoy them before a fitting send-off. The new characters, the offspring, will now be in supporting roles, according to these sources, and take center stage in Episode VIII and IX. Some characters have disappeared from the Arndt script and new ones are being added.
Having just one scene in the movie directly contradicts with this rumor coming from a very credible source.
2. Filming on Skellig Michael.
Mark Hamill and Daisy Ridley were filming for three days on the Skellig Michael island (more HERE). If there was only one scene shot there why not film it in a studio? And why bring your stunt doubles if you're filming a scene of handing a lightsaber? For 3 days! The conditions there were really hard. And actually there were reports that the shoot was significantly scaled down, It was supposed to be a longer shoot with exterior scenes.
3. Hamill was on the Pinewood set playing with BB-8:
They never cease to amaze me with what they're able to come up with, you know? I said, "How are you ever gonna top R2-D2, the most adorable droid in movie history?" And then they have this new one. I can't even tell you his name, but you saw it in the trailer. [Editor's note: the name of the droid has been revealed as BB-8.] And when they were demonstrating how they did this thing, live on set — because it's not CGI, that's a live prop — I was just amazed. They let me play around with it. [Laughs] I was running it all around at the creature shop up in Pinewood.
I doubt he was just hanging around the set playing with the droid. And in the same interview Hamill said that they will be "lending the kind of support [to the new cast] that Peter Cushing and Alec Guinness did in the original."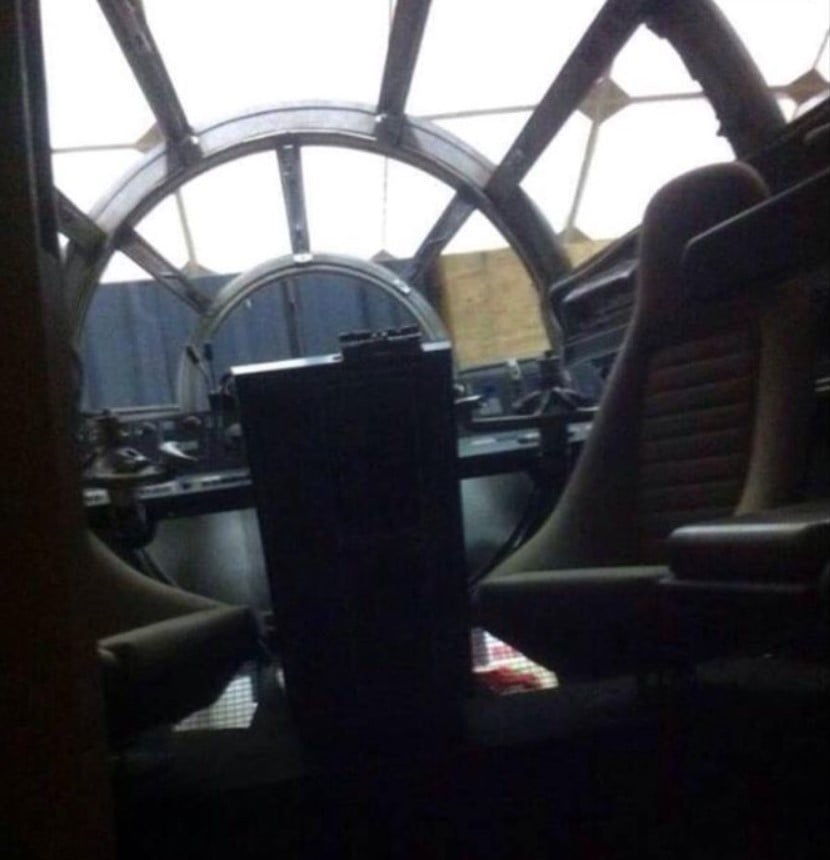 4. Hamill on the Millennium Falcon:
"I can't describe the feeling… the déjà vu of walking onto the Millennium Falcon, remembering all these details that they've gotten exactly right… It still seems surreal to me and hard to believe it's actually happening."
Again I doubt he was just visiting the Falcon as a guest.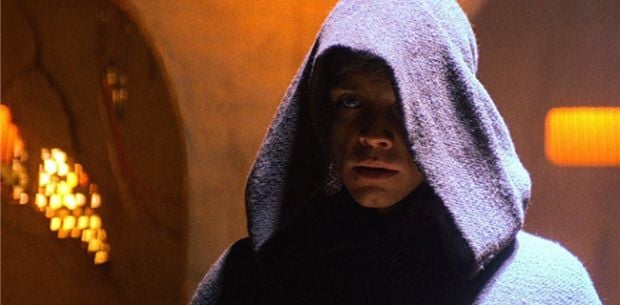 5. Hamill asked to use hoods on set.
"You know, the security on it is just crazy," he continued. "I'm surprised I can even admit I'm in it! …I like being surprised. It's a whole different era now. When we made the original films, you had the odd reporter hanging around the studio bribing people to give them stories. Now, I said to them, 'Do I really have to wear this robe and this hood that covers my entire head to go from the trailer to the soundstage?' They said, 'Yeah, there's drones.' Seriously! There's drones flying over the studio trying to get pictures of whatever they can get pictures of."
He definitely did some filming in Pinewood.
6. Hamill shaves his beard 3 days before filming ended.
The Force Awakens wrap party took place on November 1. Few days later Mark Hamill was spotted at Pinewood with his beard now shaven. Sources confirmed that filming continued. For more on that HERE. This strongly suggests that Luke will have at least two scenes in the movie – with and without beard.
7. Hamill's diet.
Last but not least why do you loose 20 kilograms for a role that is only a few minutes long?
I personally don't see all these being a deliberate misinformation. Actually months ago I asked my most trusty source and he told me that at that time there was no misinformation campaign by Disney or Lucasfilm. He said that they really don't have time for such things. I don't know if things changed.
Long story short. While I also heard the rumor that Hamill appears in only one scene, I think there are too many other things suggesting that it's not true. I know that Jason has evidence for that rumor and the guy from which I heard it is really not bullshitting me. There has to be another explanation about this. But as I always say everything is possible. I personally believe that Luke's role will be indeed not as big as the fans want, but I highly doubt he will appear only in one scene.