Darth Vader: The Power of a Symbol.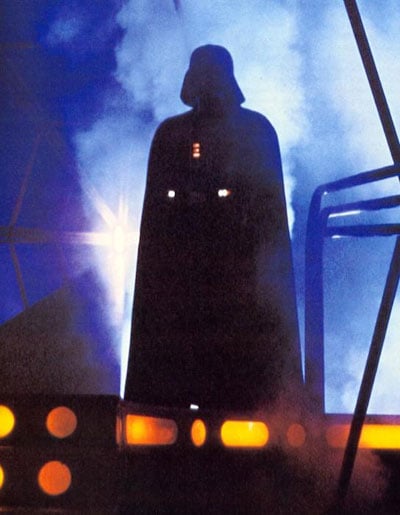 Rumors dating back to the D-Day announcement persist that one Darth Vader is somehow going to make an appearance in Star Wars: Episode VII. How is this possible when all fans know he died once and for all and then was burned to a crisp — again — in Episode VI? Find out after the jump.
Darth Vader is without a doubt one of the most infamous and iconic villains the world has ever known, what, with his heavy metal visage and the creepy sss-kah, sss-kah, sss-kah breathing, his towering, armor-clad physique, with the whole shebang draped in pitch black. What's not to love to hate? So it only makes good sense for Disney, who loves them some iconic bad guys, to want to include Darth Vader in some fashion in the future of Star Wars despite his death. For example, we suspect Disney has plans for a Darth Vader-themed TV special (or two) according to a report Viral wrote in October of 2013, although exactly when is rather vague. And we we've recently learned that Vader will make occasional appearances in the new animated show Rebels from time to time. Darth Vader is not merely an evil villain, but a cash cow in merchandising revenue, but he's dead which leaves a lot of tricky logistics ahead for Disney in order to "bring him back." One might think that such an endeavor potentially involves messy ret-cons, or unimaginative plot cliches such as cloning and time travel, BUT it may be a lot simpler than you think.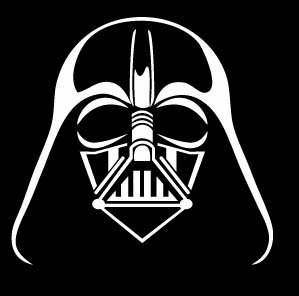 Anyone who reads this site by now knows full-well that I like to beat, no, more like pound the drum of Mythology. In my defense, it is apropos since Star Wars is, after all, a fantasy that just happens to be set in space, hence "space opera." As such we must look to mythology, thus psychology and symbology as well, in order to understand and glean clues as to what is about to come. Mythology according to the Yale-New Haven Teacher's Institute:
Mythology and mythological ideas permeate all languages, cultures and lives. Myths affect us in many ways, from the language we use to how we tell time; mythology is an integral presence. The influence mythology has in our most basic traditions can be observed in the language, customs, rituals, values and morals of every culture, yet the limited extent of our knowledge of mythology is apparent. In general we have today a poor understanding of the significance of myths in our lives. One way of studying a culture is to study the underlying mythological beliefs of that culture, the time period of the origins of the culture's myths, the role of myth in society, the symbols used to represent myths, the commonalities and differences regarding mythology, and the understanding a culture has of its myths. Such an exploration leads to a greater understanding of the essence of a culture.
How does any of that matter to us? It matters because Star Wars is a monomyth using archetypes that span across regions and cultures, one reason why it is so universally loved, revered, and enduring. In that vein it is good cause for us to take a look at how symbolism will come into play in Episode VII and beyond.
In Star Wars: Episode IV: A New Hope, Luke Skywalker begins his hero's journey into the larger world, in this case represented by the galaxy. He is guided by a wise sage who takes the form of a "crazy old wizard" named Ben Kenobi. We eventually learn that ol' Ben Kenobi is actually Obi-Wan Kenobi, last of the Jedi Knights – the mystical enforcers of truth and justice in the galaxy. Obi-Wan not only represents wisdom for Luke Skywalker but also the light to which the young man is drawn. However, Luke's journey is a long one, wrought with peril and confusion. Ol' Ben, in his wise knowledge of what came before, specifically Anakin's fall to the Dark Side of the Force, knows there is but one way to assure Luke will not fall likewise.
"IF YOU STRIKE ME DOWN, I SHALL BECOME MORE POWERFUL THAN YOU CAN POSSIBLY IMAGINE."
What is Obi-Wan talking about here? How is it possible to win a victory through losing, especially one's life?
First and foremost it should be understood clearly that this IS EXACTLY according to Obi-Wan's intentions. This is NOT a random twist of Fate or an unforeseen turn of events, his battle with Darth Vader was a premeditated course of action. Obi-Wan understood fully the implications of their foray into the Death Star and, as I already alluded to, it had one outcome for him. Obi-Wan sensed when Luke Skywalker was approaching and at that perfect moment allowed himself to be struck down. WHY? The answer should have been obvious after all these years, but in case it isn't I will spell-it-out for you – to become a Martyr. And what is a Martyr if not a symbol? According to Merriam-Webster Online:
mar·tyr

Noun ˈmär-tər

: a person who is killed or who suffers greatly for a religion, cause, etc.

: a person who pretends to suffer or who exaggerates suffering in order to get praise or sympathy

: a person who suffers greatly from something (such as an illness)
Some famous historical martyrs include Ghandi, Joan of Arc, and of course Jesus Christ. Each and all died for a cause and became a symbol by which others fought for the same cause or religion. Obi-Wan Kenobi allowed himself to die in order to guide Luke Skywalker as a spirit, moreover, as a symbol of righteousness in this great galactic war. As we all know, it was Obi-Wan's guidance which helped Luke destroy the Death Star and eventually Darth Sidious, through the redemption of Anakin Skywalker.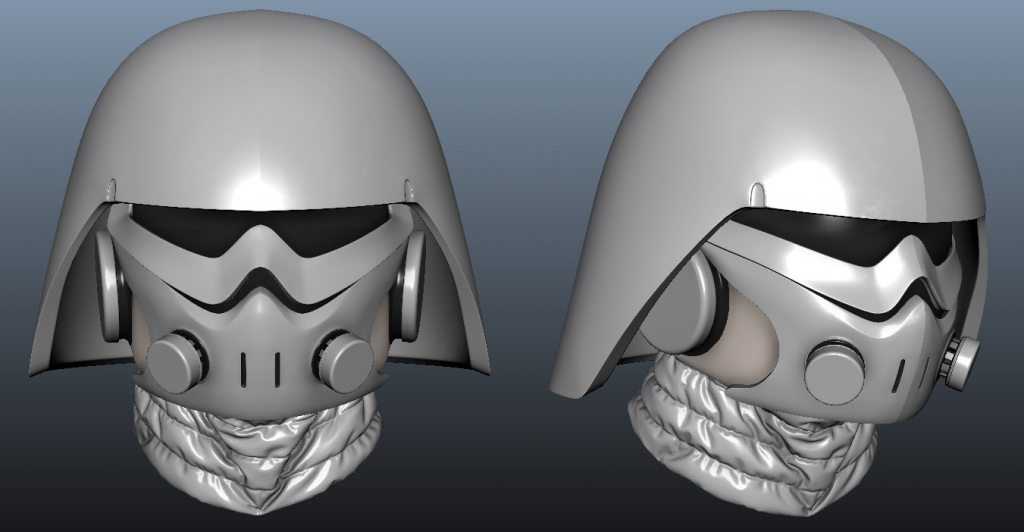 But how does that relate to Episode VII? Whatever you do I can do better. IF Obi-Wan Kenobi could be used as a Martyr – a symbol of the Rebel cause – then Darth Vader could be used likewise. And some of the rumors we've all heard suggest as much as Viral reported in an article back in June:
* They have white helmets which flare out, which is weird but looks good. The eye is just one thin black strip, and it's creepy.

* Sadly I only got a proper look at the helmets. The flare out, okay, I can't describe it other than they look like Vader's helmet in that respect, which I love. Obviously made in his image or something like that, which is interesting and a very clever way of keeping his presence in these movies.
Those are just a couple of unverified snippets of rumor – to be taken with a hearty dosage of salt – which suggest that the Empire is back in full-force, but especially, if these morsels are to be believed, using Darth Vader as a Martyr, a symbol, for their cause. It makes for an exciting evolution of the enemy IF they have somehow morphed into a bunch of Vader "clones," similar to how the oppressed citizenry of London adopted the Guy Fawkes masks in V for Vendetta. In my estimation, using Vader as a symbol would make the Empire and its legion of stormtroopers fiercer and more vicious in accordance with my theories that Disney/LFL, through JJ, intends to revive them as a formidable enemy and allow the mythos to keep evoking the name and imagery of Darth Vader at the same time. Pure win–win situation!
Additionally, given what we know about the four men responsible for writing the script — George Lucas, Michael Arndt, JJ Abrams, and Lawrence Kasdan — some brilliant minds who also happen to be terrific writers, we shouldn't be surprised to see a Matryoshka doll, so-to-speak, mythology within mythology. What I mean by this is we have the overall mythology of Star Wars. It would be very clever that the loyal denizens of the galactic Empire spin Darth Vader's twisted tale into a galactic myth of courage and heroism. It would be very clever, and historically accurate, borrowing especially from Communist Russia, the concept that State Dictatorships pull some revisionist history on their oppressed peoples and re-write a much grander and nobler tale than what the truth would otherwise tell us.
"He who controls the past controls the future. He who controls the present controls the past." 
― George Orwell, 1984
As I wrote in my article about the new and improved Stormtroopers, we have no reason to believe that the Empire fell over night. Sure, it might have wavered, but it did not fall, at least completely. And, from the varied accounts of Stormtroopers and Imperial-looking sets we can fully expect to see a leaner, meaner Evil Empire.
So, what do we make of some of the latest rumors sweeping across the internets like a raging wild fire that Darth Vader is to return in the flesh in Episode VII? WWE's Sheamus O'Shaunessy stoked the fires recently by vaguely tweeting (followed by other Vader-related Tweets) about potential involvement during the Skellig Michael shoot:
I cant confirm that i wont not be reprising role of Darth Vader in #StarWars … I hope that's clear @IrishMirror 😉 pic.twitter.com/hj0JNigkYm

— Sheamus (@WWESheamus) July 30, 2014
Could he be playing Darth Vader as a vision such that Luke Skywalker encountered in the cave of Dagobah? Don't start hyperventilating just yet. We have it from a reliable source that O'Shaunessy WILL NOT be playing Vader in Star Wars: Episode VII and most likely not in any of the Sequel Trilogy films. However, it seems plausible that Disney will bring  Darth Vader back in some form. As ludicrous as this seemed back in 2012, The Daily Express, a UK website, actually revealed that this was the plan according to a "film mole:"
"He's an integral part of the franchise. Replacing him is virtually impossible," explains a film mole. "The plan is for him to return and play a significant role in the new films." […] "This is science fiction remember," we're told. "Darth Vader will rise from the ashes."
IF NOT Seamus O'Shaunessy, could someone else be playing Darth Vader incarnate??? As we reported, David Prowse is more than willing, and aptly fitting, pun intended, to reprise his role as the body of Darth Vader. He would be the fan's choice hand's down IF, and that's a very big IF, Vader were to return. Despite a very healthy dose of skepticism, we have to consider that this is a potentiality based on another article Viral posted about Brian Muir this past July:
* Vader's helmet was spotted on the set. The helmet looked like it was burned. According to the guy it'll be used in a flashback scene (we know that SW and flashbacks don't work together but that's what he said).

 

Later a completely different source also mentioned that Vader's costume was seen on set. First I thought that they might be using the costume for other projects but now I don't think this is the case. And Muir's involvement is probably not a coincidence and I wonder why he deleted his post. Why are they hiding his involvement?
Like Viral I have my doubts that this is as a flashback as has been speculated. Star Wars doesn't do flashbacks. I suppose we could be surprised but it wouldn't feel cohesive to the style, the framework, that George worked so dilligently to build. It seems much more plausible as a VISION, but honestly with all the different bits of information and rumor we're hearing it's anyone's guess at this point. My opinion is such that the only way to successfully resurrect Darth Vader in the flesh would be to somehow have a Vader doppleganger, a poseur, raised and trained to act, to carry-on the Sith Lord's mantle and give him an even more supernatural reputation. Admittedly, it would be a bit of a cheat since the new "Vader" is just some guy wearing the suit in order to play the part of symbol, but it is a solution that has its foundations in real life of people picking up the mantle of fallen martyrs.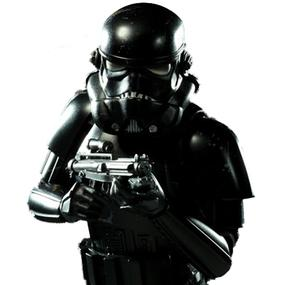 Could Vader come back in the flesh? In my opinion it would be for the best that Vader NOT be brought back incarnate. However, keeping Darth Vader's image, his presence alive as a symbol would give the revamped Empire and its newer, fiercer Stormtroopers a cause of their own to fight for. Personally, I prefer this more elegant solution — Darth Vader as spiritual symbol and a model by which the Stormtroopers pattern themselves.
Either way, Disney risks alot if they take the wrong step with Darth Vader, but one thing is for certain, no matter what Disney does it will be controversial to someone. What do you think about this possible Darth Vader resurrection?