Will Darth Vader's Costume Appear in Star Wars: Episode 7? More Rumors from the Production.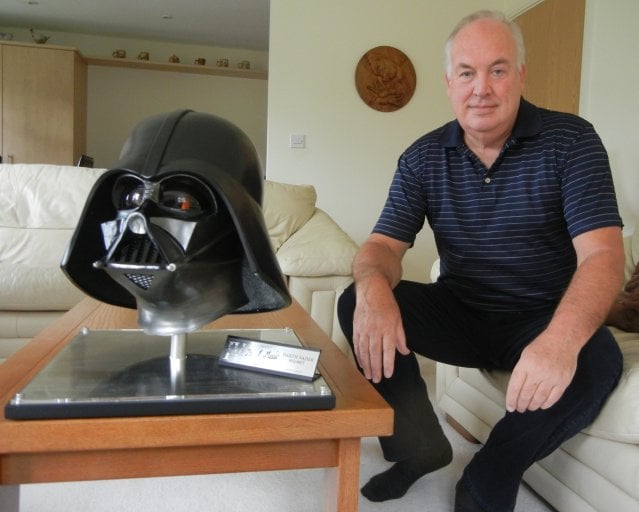 The man who originally sculpted Darth Vader's helmet has officially announced on Facebook that he started working on Star Wars: Episode VII. Of course this doesn't necessarily mean that he'll be working on the iconic helmet again. Or does it? Hit the jump to find out why…
Brian Muir is  one of the most respected sculptors and artists in the film industry. He has been working in film for over 46 years and has 39 movie credits. He has been working on Alien, Willow, Raiders of the Lost Ark, Sleepy Hollow, Planet of the Apes, Harry Potter, Guardians of the Galaxy and many many more. One of his most memorable work was the sculpting of the Darth Vader helmet and armour using Ralph McQuarrie's design in 1976 for Star Wars: A New Hope. He also sculpted the Storm Trooper armour, Death Star Droid, CZ 3 and finishing work on C3PO.
Here's what he posted on his Facebook page. Strangely enough later he removed the post. (via JediNews)

Now as I said Muir's involvement doesn't necessarily mean that he'll be working on Vader's helmet. But here is something I've heard months ago from a source that used to work on the production that now kinda makes sense. I'll intentionally won't reveal what was his job but I can guarantee you that the things he talks about were seen on the Pinewood set or on concept sheets. They are legit but no one knows if they'll end up in the movie.
POTENTIAL SPOILERS!
There is a set with the Falcon (nothing new) and a set with a Tie Fighter. The sets are huge.
He saw concepts of 4 lightsabers.
Concept of a new Stormtrooper armour (it's white and similar to the ones from Endor).
Scan of Yoda from Episode V (not sure what's this about, maybe a force ghost?).
Concepts of Rifles, Pistols and droids for the Cantina
There was a costume of another Wookie, not Chewbacca.
Vader's helmet was spotted on the set. The helmet looked like it was burned. According to the guy it'll be used in a flashback scene (we know that SW and flashbacks don't work together but that's what he said).
Later a completely different source also mentioned that Vader's costume was seen on set. First I thought that they might be using the costume for other projects but now I don't think this is the case. And Muir's involvement is probably not a coincidence and I wonder why he deleted his post. Why are they hiding his involvement?
I'm in no way saying that Vader will be resurrected on the big screen. Quite the opposite. Vader is dead but I'm almost sure that we'll see him in Episode VII. It might be a flashback scene, a costume hanging from the wall or a frigging family photo, but he will be there…