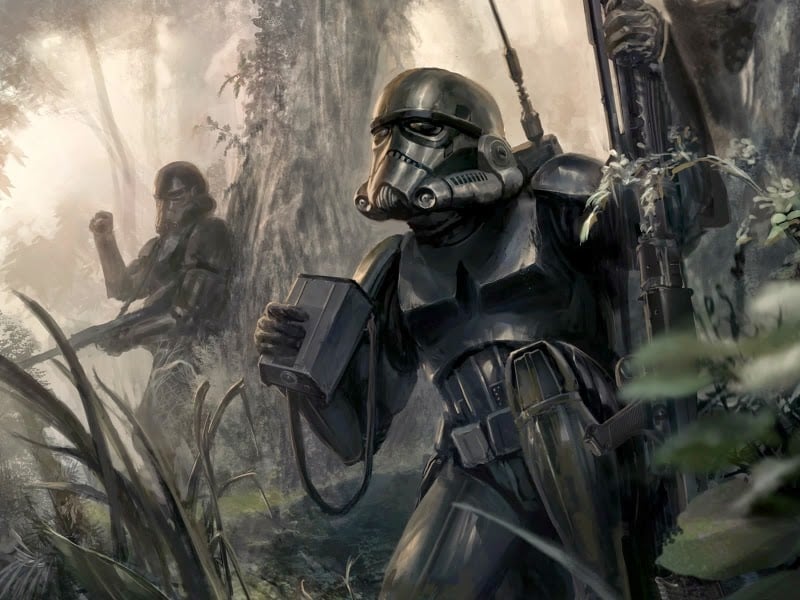 Fan art.
Another day, another batch of rumors. This time we'll take a look at some reports about the new stormtroopers and some curious bits about several possible sequences and planet locations from Episode VII…

Just a reminder: These are just rumors and their legitimacy is always questionable, no matter what the sources say. We should always doubt the rumors until an official word is released by Disney and/or Lucasfilm. I've been assured that at this point practically no one has read the Episode VII script except of course Abrams, Kennedy and few Disney execs.

Let's start first with some more bits from MakingStarWars about the stormtroopers that they mentioned in their last report on Episode VII. Now we know that most of their previous report is inaccurate but I'm posting the stormtrooper bits because I also heard similar reports from different places. Of course this doesn't mean that they are all true but still I think they're worth mentioning. And let's face it – is there anyone who thinks that stormtroopers won't appear in Episode 7? I thought so. Surely they will be altered but they will be there.



Stormtrooper Evolution
POTENTIAL SPOILERS!

From MakingStarWars:
I know a lot of people are having a hard time with the concept that the Empire exists during the Star Wars: Episode VII era. Well, it apparently does because Star Destroyers are in the film, Imperial looking sets are everywhere, and with that motif comes Stormtroopers. One source saw at least twenty in a single sequence on the Imperial looking stage involving a lot of pyrotechnics. "Exciting" is hardly the word I'd use. I'd say it was pretty "rad."
Yep, Stormtroopers are back in Star Wars: Episode VII. These Stormtroopers are not the Stormtroopers you saw in A New Hope, The Empire Strikes Back, and Return of the Jedi. They are slightly altered in their general dimensions. Various sources have described them as more "modern," while two others called them more "advanced" looking. One source claimed the "IIO" on the back plate is smother and flatter as well.
Initial reports said the new Stormtroopers had capes and or ponchos with them. However, another source laughed at that idea and said the troopers covered with splash guards and tarps to keep them clean in certain sequences. One person we don't know that well, independently told us they were covering the armor to hide a change in the costume and I figured that possibility was worth noting.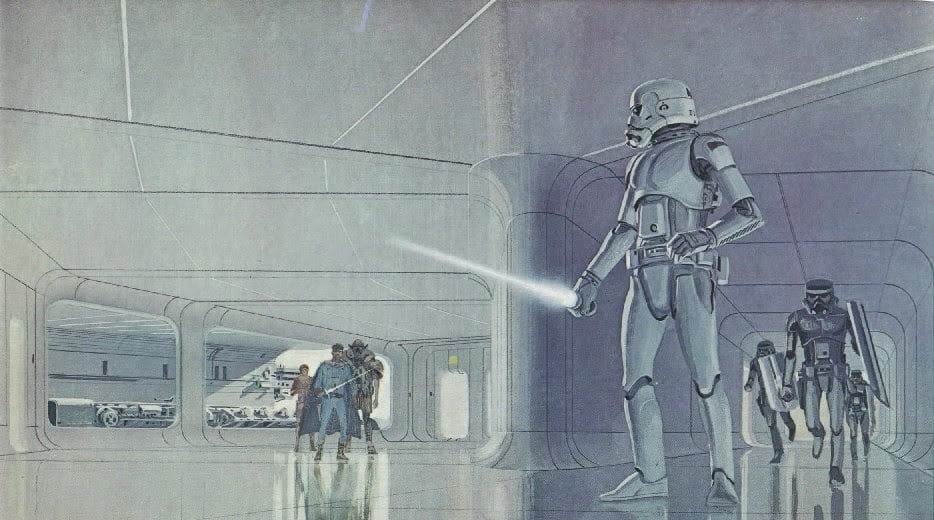 Also here are some more bits about the stormtroopers this time posted by another guy on IMDb:
They have white helmets which flare out, which is weird but looks good. The eye is just one thin black strip, and it's creepy.

I guess this also confirms something about the story, combined with the big Imperial set they've built. I'm hoping the empire is rebuilding in secret and not "still there".

Sadly I only got a proper look at the helmets. The flare out, okay, I can't describe it other than they look like Vader's helmet in that respect, which I love. Obviously made in his image or something like that, which is interesting and a very clever way of keeping his presence in these movies.

I really am sure it's rebuilding the not still around, as that would negate Return of the Jedi.

Well, the helmets I saw were white. Maybe they'll be painted, though I think they would have been made with black plastic instead if they're black. The story elements suggested there do chime with the sets I've seen; the Imperial installation, Tatooine, Hoth and a tree dwelling (personally hoping that's Yavin IV).

It's funny, because I've seen what I've seen, we have pieces from various other people and yet we could be piecing it all together completely incorrectly. It's fun.
These rumors sound really interesting. It's up to you to decide if to trust them.
Note: My initial idea was to post several other rumors about the sets at Pinewood and Episode 7 sequences here but the article would have become too long. Also the two different topics will make the comments more confusing. So we'll post the other article tomorrow.