Review: Mysteries and Creepy Nursery Rhymes Abound in 'Star Wars: The High Republic – Trail of Shadows' #1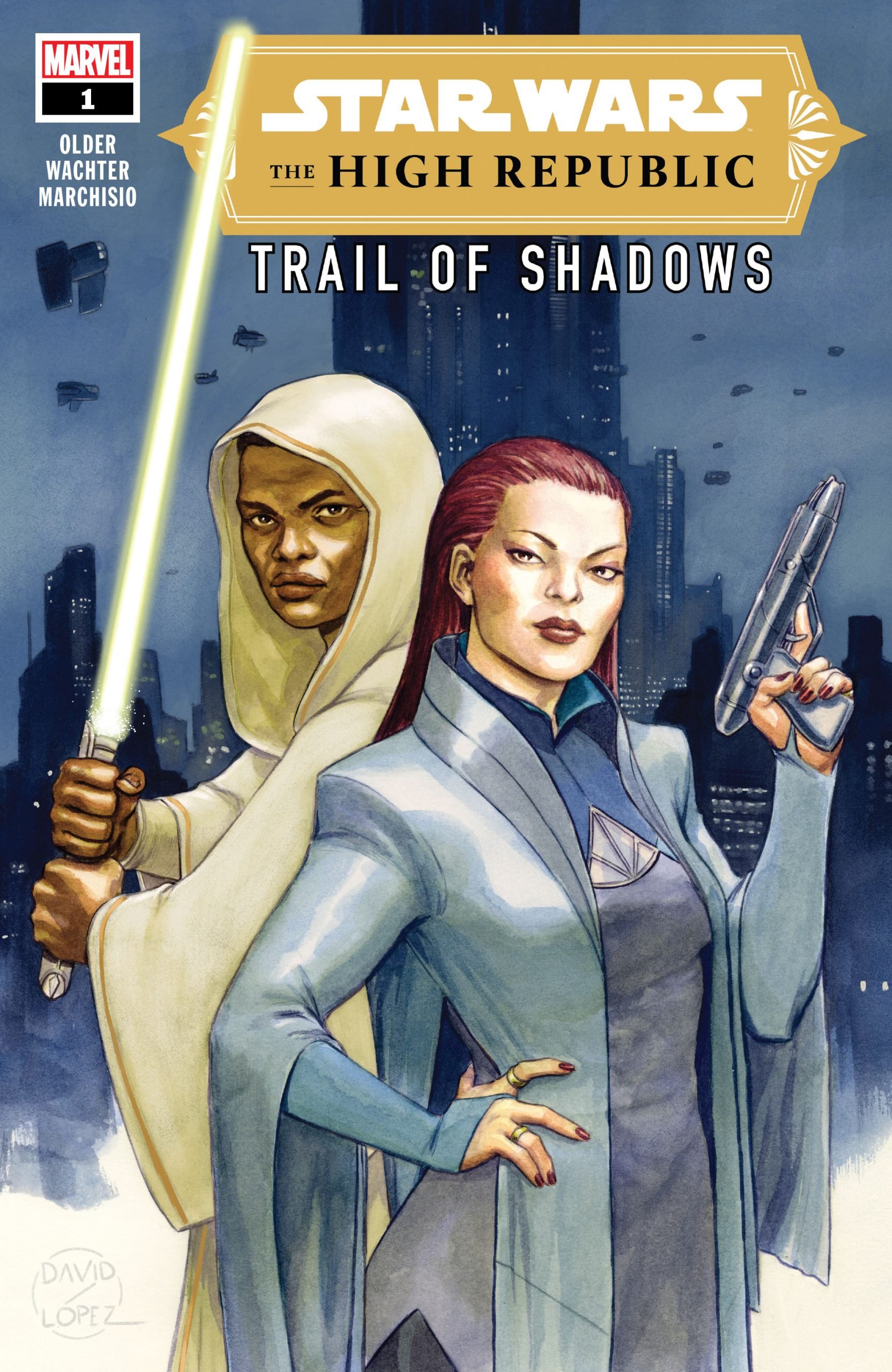 A new High Republic story begins here with Trail of Shadows, the first issue in a five-part miniseries that will tell the tale of an investigation into the murder of a Jedi.
Huge spoiler warning for not just the plot of this issue, but also the ending of the second flagship novel of the High Republic: The Rising Storm. This isn't a mere reference, it's essentially a spin-off/off-shoot of a plot line.
If you're not worried about spoilers and haven't read the novel, don't worry, the first few pages cover what's been missed through a classic bit of character exposition, and the plot moves on quickly from there.
Spoilers ahead….
Writer Daniel Jose Older is mostly known in the Star Wars universe for his work aimed at younger audiences, so he wastes no time establishing the maturity of this title with an opening page of the murder victim.
The great Jedi Master Loden Greatstorm has died by Nihil hands, mummified then reduced to dust. Stellan Gios is one of the newest members of the Jedi Council and has tasked Jedi Investigator Emerick Caphtor in finding out what caused such an instant and horrific death against a Jedi.
Being present at Greatstorm's death has scarred Gios though; he's absentmindedly humming a nursery rhyme both him and Caphtor learnt growing up.  The question is: is it relevant to the investigation?
These first few pages are exposition-heavy, doing the lifting early to let the story take off, but for those up-to-date with High Republic stories, it has a lot of nice connective tissue to the whereabouts of other Jedi.
Caphtor's internal monologue is an interesting technique and an exciting way to get to know a new role within the Jedi order: 'Investigator', while also being an homage to the 50's "private eye" tropes.
Gios thinks he's humming the song because it ends with the word dust, and he's linked it to Greatstorm's death, but Caphtor thinks it's because of their childhood, and it's tied to his fear!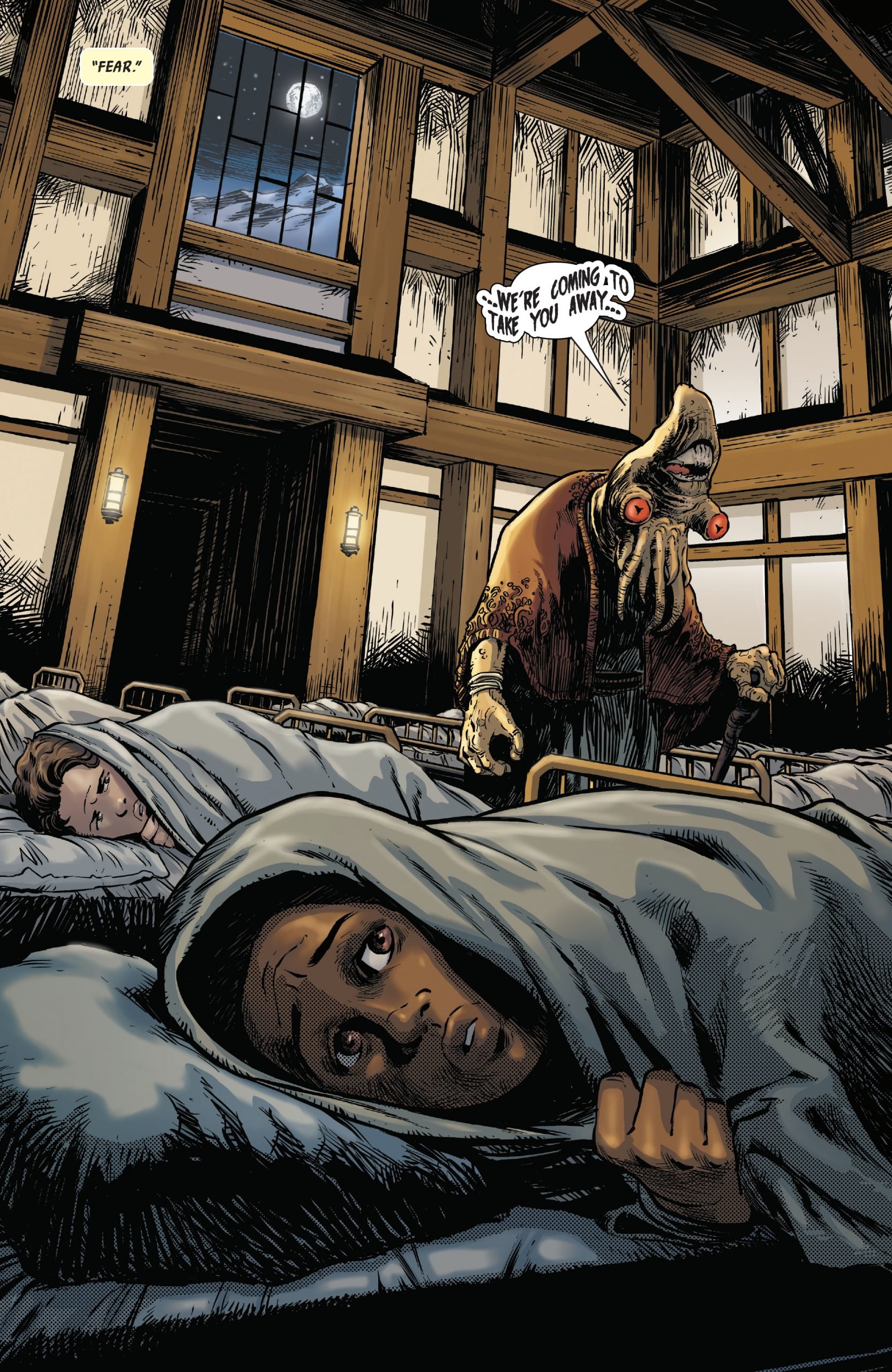 Caphtor begins his investigation on Vrant Tarnum, a known Nihil base, with a small team of soldiers, getting into a skirmish with an easy win.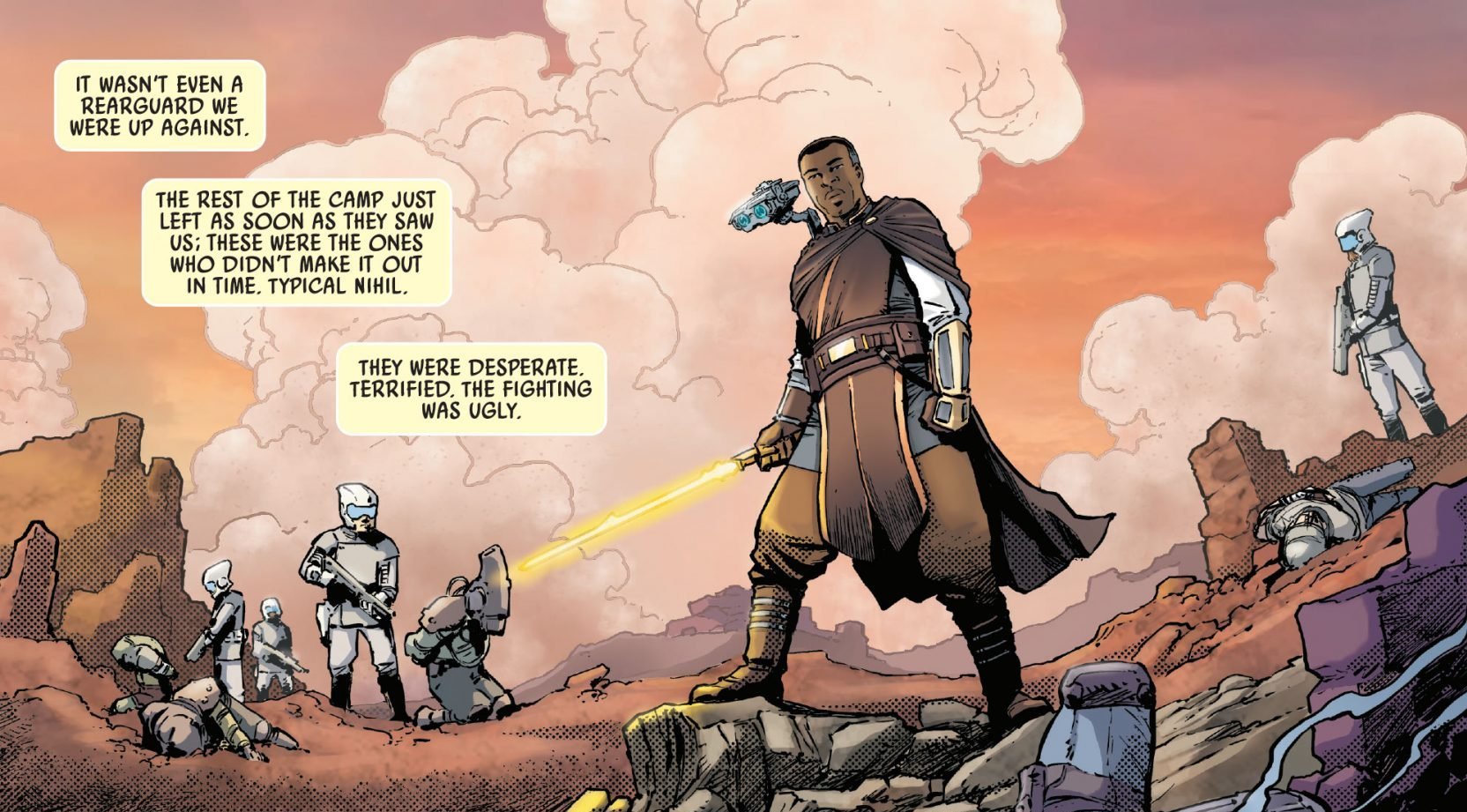 Meanwhile, back on Coruscant, we join Sian Holt, a detective who thinks her partner might be going back to his old criminal ways. Bands made up of aliens in dive bars are one the best Star Wars signatures, and Older's chosen a fun mix of performers including Holt, who must be a detective/weekly piano player.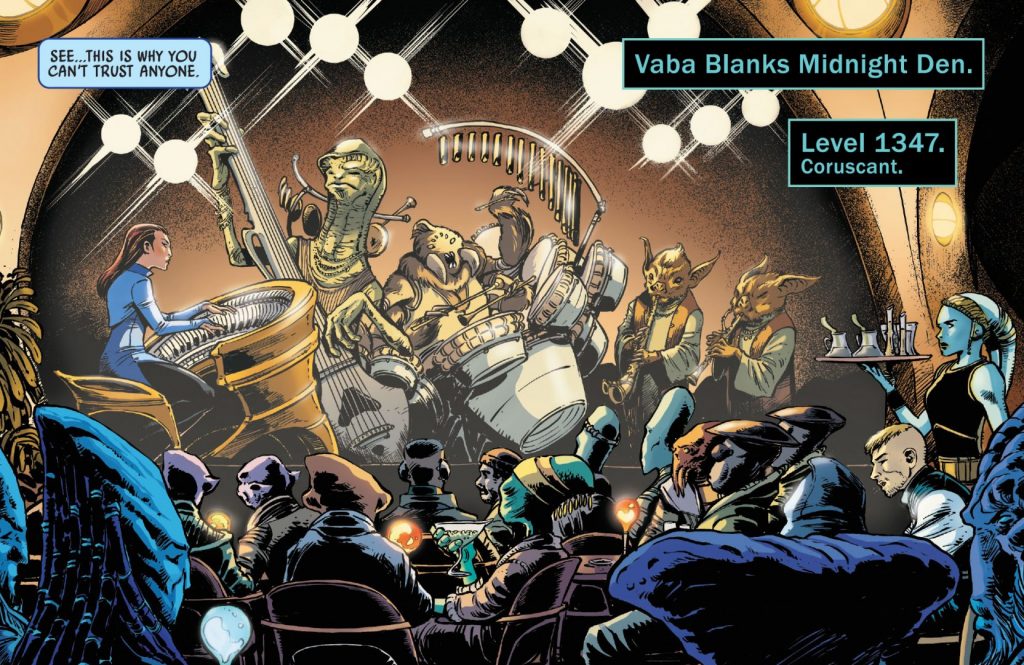 Holt follows her partner through the back-alleys of Coruscant, confronting him when she believes he's doing something illegal. He's worried about her presence blowing his cover and that he's in too far over his head. Out of the shadows, a figure appears:
Holt's partner is killed, and she only saves herself with a quick trigger finger. It's a classic P.I. story, Holt's got a dead partner, a trail of bodies, and a conspiracy to get to the bottom (or top) of.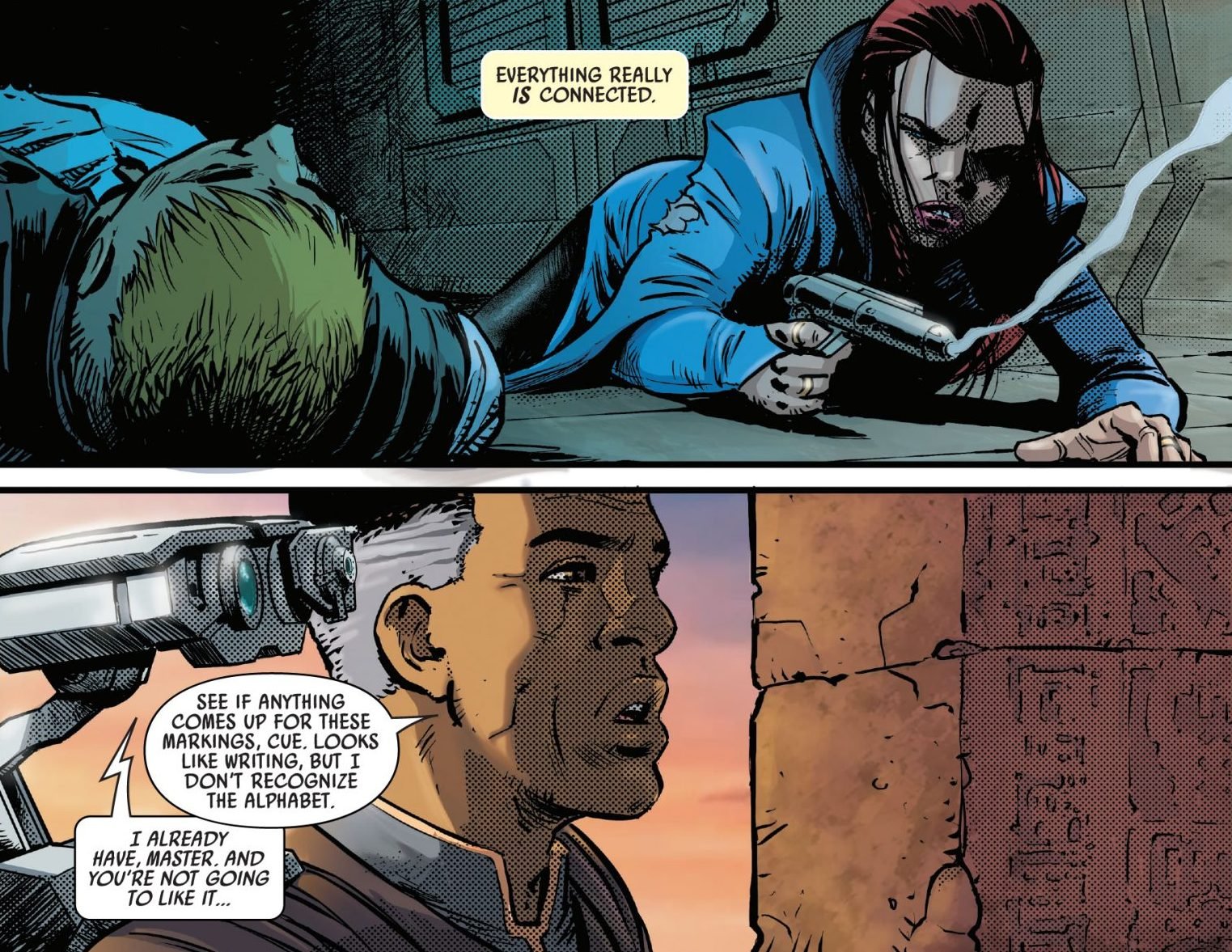 Caphtor enters the ruins and has his droid, Cue, translate the markings on the entrance: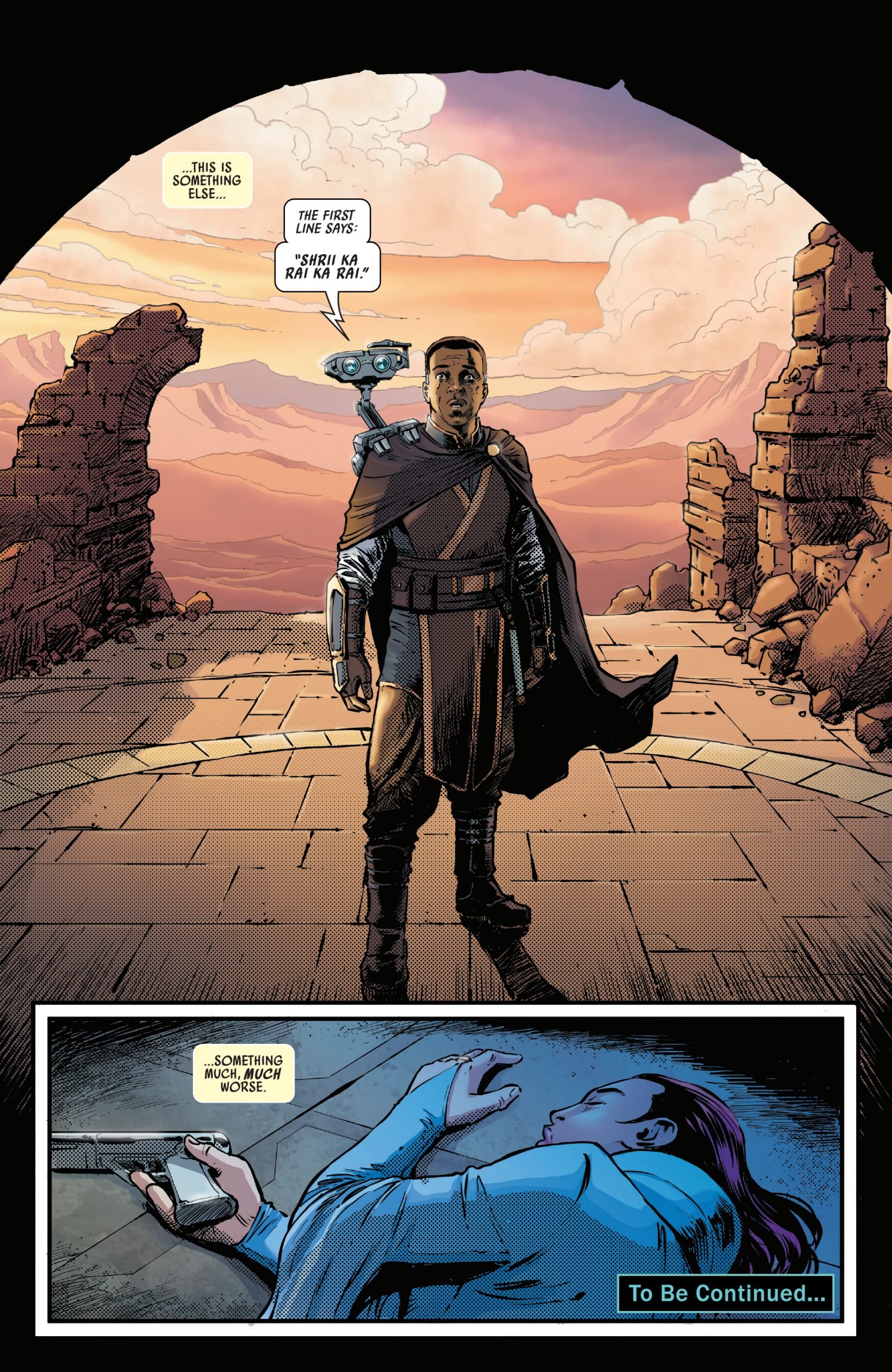 It's the nursery rhyme from Gios' and Caphtor's childhood!
A solid but somewhat disjointed issue, but that's to be expected from an opening issue doing the leg-work.  Hopefully, this means in the next issue our detective-Jedi duo can meet and start solving this mystery.
This story has the makings to be a great Star Wars tale while having some fun with the buddy-cop/different-sides-of-the-law tropes that come with the genre. All it needs to do now is to start interweaving these threads sooner rather than later. Mini-series have a way of getting away from the writer, and the stories end up treading water, going in needless directions, or rushing the conclusions. Older's done the set-up, fingers crossed for some classic investigative storytelling next issue.
Rating: 7.5/10
Alex Newman is huge Star Wars fan and loves to keep up to date with the canon. He's also loved movies for as long as he can remember. He's a massive Disney and superhero fan but will watch anything. He's worked at a cinema, a comic book store and at Disney World but is currently working in radio in London!