Review: Darth Vader Prepares to Eradicate the Crimson Threat in 'Star Wars: Darth Vader' #18
Darth Vader has a new mission: to eliminate Crimson Dawn for making the Empire look foolish in the events of War of the Bounty Hunters. 
That mission begins with recruiting a team at his disposal to go against Qi'ra and her criminal enterprise. This is a fairly simple issue that sets up Darth Vader's Crimson Reign arc along with its connections to Charles Soule's miniseries of the same name. It's a pretty standard Vader intimidation affair, but the twist at the end is what really takes it to the next level!
Spoilers ahead….
The issue begins with a team of bounty hunters/assassins taking out members of the Crimson Dawn with some impressive art from Leonard Kirk.
After the successful assassination, they are stopped by Darth Vader and Ochi, revealing they hired them as a test to prove themselves.
Vader doesn't negotiate, the team works for him now.
Our next recruitment mission finds us in the Outer Rim, where an Imperial officer appears to be teaming up with Crimson Dawn soldiers to lure out a militia group hilariously named 'the Revengers' led by a Human, a Weequay, and a massive Trandoshan. Vader saves the group's lives, and in doing so becomes their new leader.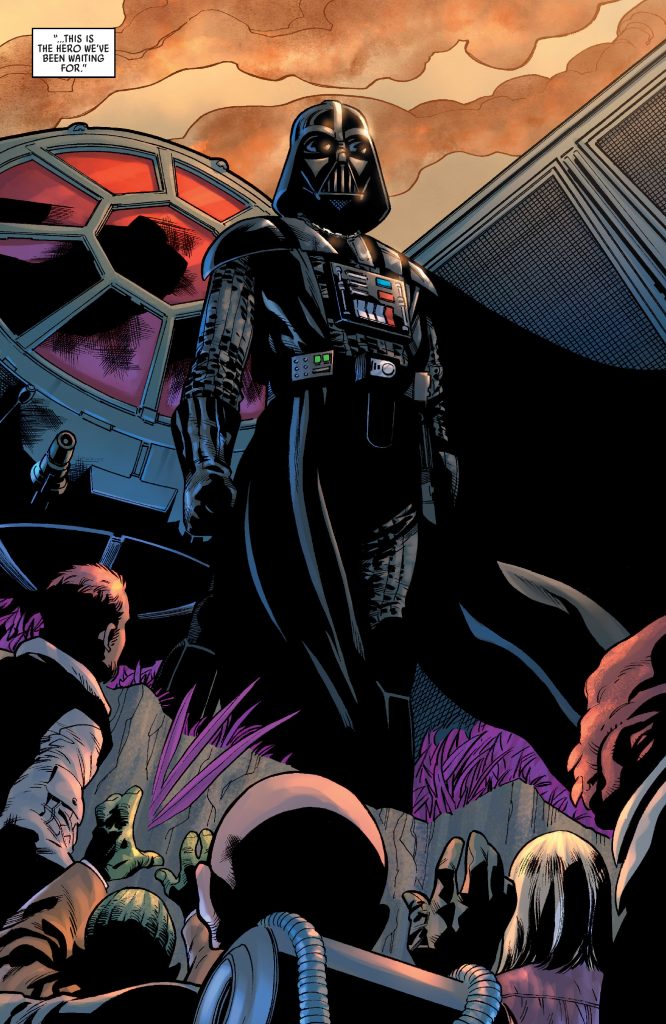 With both these teams now under Vader's control, the Dark Lord is ready to start to weed out Crimson Dawn's control on the Galaxy.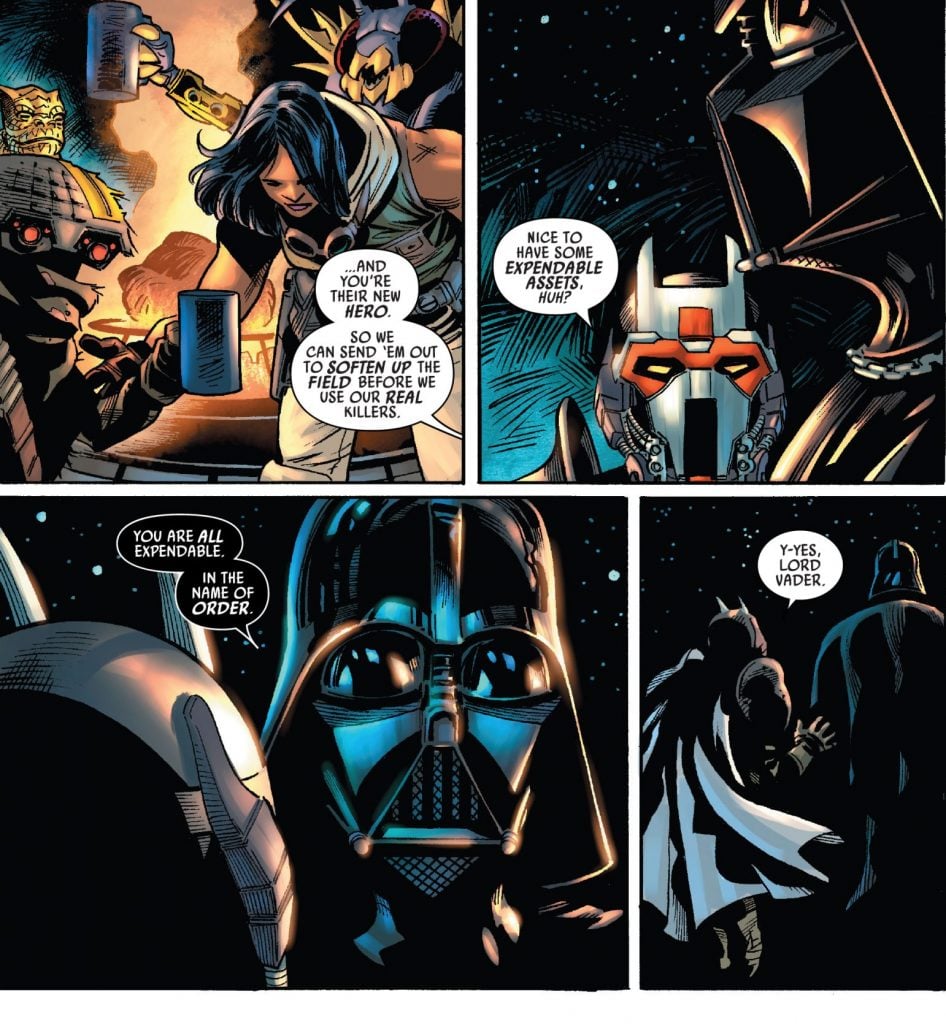 The final pages of the issue take place in the asteroid field of Polis Massa, birthplace of Leia and Luke Skywalker, and where Padmé entered into the Force.
A lone figure sifts through the wreckage of the station left by Vader after his battle there in issue #5 of this series, in search of the truth about his wife's death.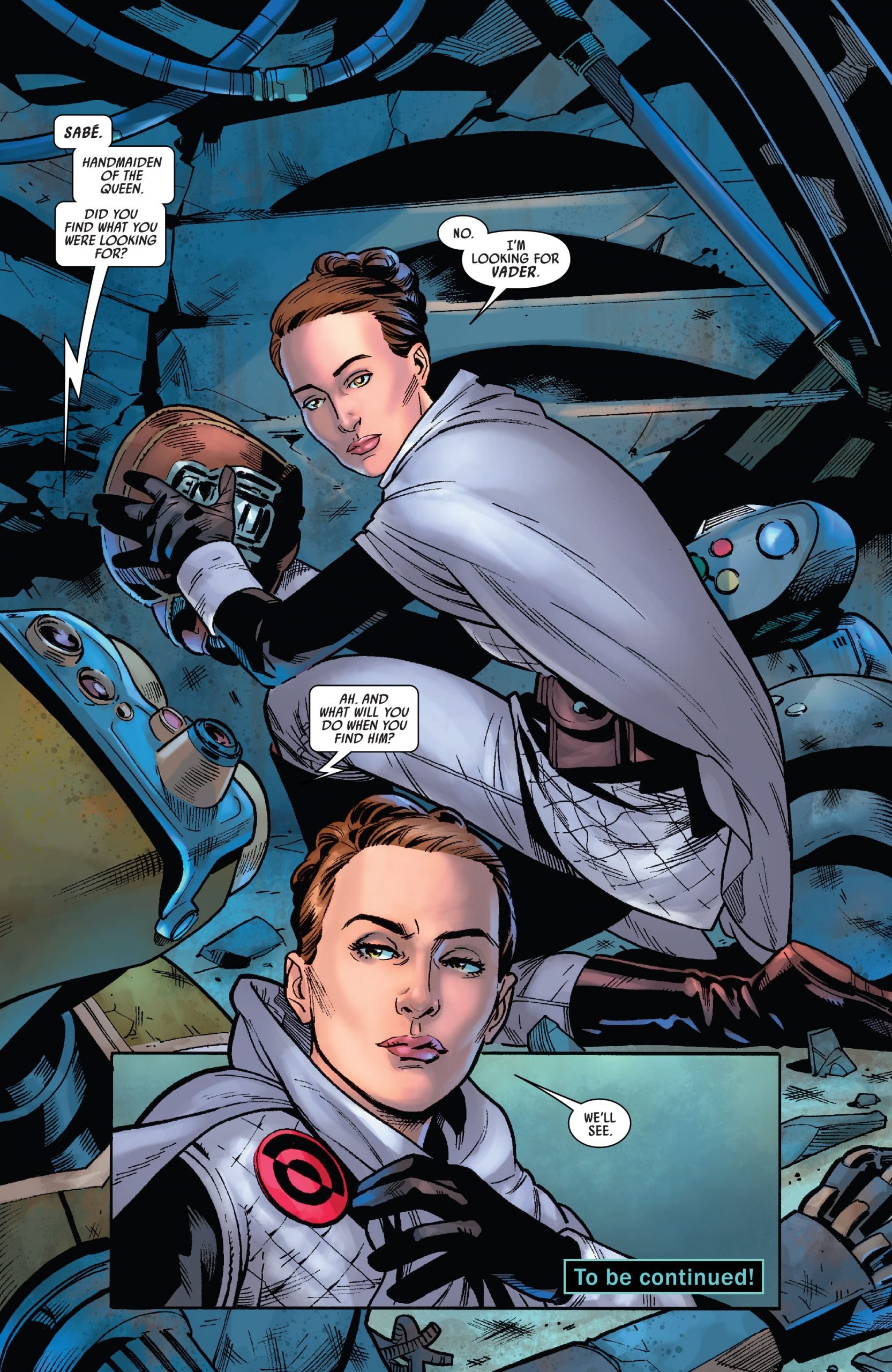 The figure turns out to be none other than Sabé, Queen Amidala's former handmaiden. Since we last saw her, she's become a member of Crimson Dawn! A Sabé – Qi'ra team-up sounds amazing, so hopefully we do get something similar in upcoming issues.
It will be very interesting to hear Sabé's motivations for joining the criminal enterprise; especially as someone so heavily linked with the virtuous Amidala. That was a long time ago though, and the galaxy has a way of warping even the purest of people.
This issue feels like more of a prologue, setting up all the Crimson Dawn narratives to come. On its own, it's just two quite basic scenes put together, and only time will tell if the characters we've been introduced to will amount to anything more than cannon fodder. The twist ending does jump up the rating a little though!
Rating: 7/10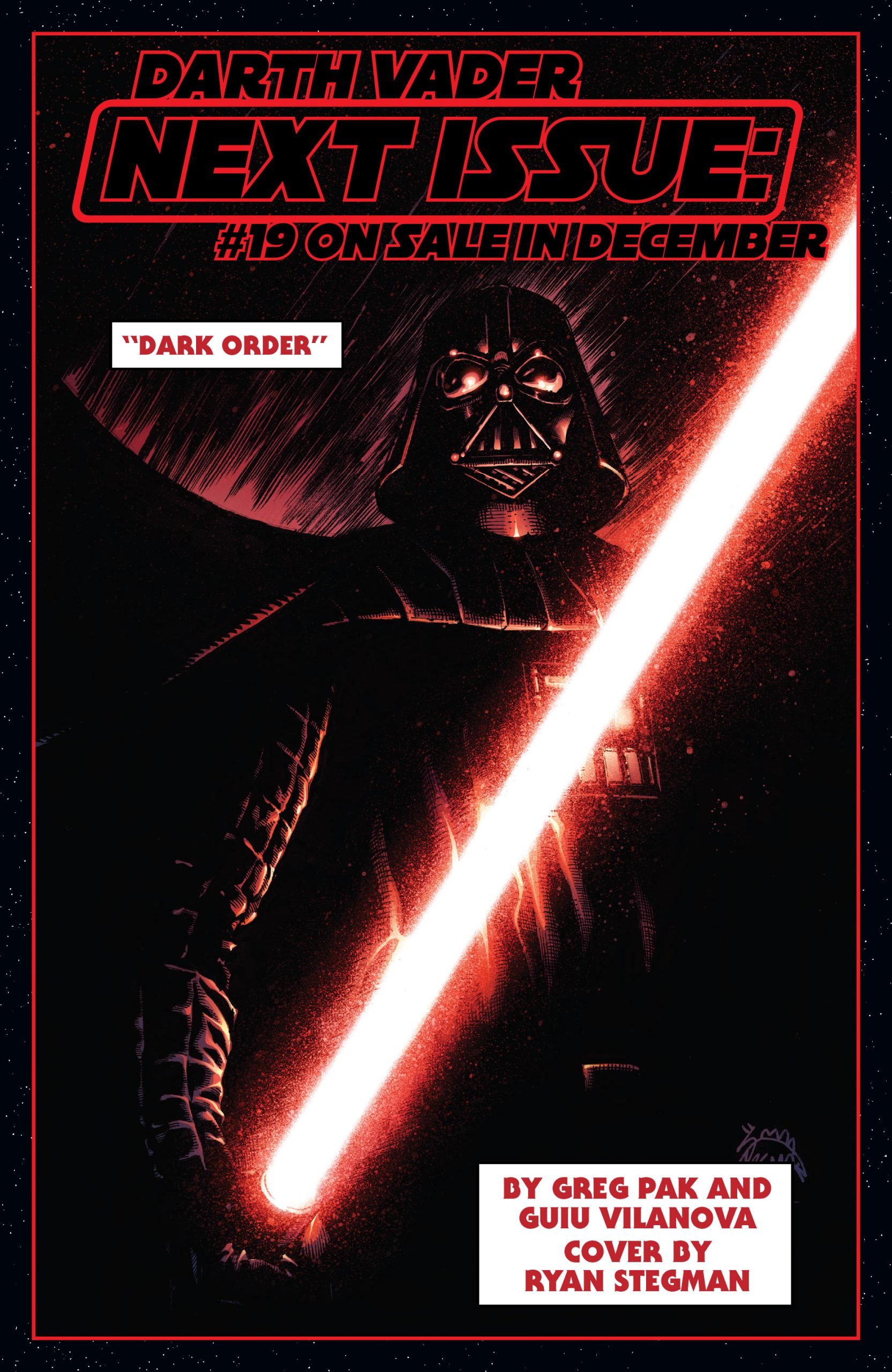 Alex Newman is huge Star Wars fan and loves to keep up to date with the canon. He's also loved movies for as long as he can remember. He's a massive Disney and superhero fan but will watch anything. He's worked at a cinema, a comic book store and at Disney World but is currently working in radio in London!