Review: The Investigation Ends in Carnage in 'Star Wars – The High Republic: Trail of Shadows' #5
The Trail of Shadows mini-series comes to an end in this explosive conclusion. It's a worthy end to what has been some of Daniel José Older's best work in Star Wars. 
This might not be the series' best issue, but it's definitely a fitting end. Nothing is particularly wrong with it, but it feels a bit more disjointed than the other four issues, as it feels more like a random encounter than the end of the investigation the series has focused on so far.
Spoilers ahead….
Emerick Caphtor is only just recovering from the unknown creature that caused him to hallucinate and collapse in the last issue. His problems don't end there though, with Starlight Beacon in flames and the dastardly Dr. Uttersond ready to be interrogated.

This series continues to excel at fleshing out Uttersond's character, and while his claim about having no moral code may be somewhat true, fellow Chadra-fan Beesar is quick to point out that Uttersond has a family he cares about (a subtle way to allude to events in the previous issue; a hard line to walk sometimes with monthly releases) and that he should start talking.
Luckily, he does!
This is a great bit of exposition to succinctly put what has only been hinted at in the previous novels/comic books, along with the news that Uttersond was part of a second wave carrying these beasts to put an unnecessary nail in the coffin of Starlight and the Jedi there.
With Starlight Beacon falling apart before their eyes, Emerick and Sian make the decision to fly the ship right into the heart of the chaos to not only rescue any survivors, but also to investigate the nameless beasts that so easily kill the Jedi and warp their connection to the Force.
Smashing through the iconic glass ceiling of the decaying space station, the team lands and immediately bumps into Jedi Master Buck and some Padawans, all some of Older's characters from his IDW High Republic Adventures series. One of the recently knighted Padawans, Qort, wounded one of the creatures while escaping — Emerick knows that the investigation isn't over.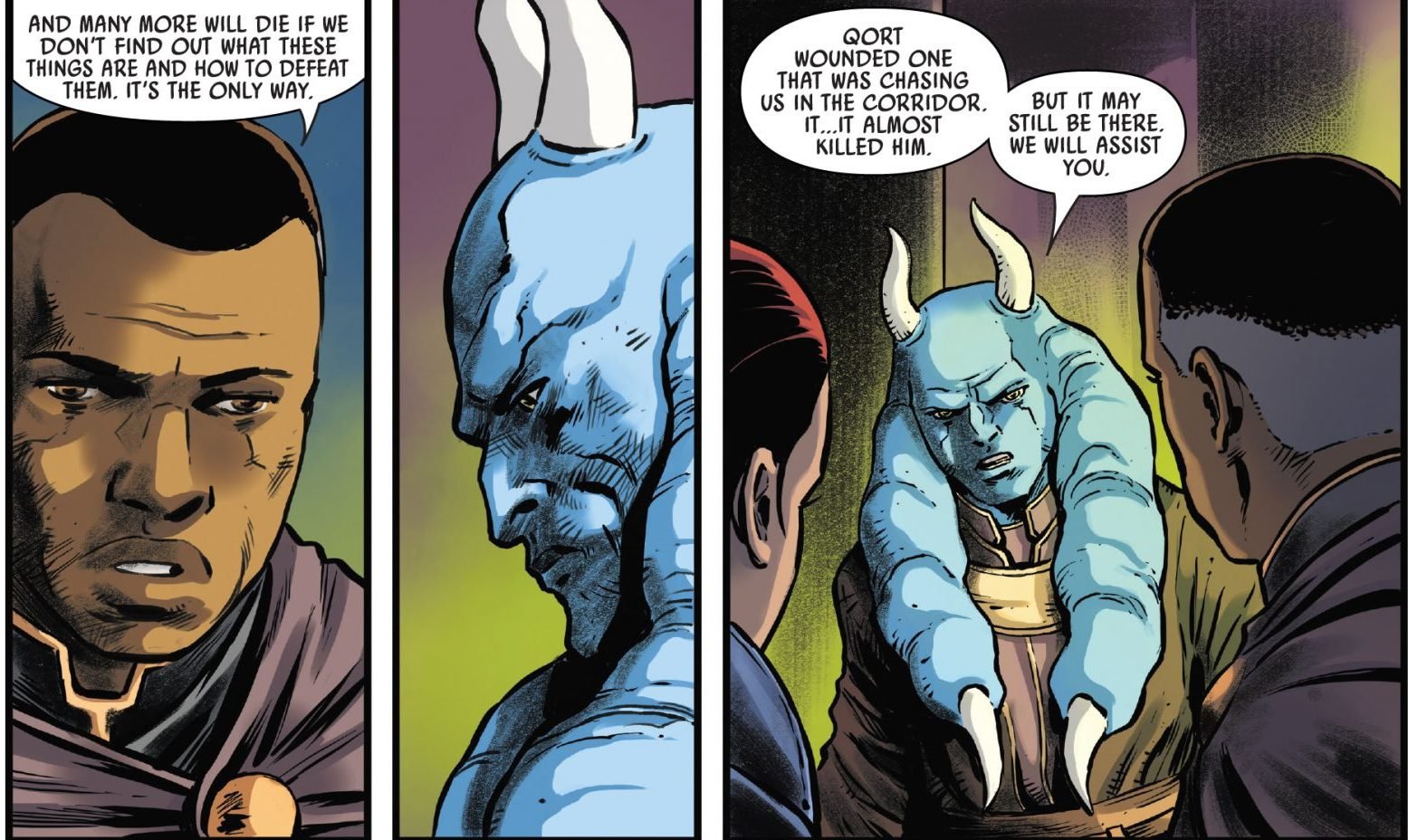 The rest of the team hovers at the edges of the beasts' effects, just as they start to warp the Force. Emerick and Sian go further though, determined to find out more and investigate these horrific creatures. It's great to see their partnership and trust in each other culminate in this scene as Emerick's vision gets more and more warped.
The artwork from Dave Wachter is just phenomenal here, paired with Giada Marchisio's coloring, as the Jedi's hallucinations get weirder and weirder.
When these nameless have appeared in other High Republic works and mess with the Jedi, one question always arises in my head: why are there never any non-Force users around?!
Luckily, Older has used this partnership to give us a non-Force user's perception of the beasts, and… well… they're still scary to normies!
Sian is able to get a good look of the creatures while Emerick is able to resist giving in to fear and strikes down the warped vision of Master Stellan Gios.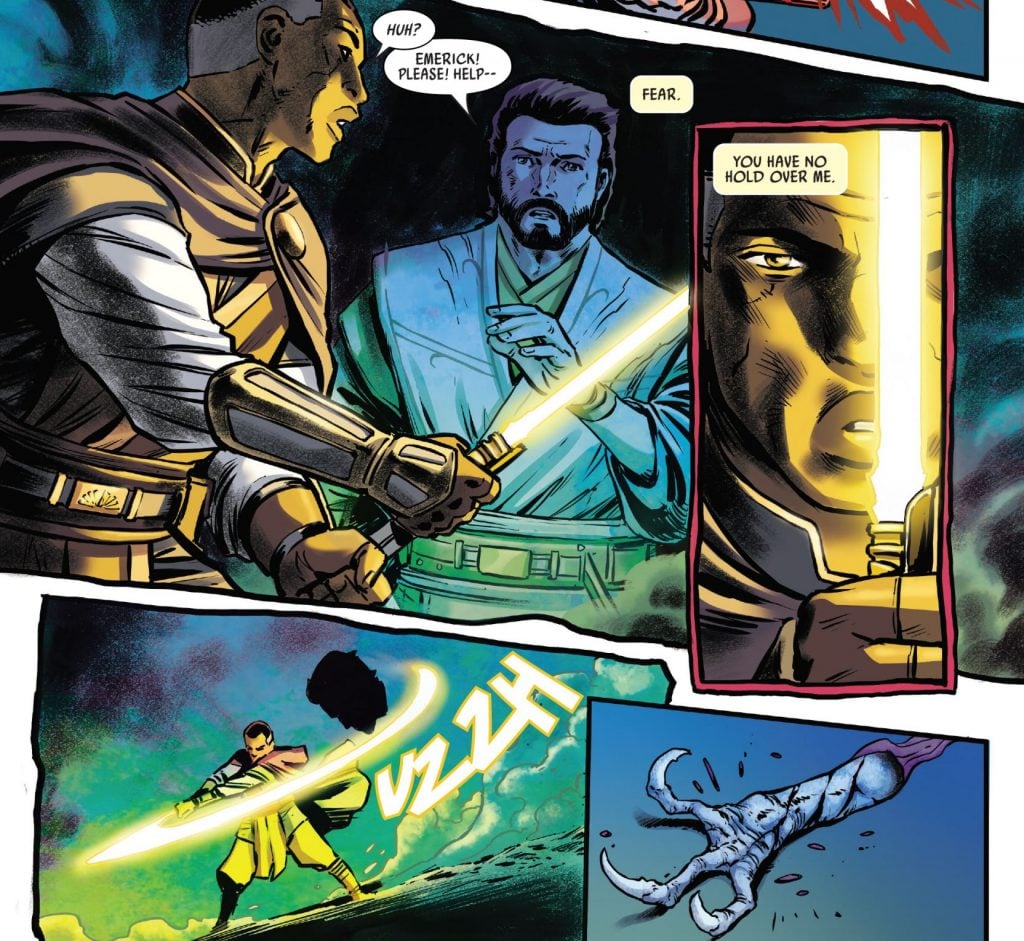 Uttersond then throws a thermal detonator at the problem, blowing up the creature, but also attracting the Nihil marauders on the ship. Uttersond escapes in the ensuing panic — we don't know if he threw that detonator on purpose to stop Caphtor from possibly capturing a creature. However, Sian is able to grab one of the creatures' claws to do research on as all the Jedi retreat to the ship.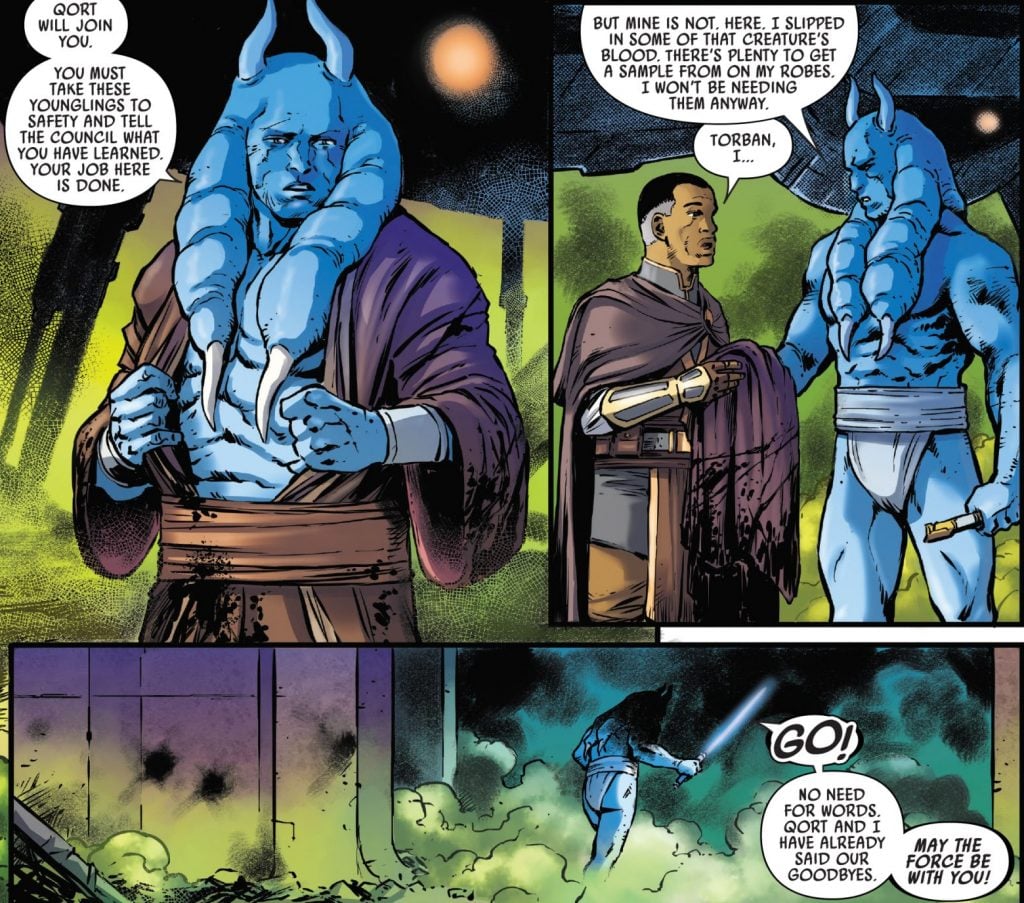 Buckets of Blood is a great character and has been a lot of fun as one of the masters in Older's High Republic Adventures series, so… if this is his death, it's a very odd scene. We're given very little reason behind Buck's want to stay, and the visual of him running off in his diaper underwear sort of takes you out of the scene. Hopefully, this isn't the end of him.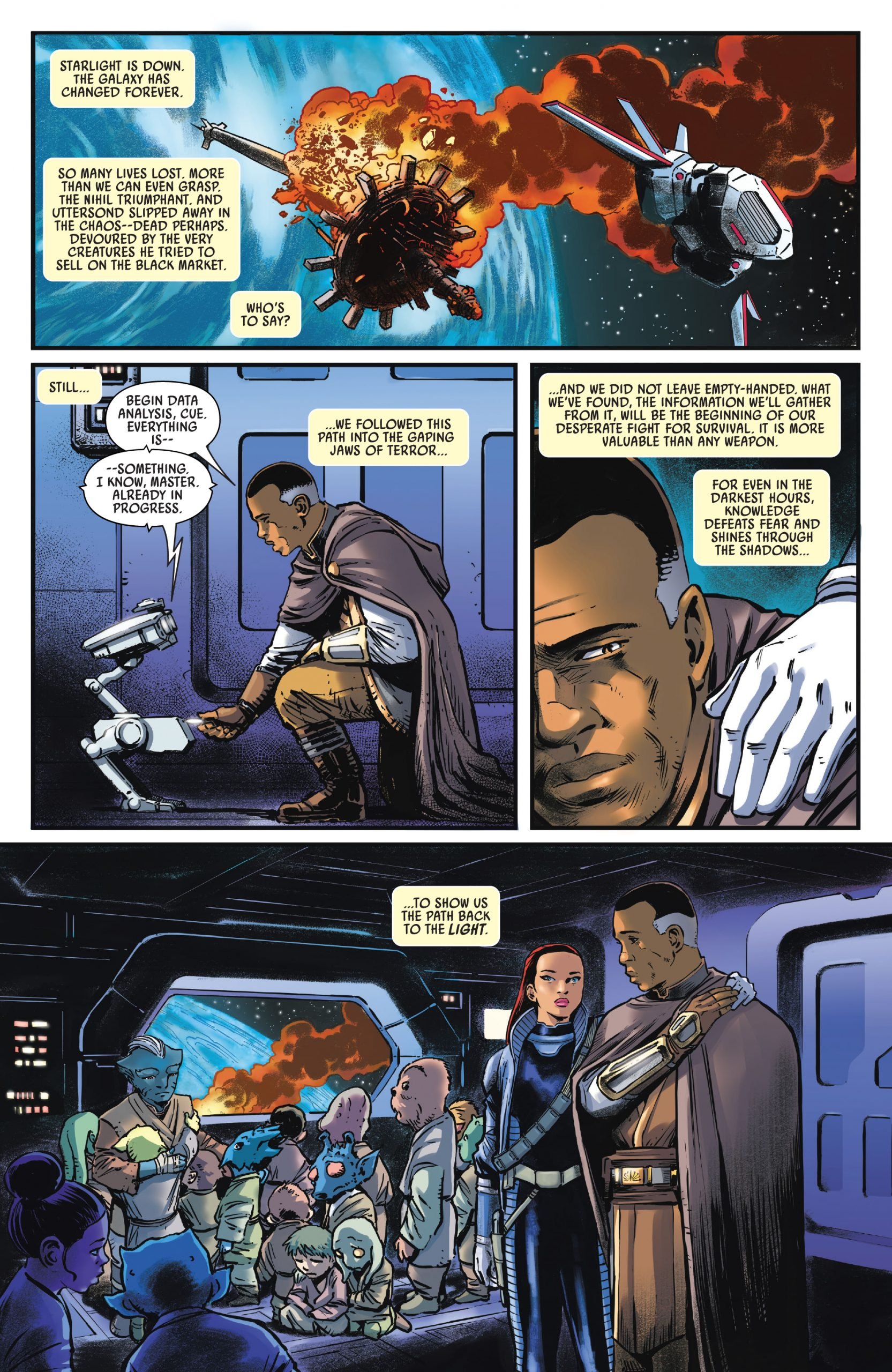 That marks the end of the Trail of Shadows mini-series. This finale was definitely not the highlight of the series (which probably goes to the 3rd or even 4th issue) due to its slightly disjointed feel from the rest of the series; but it continues the themes well, and gives way to what will hopefully be a sequel mini-series in the next phase featuring the next step of Sian and Emerick's investigation.
This issue also hinted that Sian's feelings towards her Jedi partner are more than a simple friendship, something that will probably be explored in the future too.
One of the biggest strengths of this whole series has been the bonding between these two characters and all the mystery-solving that has made them closer. It's definitely one of Older's strongest pieces in The High Republic, and it will be exciting to see what comes next!
Rating: 7.5/10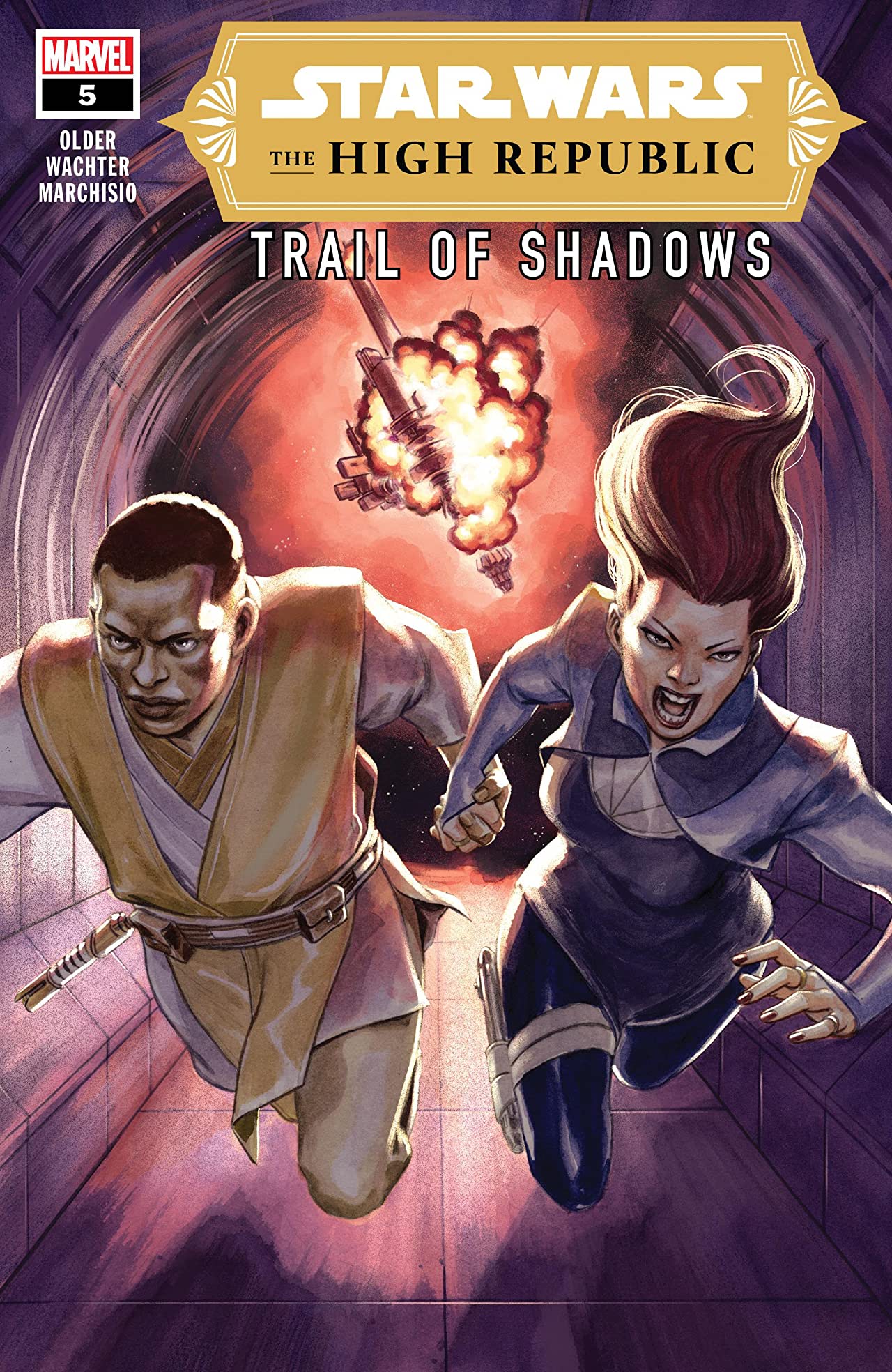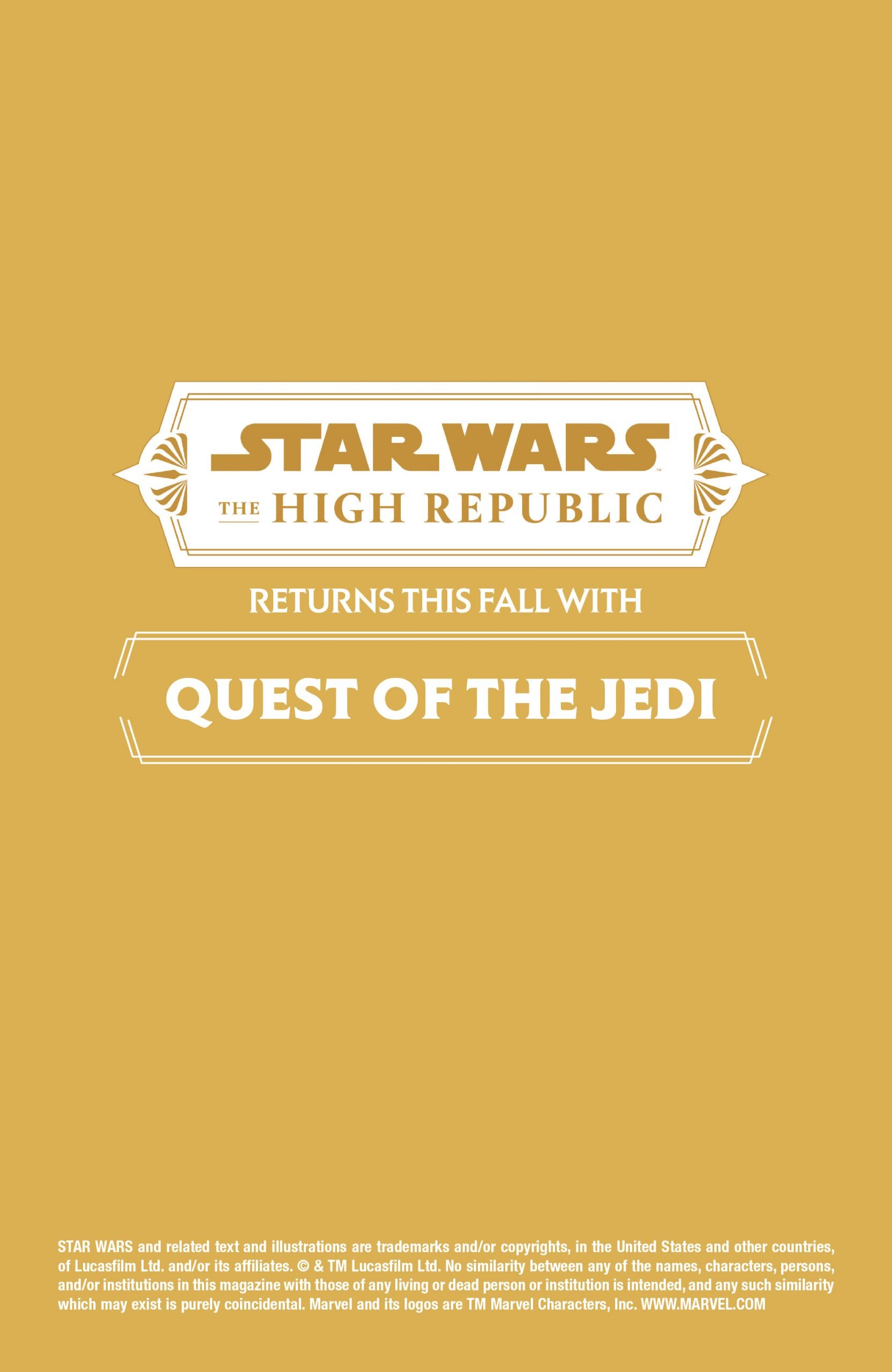 Alex Newman is huge Star Wars fan and loves to keep up to date with the canon. He's also loved movies for as long as he can remember. He's a massive Disney and superhero fan but will watch anything. He's worked at a cinema, a comic book store and at Disney World but is currently working in radio in London!