Review: The Investigation Winds Down With Catastrophic Consequences in 'Star Wars – The High Republic: Trail of Shadows' #4
As the investigation into the Nihil's secret weapon continues, Emerick and Sian must wait until all their hard work pays off. Everything comes to a head in this penultimate issue of the mini-series.
Writer Daniel José Older has done a great job with this series: keeping a good blend of character insight and plot progression, making the series relevant to the overarching High Republic initiative, and flexing a more mature writing style compared to his other Star Wars works.
The only criticism for this issue is more of a backhanded compliment: it's a little premature and spoils something big from Claudia Gray's flagship novel The Fallen Star. It's probably not right to complain about something being so integrated, because the High Republic publishing initiative has been absolutely refreshing and beautifully meticulous in its planning and cross-pollination of characters and stories, but the 352 page novel only came out early January!
Spoilers Ahead….
So far, Kisma Uttersond has been a bit of an enigma, portrayed as a dedicated scientist with an extreme lack of morals and a Nihil traitor. Older's opening scene is a surprising move, as we're quickly given a humanizing (Chadra-Fanning?) moment.

Apparently, medical school is expensive in a galaxy far, far away as well, and Marchion Ro doesn't pay too well. Things get a little confusing in this opening scene, as we've got the thoughts of two different characters. It worked a bit better in Older's High Republic Adventures stories. This is more of an art issue, since the duller colors don't quite differentiate the two characters' thought boxes quite well enough. Once you wrap your head around this, it's a nice intro to Beesar: the kind old lady turned Jedi/Republic spy.
She finds Uttersond, stows aboard his ship, and contacts the Republic.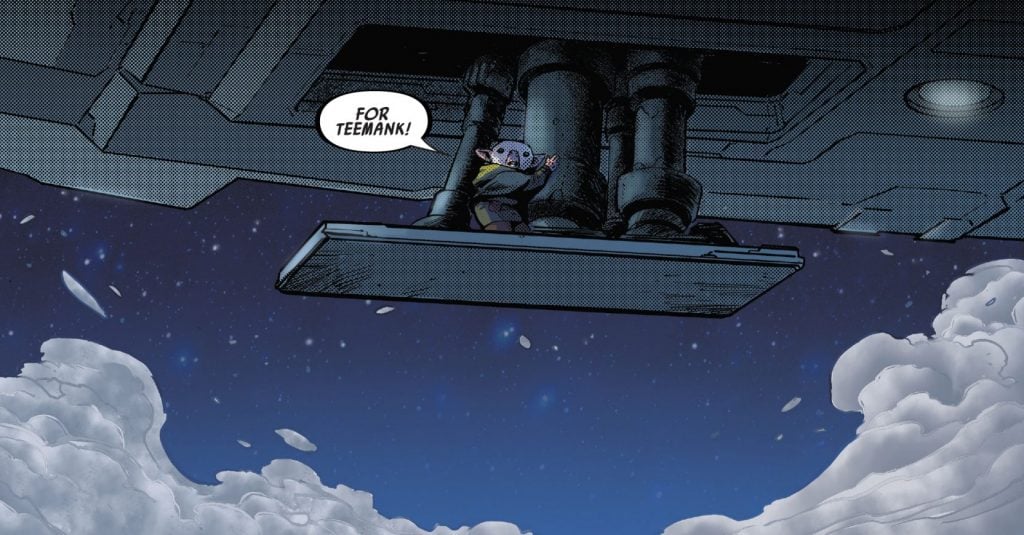 Luckily, Beesar's message goes through, and a Republic squadron immediately jump the Nihil transport Uttersond is aboard. With Emerick and Sian leading the charge, the battle commences in a beautiful two-page spread from artist Dave Wachter: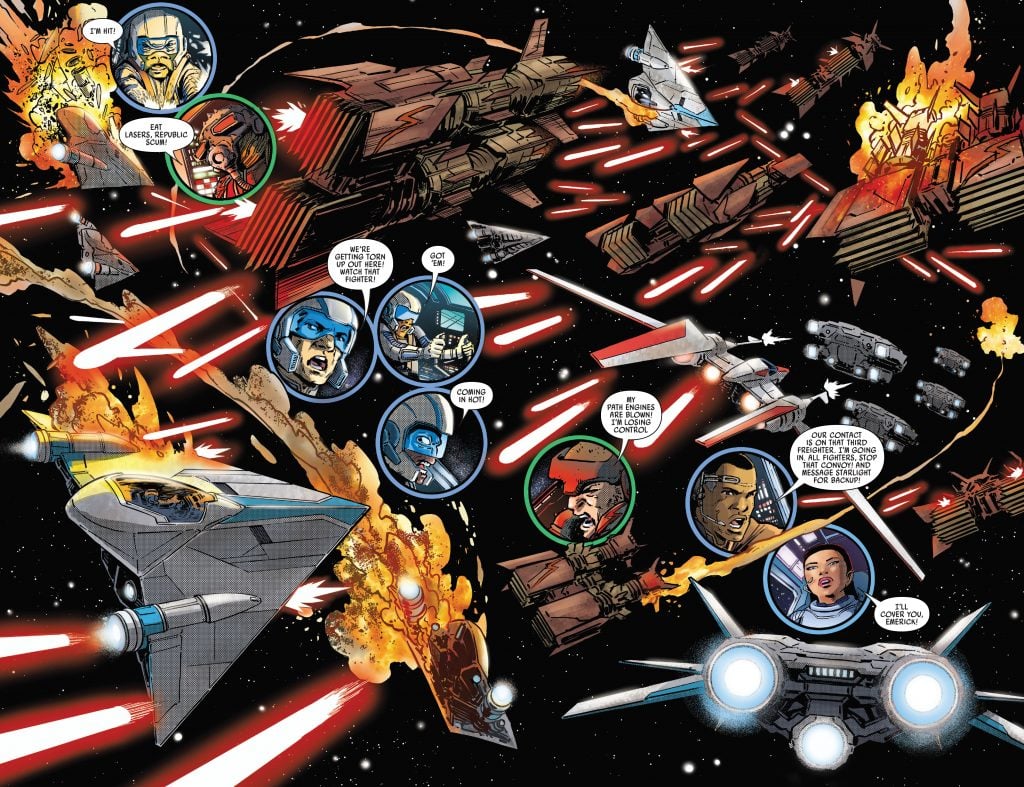 The good doctor is pushed to his limits though, bullied by Ro and the Nihil, when a Nihil accuses him of ratting out their location, so he takes matters into his own hands.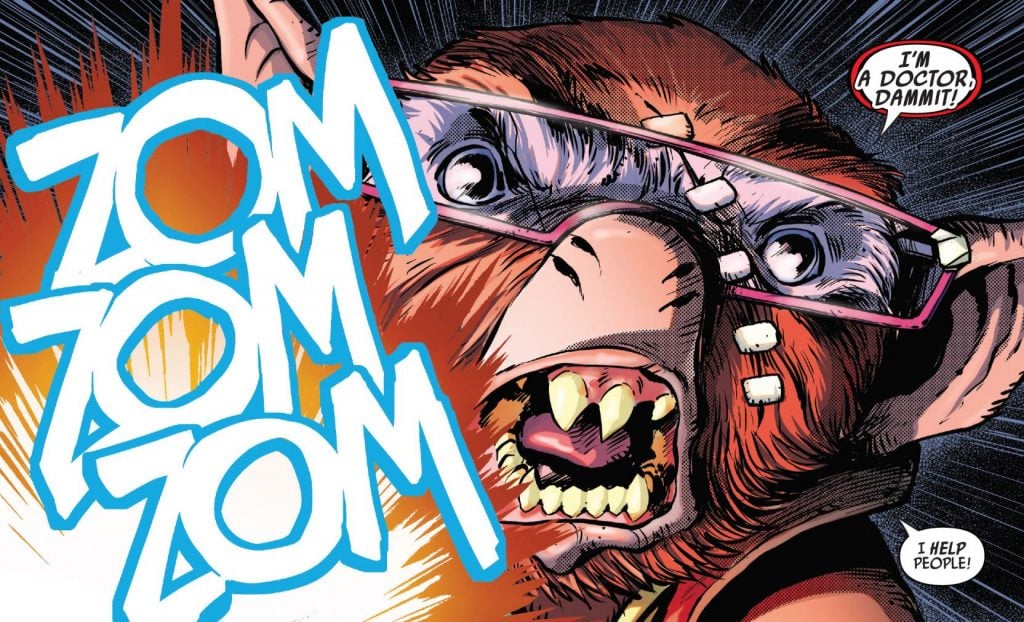 Luckily, Emerick cuts his way into the ship before Kisma can kill Beesar. Unluckily, Ro has a nameless creature in a crate on the ship, one that affects connections with the Force. Emerick Caphtor is instantly debilitated by it.
The vision of his old teacher in monstrous form appears to Emerick, putting him into a trance in which he keeps repeating the old nursery he learnt from her.
Beesar and the Jedi are almost killed by Uttersond, but Sian Holt is here to help!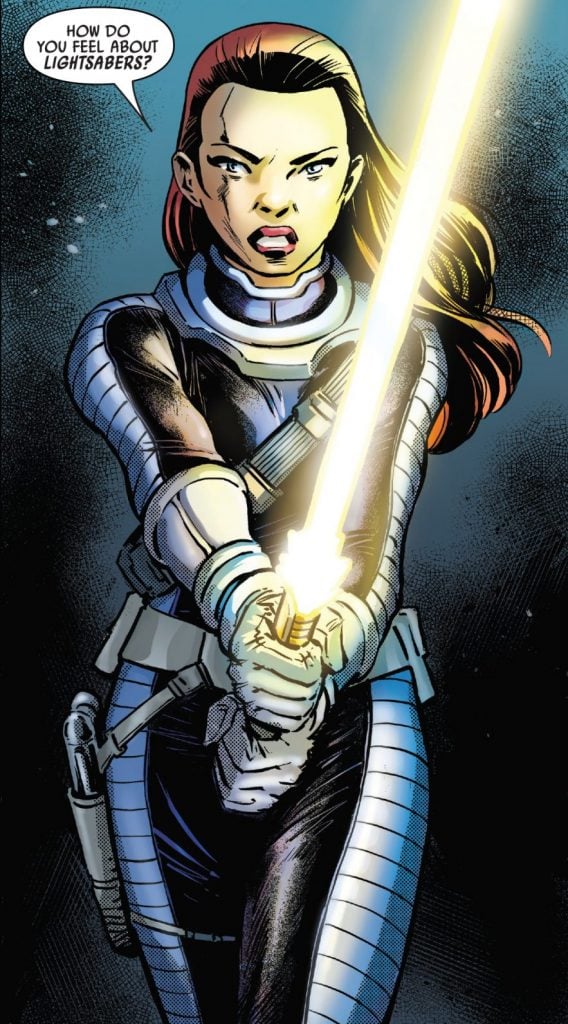 Holt grabs her still-in-shock partner and Dr. Uttersond, and heads back to her ship along with Beesar. They escape the battle and head for Starlight Beacon to get Emerick some help.
If you don't want mild-to-major spoilers for the The Fallen Star novel, look away now!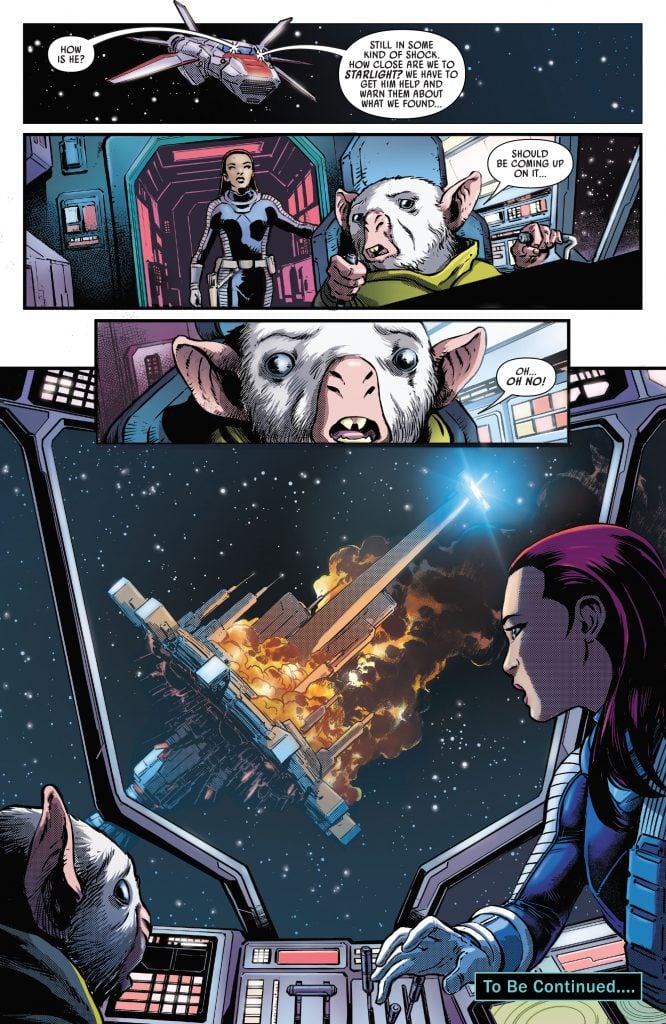 Starlight Beacon is on fire! As mentioned before, it's great to see how integrated the High Republic rollout is, but the novel has been out less than a month, and it's obviously a lot quicker to get through a comic than a novel! However, I'm being pedantic, and good Star Wars content is something I could never be mad about.
This issue has a lot going for it, including a lot of action for a penultimate issue, which will allow the last issue to be all the more exciting!
The pages breeze past, and it's over too soon. Older does a great job of introducing a new character so late in the series, plus it's hard to give them just the right amount of time and exposition to be meaningful to the plot without feeling forced. This mini-series continues to be an unexpected treat, shining just as much light on the duo of Emerick and Sian as it does on Dr. Uttersond!
Rating: 8/10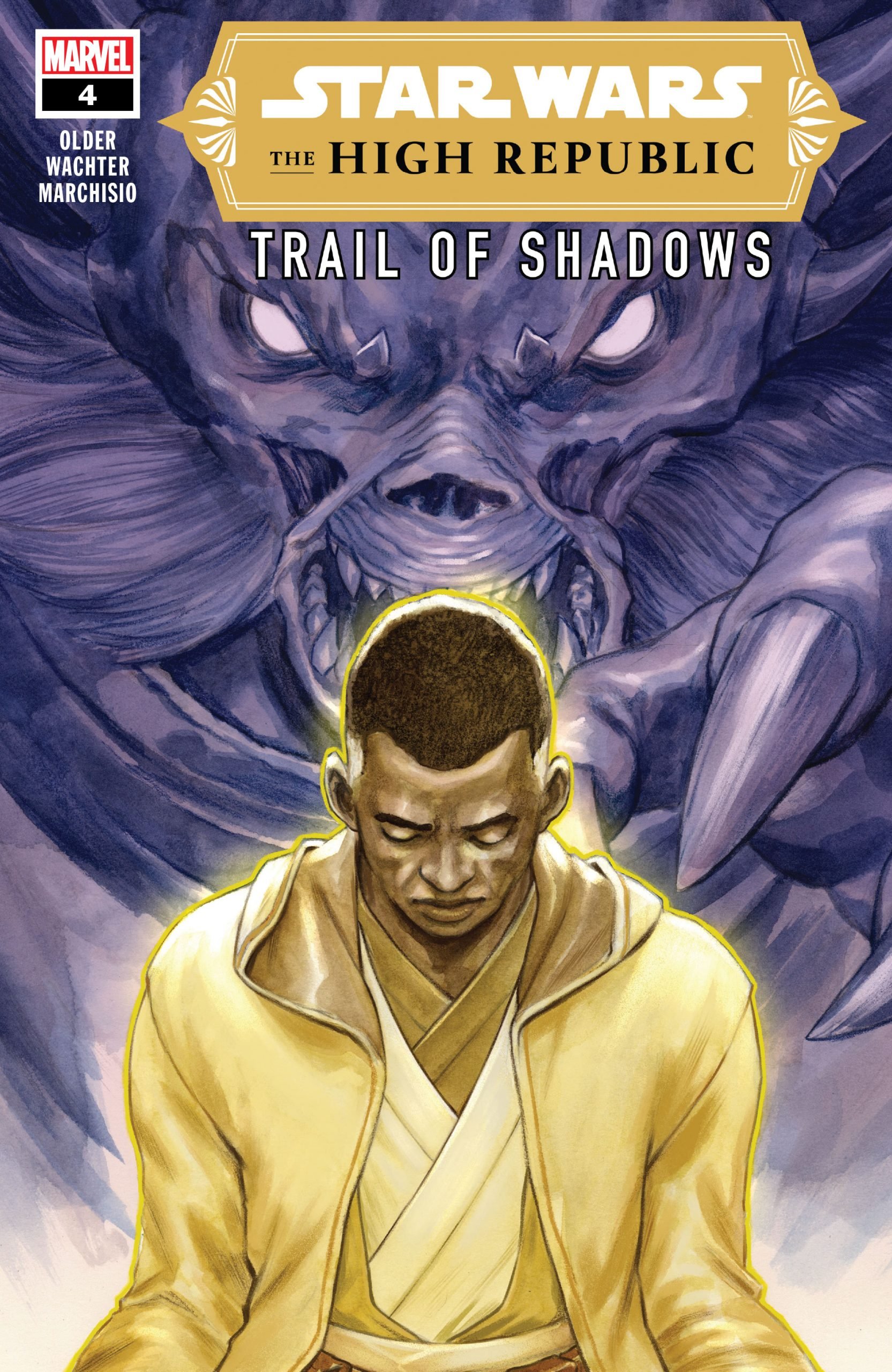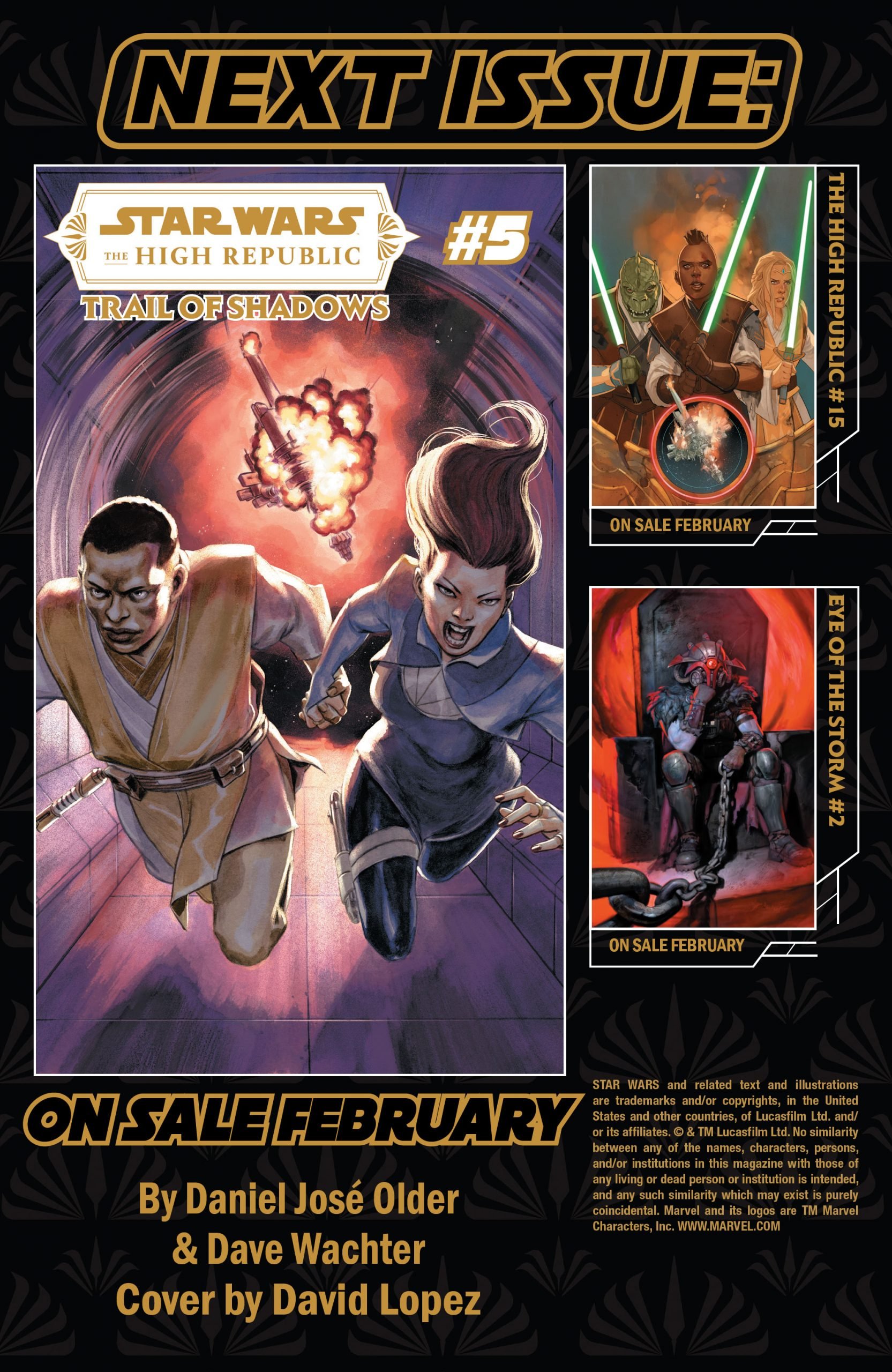 Alex Newman is huge Star Wars fan and loves to keep up to date with the canon. He's also loved movies for as long as he can remember. He's a massive Disney and superhero fan but will watch anything. He's worked at a cinema, a comic book store and at Disney World but is currently working in radio in London!