UPDATE! IDW's The Force Awakens Adaptation Reveals Something New About the "Forceback" Scene.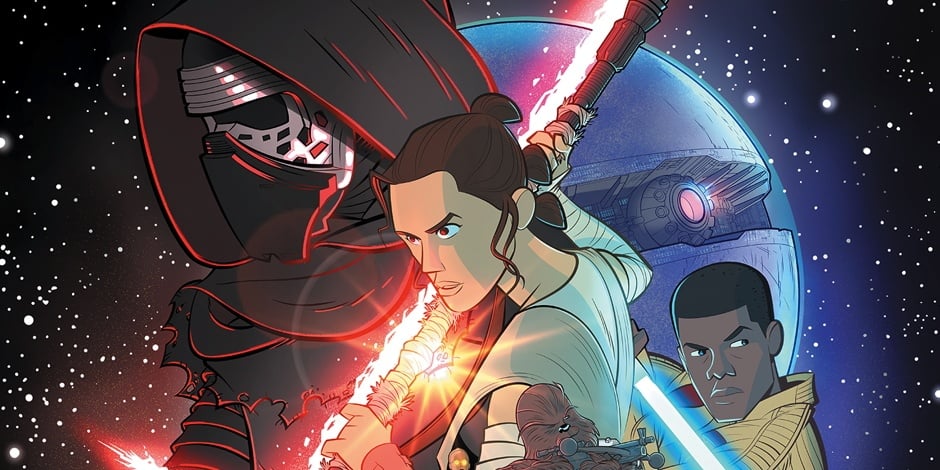 After hearing about the new all-ages Star Wars comics from IDW, I immediately got excited to get these for my son, given that Marvel's stuff is more geared towards teenagers and beyond. So, I ordered IDW's adaptation of The Force Awakens that released last week just ahead of Force Friday, and needless to say, my son loved it. Today, I thought I'd sit down and take in the 80-page adventure myself, fully hoping to enjoy a brief revisit to the story through the exciting and fun new art style. What I wasn't expecting were any kind of reveals that I'd never seen before.
You may remember this guy from the movie who was killed by Kylo Ren during Rey's "Forceback" vision sequence…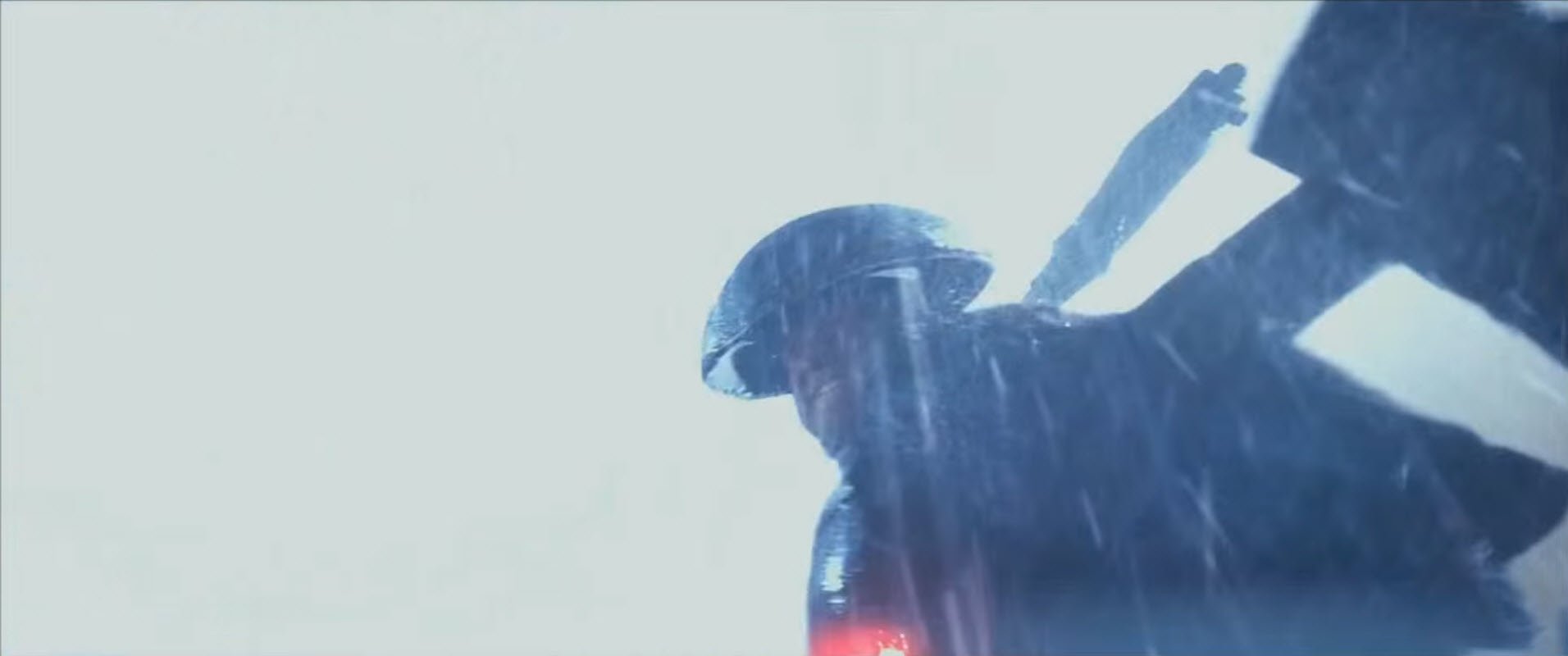 After much speculation circulated about who the character could possibly be, he was later identified by LFL's Pablo Hidalgo as simply "Clan Leader". After that somewhat anticlimactic revelation, the rumors lost their steam. But now, the scene in the new adaptation reveals that this Clan Leader had a lightsaber. Check it out…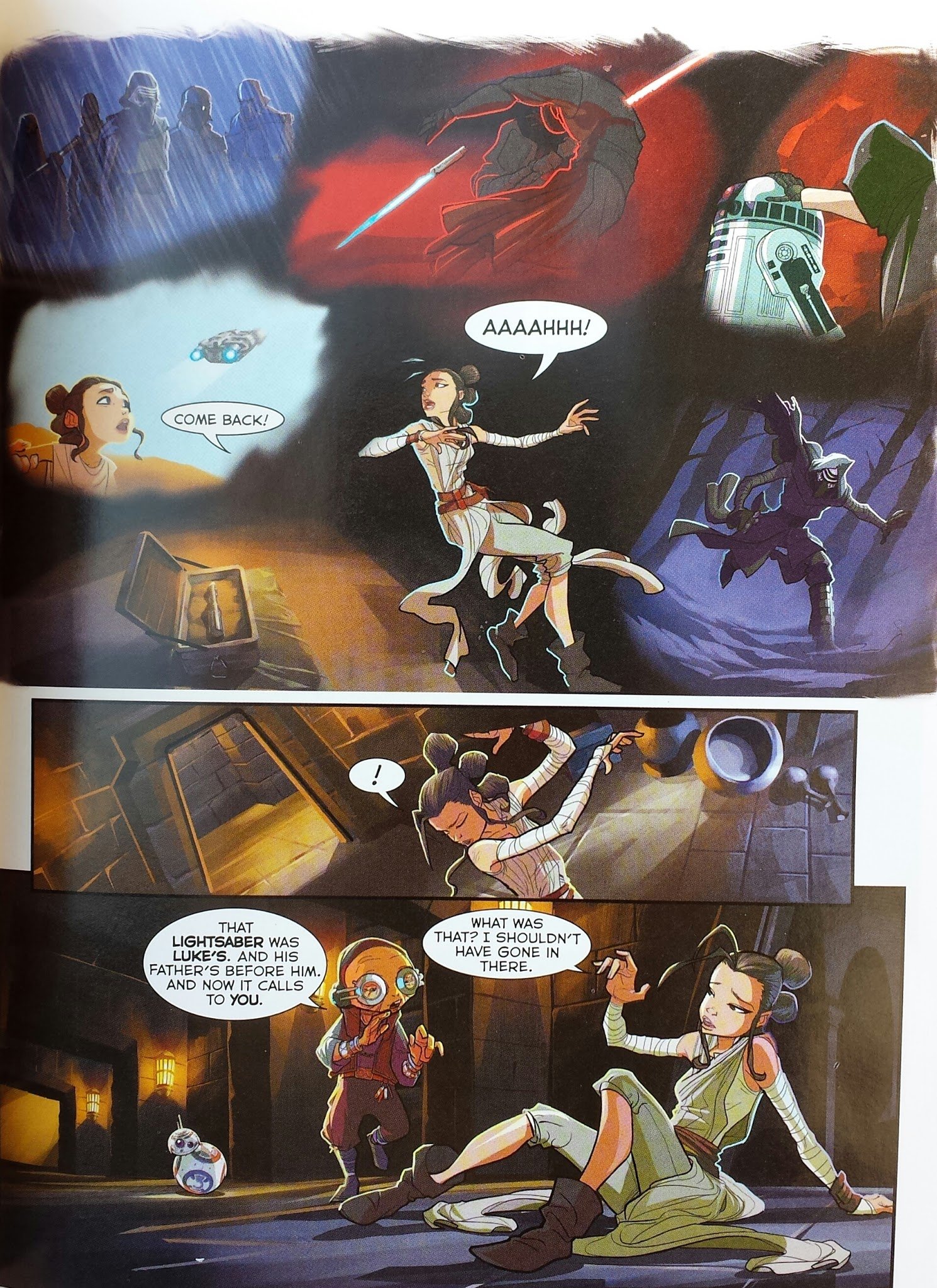 Perhaps this is a character of some importance after all. Maybe one of Luke's students or a guard at his temple/academy (or whatever it will be called). It doesn't reveal much about him, but this little detail opens up a lot of possibilities.
UPDATE!
Jedi Master Pablo Hidalgo was asked about this, and so we have received an answer regarding an earlier scene and the one at the center of this article:
Nah, it never got sliced in the movie. I guess the artist thought it did and added a little drama.

— Pablo Hidalgo (@pablohidalgo) September 9, 2017
I should add that's just a guess; this is my first look at this art. Love the style!

— Pablo Hidalgo (@pablohidalgo) September 9, 2017
There are two takeaways from this – the first being that we could think of this as an artistic license being taken for the sake of making an "all ages" adaptation. The other, which is slightly more complicated when keeping the former point in mind, is that this is depicting a scene that's not present in The Force Awakens itself – in other words, that the shot of Kylo Ren killing a Jedi happens to look like the unfortunate chum that got a chestful of plasma sword. For now it seems like this might be a bit of a dead end, but we'll probably have a better idea of what to make of this in a few short months with The Last Jedi.
Jordan Pate is Co-Lead Editor and Senior Writer for Star Wars News Net, of which he is also a member of the book and comic review team. He loves all things Star Wars, but when he's not spending time in the galaxy far far away, he might be found in our own galaxy hanging out in Gotham City or at 1407 Graymalkin Lane, Salem Center, NY.