More Info on The Raddus Plus New The Last Jedi Details from the Star Wars Databank Page and More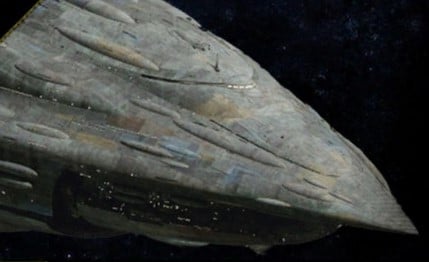 Yesterday we shared with you some details on Snokes's new Mega-Class Star Destroyer and the new cool looking Mon Calamari cruiser, named The Raddus, via Sphero's BB-8 app. Now more information on The Raddus surfaced via the same app. Also Star Wars.com updated their Databank page with some new entries from The Last Jedi.
Here's what more info on the Raddus a Reddit user found and shared on their forums (click on the images for bigger version):

This makes the ship twice as big as the last Mon Calamari cruiser that we saw in Return of the Jedi.
The app also shows some older droids of the Resistance. Meet BB-2 and BB-4 (via reddit).
In other news. StarWars.com has updated the Star Wars Databank page with some new info on characters and places from The Last Jedi. Check out some of the latest editions:
CRAIT
Now uninhabited, Crait is a mineral world dusted by a layer of white salt, reflecting the planet's sunlight. It was once the site of a Rebel Alliance outpost, and has become a haven for the fleeing Resistance forces.
RESISTANCE SKI-SPEEDER
An older design pre-dating the Rebel Alliance, these low-altitude, high power ski speeders use a stabilizer strut to keep balance when zipping across alien terrain.
RESISTANCE BOMBER
Now reinforced with new combat craft, the Resistance fleet dispatches hardy bombers into battle with the First Order fleet. Escorted by swift starfighters, these munitions-laden carrier ships drop powerful proton bombs onto their Star Destroyer targets.
ELITE PRAETORIAN GUARD
As the Supreme Leader of the First Order, Snoke stood atop an evil regime that mirrored many of the dark traditions of the Galactic Empire. As a striking example, Snoke was flanked by crimson-clad guardians, loyal protectors encased in the ornate armor ready to defend the Supreme Leader from any threat.
FIRST ORDER STORMTROOPER EXECUTIONER
The First Order can only operate effectively with the absolute loyalty of its followers. Should any soldier be found guilty of treason, it is up to this special branch of Stormtrooper to dispense final justice.
BB-9E
The First Order benefits from the latest technology across all its activities. This includes having dark, gleaming BB astromech units of their own that keep their starships and machinery operational.
BB-UNIT
Rolling about the hangar bays of outposts and capital ships, or snug in the astromech sockets of X-wing fighters, BB units work tirelessly to keep the weapons and vessels of the Resistance in top combat condition.
ROSE
Part of the support crew that keeps the Resistance starfighters flying, Rose has hated the First Order since she was a child. Now able to fight back against the enemy, Rose keeps her focus on her mission.
For more Databank entries go to Star Wars.com.
And last but not least, here's a very cool collection of 64 promo images, cards, posters and stickers from The Last Jedi:
Fathead.com Wall posters, AdvancedGraphics.com standups and Star Wars Card Trader App… cards