Detailed Rundown of Disney Parks' Upcoming Star Wars: Galaxy's Edge
Details on the Disney Theme Parks portion of the new canon have been released in dribs and drabs for over a year now. The new land, which is scheduled to open in 2019 in both Anaheim and Orlando, will feature 2 new rides, 2 restaurants and a variety of shops and atmospheric elements.
Last Month Orlando Weekly published a comprehensive rundown on what we can expect out of the new lands. Most of this isn't new news, but it is the first time we've seen everything we know about Galaxy's edge in one place. So, we thought we'd share it with out readers as an easy place to get caught up on what is coming to Disney World and Disneyland.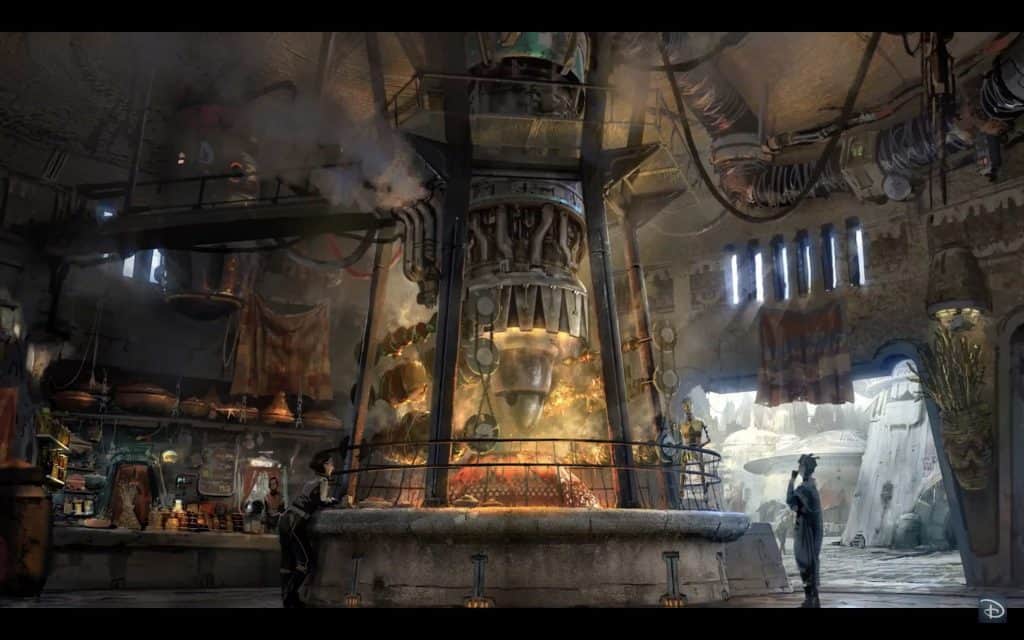 The article takes you through the different areas in Galaxy's Edge. It seems the land will be split into two sides, one controlled by First Order troops, and the other by the resistance. The two sides will be separated by a "merchant's alley" which will house most of the merchandise locations in the land.
On the First Order side you will find the land's flagship attraction…
The central feature of the First Order area will be a massive trackless ride, currently known as "Battle Escape." The ride codenamed "Alcatraz" is rumored to be one of the most expensive rides ever conceived by Disney, with most estimates putting its cost at nearly half a billion dollars, or roughly the same price as the Pirates of the Caribbean ride at Shanghai Disneyland. With a rumored excess of 150 animatronics and confirmed scenes featuring nearly life-size AT-ATs the "Alcatraz" ride is reported to have 18 different scenes in it (for comparison the Spider-Man ride at Islands of Adventure has 13 scenes with a ride time of between 5 and 7 minutes).
The other main attraction will be found on the resistance controlled side of the land.
Coming out of the merchant's alley area guests enter into the Rebel side of the land. This more lushly landscaped area will feature the 100-foot wide Millennium Falcon that will be near the entrance of the Millennium Falcon ride where groups of six guests can pilot the Falcon in a simulator experience. Individual guest performance on the ride will affect how various characters in the land interact with them. 

The ride will feature multiple pre-shows similar to Gringotts at Universal Studios Florida. The ride is also rumored to have custom endings that be affected in part by how each guest performs during it. Unlike typical rides where guests see other guests boarding and deboarding here each group of six guests will board what will look like the only simulator capsule.
Head over to Orlando Weekly for more information on Galaxy's Edge, including some details on the land's full service restaurant and the Cantina.