Star Wars Global Augmented Reality Event Planned for Force Friday II!
Force Friday is nearly upon us. In addition to the traditional fun of scouring shelves for elusive figures and checking out all the new game and toy releases, it appears the good folks at Lucasfilm and Disney have some fun looking additional celebrations brewing as well.
On Friday, Disney and Lucasfilm will launch an Augmented Reality experience at 20 different landmarks around the world. At locations such as the London Eye, Eiffel Tower, or Central Park you will be able to peer through your phone and see 10-second animation of Star Destroyers hovering over these famous landmarks.
In addition Disney and Lucasfilm have announced deals with Toys R Us and John Lewis Stores in the UK for special events and midnight openings.
So check out the full press release below and let us know in the comments which locations you'd most like to check out this AR experience. For me personally, I think seeing a Star Destroyer looming ominously over the Grand Canyon would be a treat. Let us know what you think.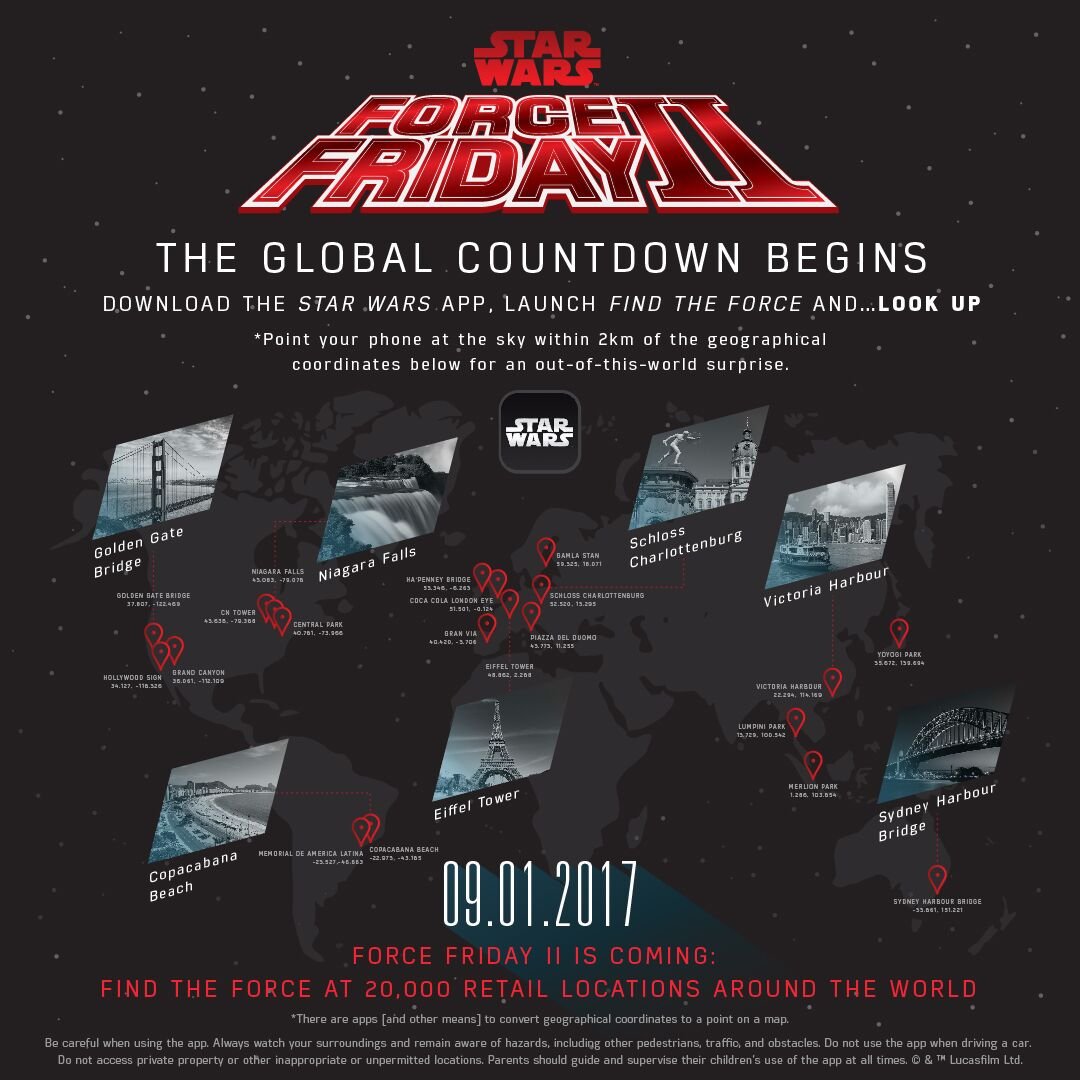 London's Coca Cola London Eye features alongside global landmarks including Sydney Harbor, Eiffel Tower, Golden Gate Bridge, Grand Canyon, Copacabana Beach, the Hollywood Sign, Central Park to get an AR Makeover to Kick off Force Friday II
Fans Gear up to "Find the Force" in global augmented reality treasure hunt to celebrate the launch of the new product line for Star Wars: The Last Jedi
Disney and Lucasfilm today kicked off the countdown to Force Friday II, the global event celebrating the launch of the products from Star Wars: The Last Jedi, with an AR surprise for Star Wars fans around the world.
Fans within a mile of 20 global landmarks simply open the Star Wars App, select Find the Force and point their phone to the sky to see a short augmented reality scene unfold. The 10-second animation shows a Star Destroyer loom over key landmarks as two TIE Fighters shoot past into the distance.
In London, the Coca Cola London Eye will be the focus for the AR activity – with fans on either side of the river Thames able to activate the augmented reality scene.
"This Force Friday II weekend, we're inviting fans and families to join the Resistance and help 'Find the Force' in our global augmented reality treasure hunt taking place across more than 20,000 retail locations. We're kicking the event off with an extra AR surprise for anyone near 20 of the world's most iconic destinations. Just open the Star Wars App – and look up!," comments Paul Southern, Senior Vice President, Global Licensing at Lucasfilm.
Fans with the Star Wars App near one of the 20 landmarks can take pictures of the AR scene and join the social conversation using #FindtheForce and #ForceFriday. Others can check out videos and photos of the scenes at starwars.com.
James Burns from Jedi News, one of a group of Star Wars superfans given an early look at the AR scene, comments: "What better way to start Force Friday II than to see a Star Destroyer over your favorite city landmark – it's stunning! Star Wars is so special to so many, and bringing this kind of augmented reality to the Star Wars App is a great way to get you in the mood for Star Wars: The Last Jedi and all that awaits from now to December!"
Today through Sept. 3, fans can view the AR scene within a mile of the following geographical coordinates (there are apps and other means to convert geographic coordinates to a point on a map):
LANDMARK, COUNTRY: GEOGRAPHIC COORDINATES
Central Park, USA: 40.781,-73.966
CN Tower, Canada: 43.638,-79.388
Coca-Cola London Eye, UK: 51.501,-0.124
Copacabana Beach, Brazil: -22.973,- 43.185
Eiffel Tower, France: 48.862,2.288
Gamla Stan, Sweden: 59.325,18.071
Golden Gate Bridge, USA: 37.807,-122.469
Gran Via, Spain: 40.420,-3.706
Grand Canyon, USA: 36.061,-112.109
Ha'Penney Bridge, Ireland: 53.346,-6.263
Hollywood Sign, USA: 34.127,-118.326
Lumpini Park, Thailand: 13.729,100.542
Memorial de America Latina, Brazil: -23.527,- 46.663
Merlion Park, Singapore: 1.286,103.854
Niagara Falls, Canada: 43.083,-79.078
Piazza del Duomo, Italy: 43.773,11.255
Schloss Charlottenburg, Germany: 52.520, 13.295
Sydney Harbour Bridge, Australia: -33.861,151.221
Victoria Harbour, Hong Kong: 22.294,114.169
Yoyogi Park, Japan: 35.672,139.694
The augmented reality adventure will continue through the weekend as Star Wars fans across the planet unite for Find the Force, the pop-up AR treasure hunt rolling out at 20,000 retail locations around the world for Force Friday II from Sept. 1-3. It will feature new and favorite Star Wars characters from the upcoming film via the Find the Force feature in the Star Wars App. More information and an early look at the new Porg characters in AR is available at www.starwars.com/findtheforce.
Force Friday II will also see many stores across the UK open their doors at midnight on 1 st September, so fans can purchase the latest product as it hits the shelves.
For the first time ever, John Lewis has joined forces with Disney to bring Force Friday II to its Oxford Street shop at midnight on 1 st September 2017. Fans who visit the John Lewis store on Oxford Street at midnight can immerse themselves in Star Wars with exciting new products available for purchase and unique demonstrations in store. The department store will be transformed using iconic Star Wars replicas including the world famous Cantina where fans can enjoy a complimentary drink whilst creating their own Force Friday memories during their late night adventure. As places are limited, fans can register their interest for the event online here: https://www.myjl.uk/web/forcefriday/
Throughout September and October, customers who visit the John Lewis store on Oxford Street will also have the opportunity to try their hand at a number of Star Wars inspired experiences including coding and building their very own droid.
Selected Toys 'R'Us stores will also open their doors at midnight, providing customers of all ages the opportunity to be amongst the first to purchase the must-have merchandise and be in with a chance of getting some exclusive giveaways.
Midnight Openings
John Lewis Stores
John Lewis Oxford Street
Toys "R" Us Stores
Toys "R" Us Cardiff Bay – CF11 0JS
Toys "R" Us Warrington – WA5 7TT
Toys "R" Us Medway – ME5 9SQ
Toys "R" Us Oldbury – B69 4RJ
Toys "R" Us Glasgow Helen Street – G51 3HR