Editorial: Will Grogu Be the Connective Thread of All 'Mandalorian' Spin-offs?
After two seasons of The Mandalorian and one of The Book of Boba Fett, Dave Filoni and Jon Favreau outdid themselves in Chapter 6, titled "From the Desert Comes a Stranger", arguably the best live-action episode in the Star Wars franchise so far. Filoni, who directed the episode and co-wrote it alongside Favreau, crammed in there everything I love about Star Wars in one of the most memorable 45 minutes in the last few years of television.
After the way Chapter 5 ended in The Book of Boba Fett, the writing for a Grogu cameo was all over the wall, and then there was a direct line pointing towards Luke Skywalker. But having Ahsoka there was something I never expected to see (which, in hindsight, was somewhat foolish, given Filoni was handling the episode, plus she had every reason to be there). The episode hints this is not the first encounter they've had and will surely not be the last. With Rosario Dawson's character presumably starting production on her own spin-off show in a few weeks, I'd be shocked if we didn't have a Luke cameo in that show too.
After all, the two of them have too much to talk about, and Filoni, who is writing the series, knows it. But a legitimate question to have now is whether or not Grogu will appear in that show as well. After watching Chapter 6, we could argue that not only he will be there, but the little green guy will be present in every show from Favreau and Filoni going forward.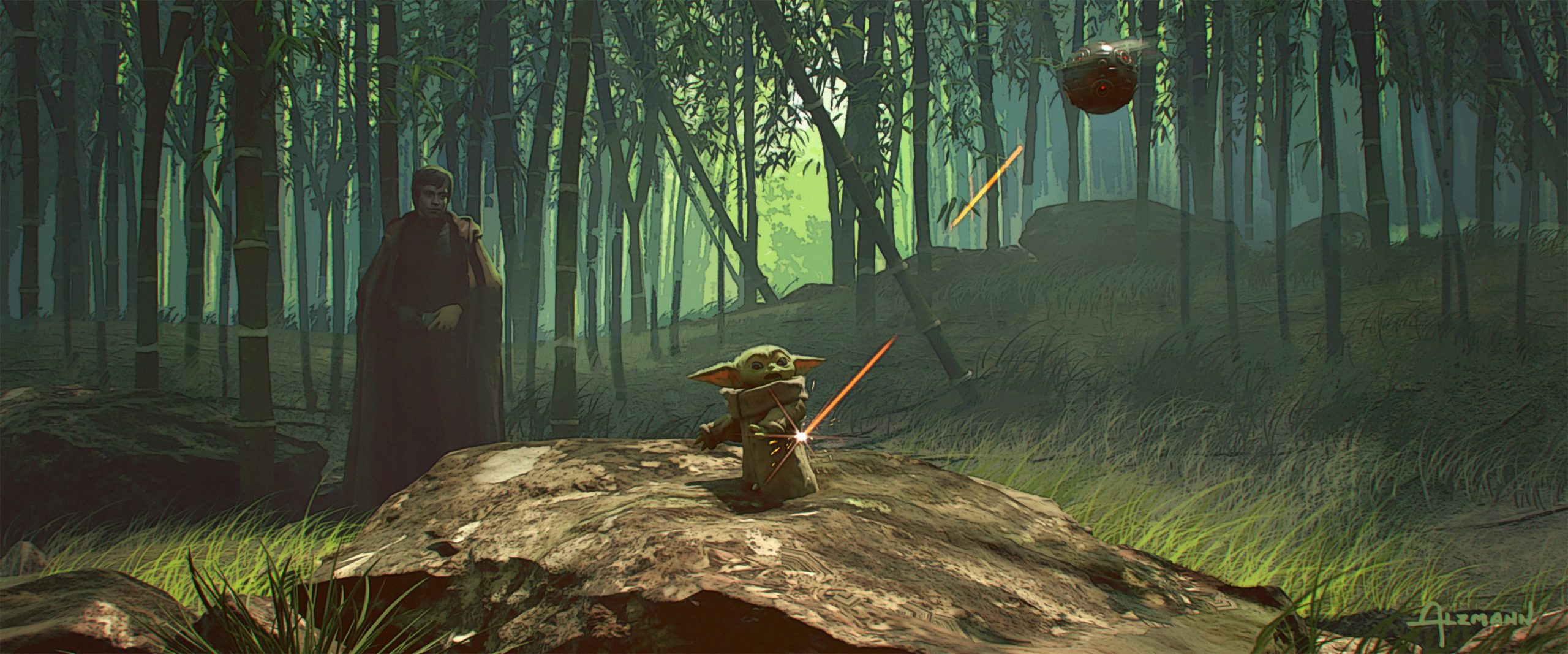 After watching the entire series, we can see Jon Favreau didn't just want to tell the story of Boba Fett. He also wanted to continue with the thread he left sort of open at the end of The Mandalorian season 2. Because of that, he used an episode and a half of another character's show to push on with the story of Din Djarin and Grogu — he gave the former an entire 50-minute arc in Chapter 5, and the latter the highlights and the cliffhanger of the penultimate episode (which is usually reserved for the main storyline of the show).
Whether it was for marketing reasons or because Filoni and Favreau have a great plan they want to follow, Grogu will be in The Mandalorian season 3, judging by the way The Book of Boba Fett ended. In addition, Grogu popping up in Ahsoka is also a very likely possibility. Not only he can appear alongside Luke if this character does meet with Ahsoka, but there may be another connection to the Togruta character too.
The good folks over at the r/StarWarsLeaks subreddit caught an Easter egg during the flashback to Order 66 we got to see in Chapter 6 that may suggest Grogu's connection. Indeed, on the corner of the frame, Barriss Offee's crest can be spotted on the walls of the Jedi Temple during the massacre of the Jedi by the Clone Army. The character, who was a friend of Ahsoka's in the Clone Wars animated series before she betrayed her, was assumed to be in prison. But with the havoc caused by the end of the War and the execution of Order 66, it's possible she may have found a way out and, looking for redemption, saved Grogu from the clones.
Both Ahsoka and Luke have already provided us with lots of information about Grogu's past, though many questions still remain unanswered — among them, the identity of Grogu's savior. Barriss is rumored to be appearing in the Ahsoka series, as The Illuminerdi reported last year that the former Padawan "is listed as a lead character in her 20-30s, and they are looking to cast an Asian woman for the role." So far, the only Asian actress part of the show is Natasha Liu Bordizzo, who is playing Sabine Wren, so we don't know for sure if she will appear or not. If she does, The Book of Boba Fett may have teased it already.
Going beyond Ahsoka now, we don't know much about what's happening next with The Mandalorian. Giancarlo Esposito hinted last year at Favreau aiming for a fourth season too, but that hasn't been confirmed yet (though given the success of the first two, there is no doubt it will happen if Favreau wants to do it). If it does happen, Grogu's involvement is probably guaranteed too. Rangers of the New Republic has been officially shelved, and there is also a (sort of) cross-over event that will happen at some point, though no more details have been provided by Lucasfilm since Kathleen Kennedy mentioned it in December 2020.
If that event does happen, I bet Grogu will be a central figure in it, and we could even speculate that it will have ties to the sequel trilogy and beyond. Grogu could very well be the future of the franchise, especially after Favreau and Filoni dedicated a good chunk of Boba Fett's show to let us see him training. If so, he will have ties to the sequel trilogy and its characters sooner rather than later — in fact, he already does, as Luke wants him to be the first student of his academy. And despite the ending of Chapter 7, it's very possible he will be. The Mandalorian season 3 will hopefully explore that, and we could be getting answers soon.
So far, all of this is pure speculation based on a literal drawing on a wall. The dots do line up, but as usual, that doesn't mean much, and if someone can come up with an amazing Star Wars story right now, that's Dave Filoni. Whatever happens, we know we are going to get something great.
Miguel Fernández is a Spanish student that has movies as his second passion in life. His favorite movie of all time is The Lord of the Rings, but he is also a huge Star Wars fan. However, fantasy movies are not his only cup of tea, as movies from Scorsese, Fincher, Kubrick or Hitchcock have been an obsession for him since he started to understand the language of filmmaking. He is that guy who will watch a black and white movie, just because it is in black and white.