Unique Commemorative Coin Celebrates Star Wars 40th Anniversary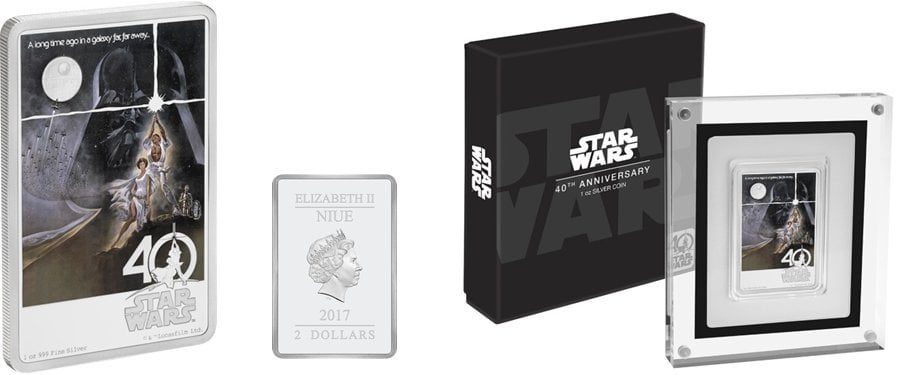 New Zealand Mint has produced a unique, limited edition commemorative coin to celebrate the 40th Anniversary of Star Wars which thundered onto the big screen on May 25, 1977.
Licensed by Disney, this 1oz fine silver collectible features a replica image of the original 1977 Star Wars poster. The striking design incorporates both colour and engraving.
AgAu News recently reviewed the coin and had this to say: "Instead of concentrating on the movies or the characters, these new rectangular silver coins look at the classic artwork used on the movie posters. Struck in an ounce of silver, coloured on the reverse face and being issued for Niue Island are all hallmarks of this Auckland-based company. The mints excellent acrylic display frames are also present and we're huge fans of these. Movie memorabilia collectors like to display their items far more than coin collectors do, so this is a sensible nod to the intended market, although there's much here for the numismatist to like.
Star Wars movie posters are almost as iconic as the movies themselves and fit into a huge back tapestry of art and design that has built up around these hugely popular movies. Between the characters, settings, vessels and everything else that has made this universe a part of popular culture, there's a huge wellspring of material to choose from. The choice of movie posters for the subject matter is an excellent one, given that their purpose is to encapsulate everything about a movie in a single piece of art."
The Certificate of Authenticity sits within the packaging for coin, and both are branded and stylized to commemorate the 40th Anniversary. This only adds to the appeal for any Star Wars fan or coin collector. With only 10,000 available of this once in a lifetime coin, make sure you get yours today.
If you are keen to be one of the first to hear about Star Wars coin releases from New Zealand Mint, you can find them on Facebook, Twitter or sign up here to get Star Wars coin news emailed directly to your inbox!