Star Wars Weekly Social Buzz!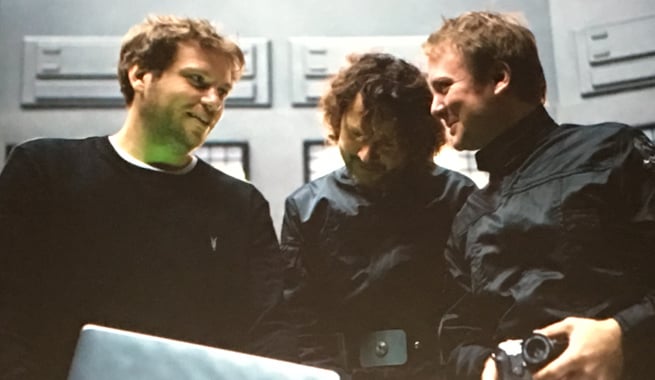 Check out the latest social buzz from the past week from a galaxy far, far away, including some bits about Rian Johnson, Mark Hamill, Harrison Ford, Daisy Ridley and more…
Rian Johnson reveals even more movies that inspired him during the production of Star Wars: Episode VIII.
@jingletard I was watching a ton of Spielberg movies, Raiders in particular.

— Rian Johnson (@rianjohnson) July 23, 2016
Rian found a curious note he did 2 years ago while speaking with Kathleen Kennedy over the phone.
It's curious that even after the end of the Episode VIII principle photography Mark Hamill is still keeping his beard. He was very clear in the past that he hates the beard and he keeps it only because he has to. Perhaps there are some reshoots on the horizon? 🙂
Day #1-#PopCultureQuest Talkin'Comics w/incomparable @JimLee Gobsmacked watching him create art up-close & personal! pic.twitter.com/gxio9aOsBP

— Mark Hamill (@HamillHimself) July 28, 2016
Good news for Chuck Wendig's Aftermath: Life Debt. The second novel from the Aftermath trilogy set between Return of the Jedi and The Force Awakens, debuted at #9 on the NY Times Bestseller list!
Congratulations to @ChuckWendig as Aftermath: Life Debt will debut on the NY Times Bestseller list at #9! https://t.co/HNoeMljTnJ

— Star Wars Books (@DelReyStarWars) July 22, 2016
And a very cool interview with Wendig via io9:
Aftermath's Chuck Wendig on killer droids, unkillable characters, and Star Wars https://t.co/G5QZoJrRFA pic.twitter.com/T946y8spPY

— io9 (@io9) July 28, 2016
The U.S. toy industry might be having its best year since 1999 thanks to Star Wars!
Toy sales rose 7.5 percent in the first half of 2016, pointing to the fastest growth since 1999. Star Wars is already at $300 million for the year!
Star Wars may propel U.S. toy industry to best year since '99: NPD pic.twitter.com/Qc3IcGAMSV

— Reuters Business (@ReutersBiz) July 25, 2016
Young Han Solo! There is something in this guy that makes me really calm for the upcoming second Anthology movie, written by Lawrence and Jon Kasdan and directed by Phil Lord and Christopher Miller.
Alan Tudyk speaks about his character in Rogue One K-2SO:
The Rogue One panel from Celebration Europe has been finally uploaded by the official site, but one particular spoiler has been edited out. 😉
Some trenchcoats spotted in Rogue One:
The #force beckons: First capes, now trenchcoats! Imperial officers are looking spiffy in Rogue One. .. … pic.twitter.com/tHg5H8R0D8

— Star Wars News (@HeroesBeatZeros) July 29, 2016
Rogue One is still not released, but there is already a fan made VHS of the movie!
Harrison Ford is a busy man even when he is not filming:
A curious teenager accompanied the "Star Wars" and "Indiana Jones" star when he flew his DeHavilland Beaver on Thursday at the AirVenture Oshkosh 2016 air show in Wisconsin. His passenger, 16-year-old Jodie Gawthrop, won the trip in a national contest through the Young Eagles program, which uses pilot and ground volunteers to introduce children to flying.
Yes, Harrison Ford uses checklists when he flies https://t.co/zPzAhBtuSQ via @WTOP

— SWNN (@StarWarsNewsNet) July 29, 2016
Really an incredible story about two big John Williams fans:
This is what happened when 2 guys with horns made a spontaneous decision to set up and play the Star Wars theme in front of John Williams' house on 7/11/2016! With the high part played by 13 yr. old trumpeter, Bryce Hayashi, and the lower flugelhorn part played by Michael Miller ("Mickle"), John Williams, the master himself, comes out to greet us at 01:24!
Two funny videos from Team Coco and CONAN!
Before Alden Ehrenreich nabbed the part, every actor worth their salt tried out to play the "Star Wars" smuggler. You were THIS CLOSE, Jeff Goldblum.
Conan proves his comic nerd bonafides by passing the Star Wars' director's geeky quiz.
Some Instagram shares by Daisy Ridley. It seems that she will be "employed again soon"! Curious to find out more about her new role.
And last but not least, several interesting tweets from Pablo Hidalgo:
On lightsaber chrystals:
@pablohidalgo is this true?? @WookOfficial had the same info but later was deleted pic.twitter.com/uHcaL2p3qQ

— Nicolás E. Faura (@Nicolas_Faura) July 24, 2016
@Nicolas_Faura @WookOfficial Yep. See Season 5 of the Clone Wars for more. "Syntatically" isn't a word. I'm guessing they mean synthetically

— Pablo Hidalgo (@pablohidalgo) July 24, 2016
@KruszynskiAdam@Nicolas_Faura@WookOfficial Crystals that big are extremely rare. Don't know why they're green.

— Pablo Hidalgo (@pablohidalgo) July 24, 2016
On Captain Rex's age in Rebels:
@OscarV1012 @dave_filoni he's age accelerated, thanks to Kaminoan design. He'd be in his (physical) 60s.

— Pablo Hidalgo (@pablohidalgo) July 23, 2016
On Leia and her memories of her mother:
On the Dark Side:
On why Lando wore Han's clothes at the end on The Empire Strikes Back:
@TheRealIanCoe I figure he didn't really pack when he left Cloud City.

— Pablo Hidalgo (@pablohidalgo) July 27, 2016
Stay tuned for more next week.