Aphra and Luke Are Headed for Trouble in Screaming Citadel #1
Written by Kieron Gillen
Art and Cover Art by Marco Checchetto
Rebel pilot and rogue archaeologist wander side by side into the darkest shadows of the galaxy as Luke Skywalker reluctantly teams up with Doctor Aphra! The Doctor makes Luke an offer he can't afford to pass up…one that leads him to a very rare gathering at the heart of the infamous Screaming Citadel. Will Luke find what he's looking for? Can Aphra be trusted? Or will they both wind up victims of the Citadel's Queen?
When we last left Luke Skywalker in the latest issue of the Star Wars comic (issue #30 – read Kyle's review here), he was following the steps of an unnamed Jedi master described in Ben Kenobi's journal (we, as readers, know that was Yoda) and finished his mission. On the other hand, our adventurous space archaeologist Doctor Aphra recovered her academic title and managed to snatch a dangerous Ordu Aspectu artifact.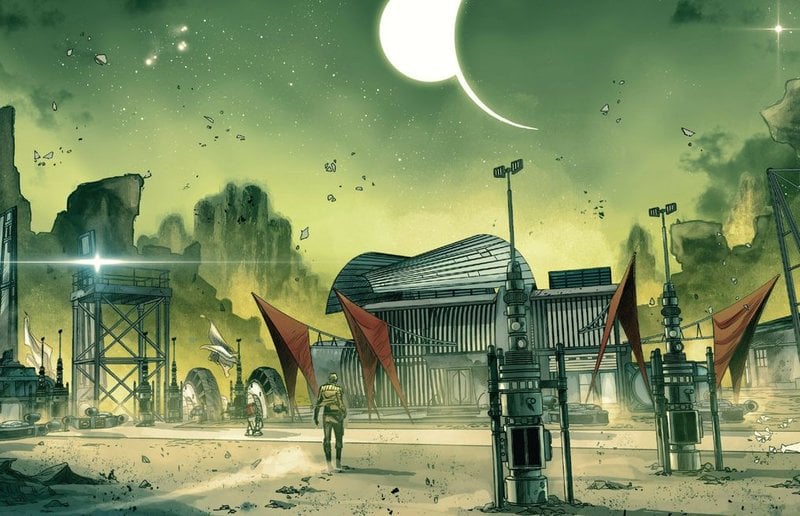 The two meet in an alien bar on Horox III. You wonder how Luke ended up there. Has he forgotten about C-3PO or is his X-wing still broken? And what is with Luke and bar patrons? They really don't like him. Aphra's trouble, of course, is that she stole from the aliens. With the help of Black Krrsantan, the aliens – Sabats we saw for the first time in Rogue One – are defeated. Luke doesn't want anything to do with Aphra because she worked for Darth Vader, but she has a perfect hook for the young Force user.

Aphra tells Luke how she looked into him after all the interest Vader had shown in him and what she found made her sure that he was Force sensitive. She has a deal for him.
Luke agrees to accompany Aphra to the Citadel of Ktath'atn where she hopes to curry favor from the Queen. The villagers they meet beneath the Citadel are starved and scared. Krssantan is forced to stay behind, because the Queen has "allergies to certain species".
At the same time, Leia and Han discover where Luke went and with whom with Sana's help. We learn why Luke was on the planet in the first place – Horox III is home to a temporary rebel outpost. Leia believes that Aphra abducted Luke again and although Han isn't convinced, Sana believes it, because Aphra never considers the consequences of her actions.

In the Citadel, Aphra has spiffed up Luke for the reception as he is to be the main attraction for the Queen. In many ways, Luke is still the same farm boy we've met in A New Hope and it was entertaining to see him react to the crowd and try interacting with the guests.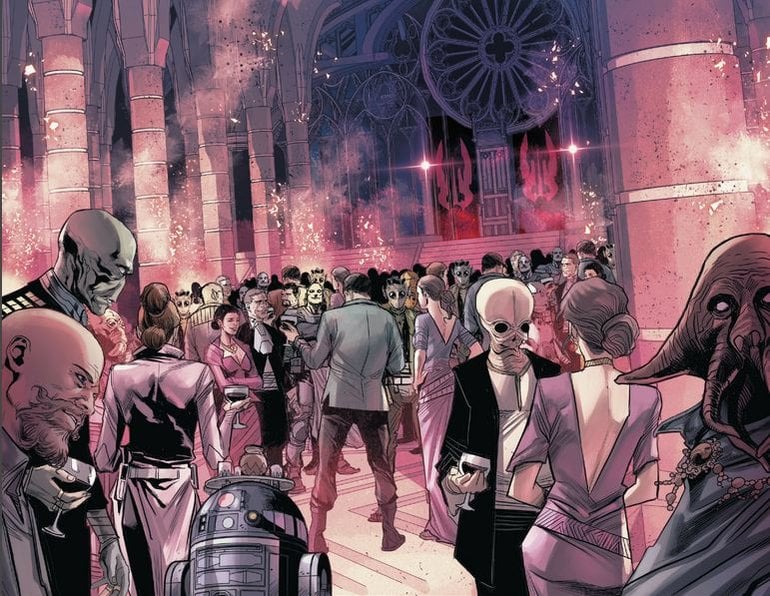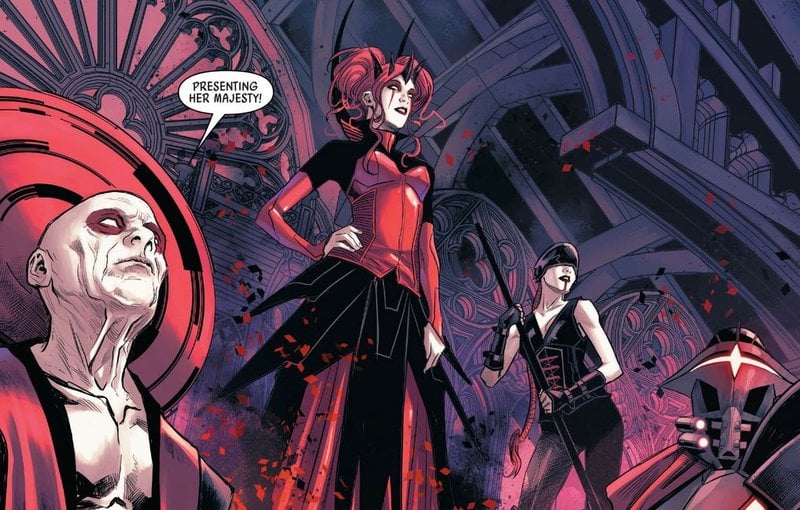 As the guests approach the queen, she grants the favor to some and denies the others. When it comes time for Aphra and Luke's turn, things don't go as expected until Luke is forced (yes, I know) to demonstrate his power. Suddenly the party is over and all other guests are sent away. Aphra and Luke are promised that the Queen would hear their request in the morning.
In private, the Queen acknowledges Luke's raw power, but also his lack of experience. She asks her servants to gather her harvest and feed her so they can be at full strength for their confrontation with the Jedi. It is clear the Queen is feeding on her people's life-force through her servants which is probably the cause of their starved looks and fear. She obviously has a very specific fate for Luke in mind.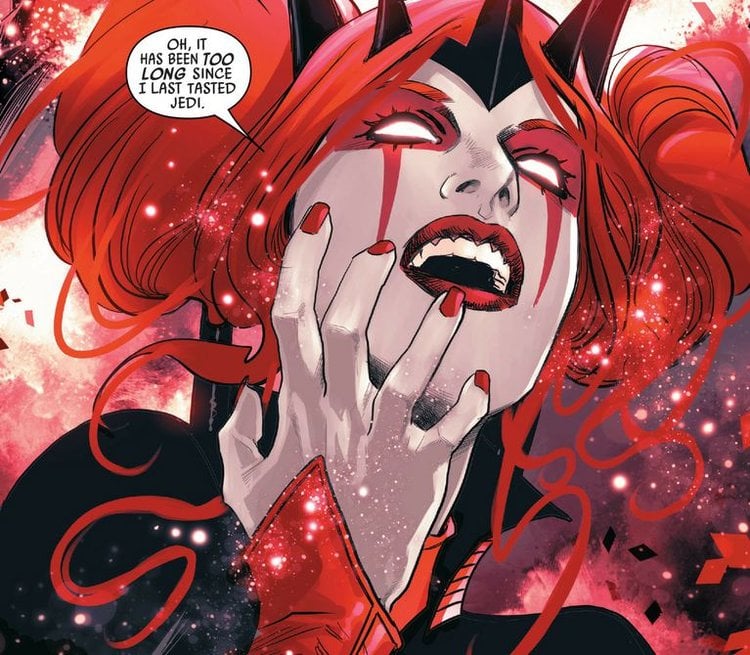 There is so much to like about Screaming Citadel. The interaction between Aphra and Luke is very entertaining. Luke is painfully naive and you want to protect him from Aphra, but at the same time she is so charming that you can't help but like her. Luke keeps comparing her to Han, which she doesn't find very flattering and I highly doubt Han would either. Luke's reintroduction to murder-bots was funny as well. Additionally, we see Sana completely integrated among the rebels and working closely with Leia and Han. We'll see how her obvious connection to Aphra plays out in the future.
In the new canon, we have seen many depictions of use of the Force, but never one employed by the Queen of Ktath'atn and her servants. Because there is always some truth in Legends, they might provide us with a possible answer. In Legends, the Dark Side users could drain life essence of the living beings and use Force connections to feed and gain strength. And, in terms of the Force, Luke is a veritable smorgasbord.
Marco Checchetto's art and Andres Mossa's colors fit incredibly well with obvious Gothic-influenced wind-swept and rain-soaked landscapes – from Horox III to the Queen's fortress. Even Luke's suit could fit right into Phantom of the Opera or Rebecca. Add starved villagers and menacing servants and we have the beginning of a genuine Star Wars Gothic horror story.
Screaming Citadel hooks you in from the very first page. It is highly entertaining, beautifully drawn and colored, and it is an excellent starting point for those who haven't begun reading Star Wars comics to jump into the story. The story continues in Star Wars #31 when…
• Luke and Aphra face the Queen of the Citadel…
• …Han and Leia are coming…for Aphra?!
Staff member, comic and book reviewer. Cheers for the Light Side, but would drink with Grand Admirals.