SWCE16: Carrie Fisher: The Princess Diaries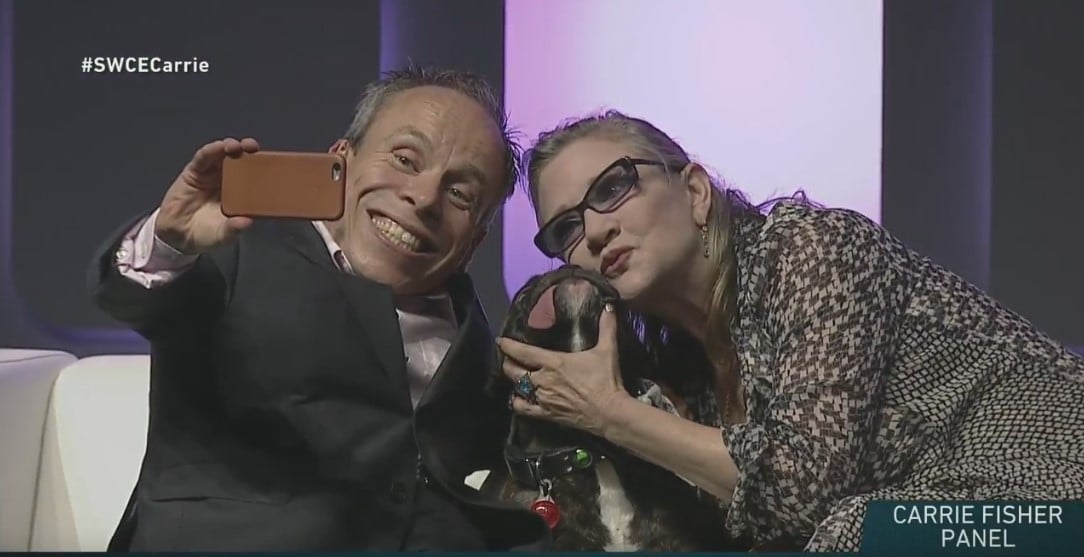 Carrie Fisher was on hand for the first panel on the final day of Star Wars Celebration.  She took to the stage with host Warwick Davis and dog Gary in tow to discuss Star War in her typical candid and hilarious style.  As is always the case with Carrie, the interview was equal parts awkward, uproarious, and illuminating.  And although new Star Wars content was limited, it was still a fun hour filled with personality and laughs.
The interview was bookended by the juiciest content.  Early on, Carrie spoke about returning to Star Wars.  She commented on how she didn't feel as if it was a question of whether or not to return to being Leia as she had never really stopped.  Carrie sees Leia as an extension of herself and made it clear that she has come to accept the iconic character as not just the defining role of her career, but as an integral part of her identity that has never left her even when she wasn't actively acting the role.  But even knowing that the role is a part of her identity, Fisher also spoke candidly about  her desire to take the role simply because of how rare it is for a women of her age to get a prominent role like this in Hollywood, shining a light on the uniqueness of the sequel trilogy's focus on both young and older characters.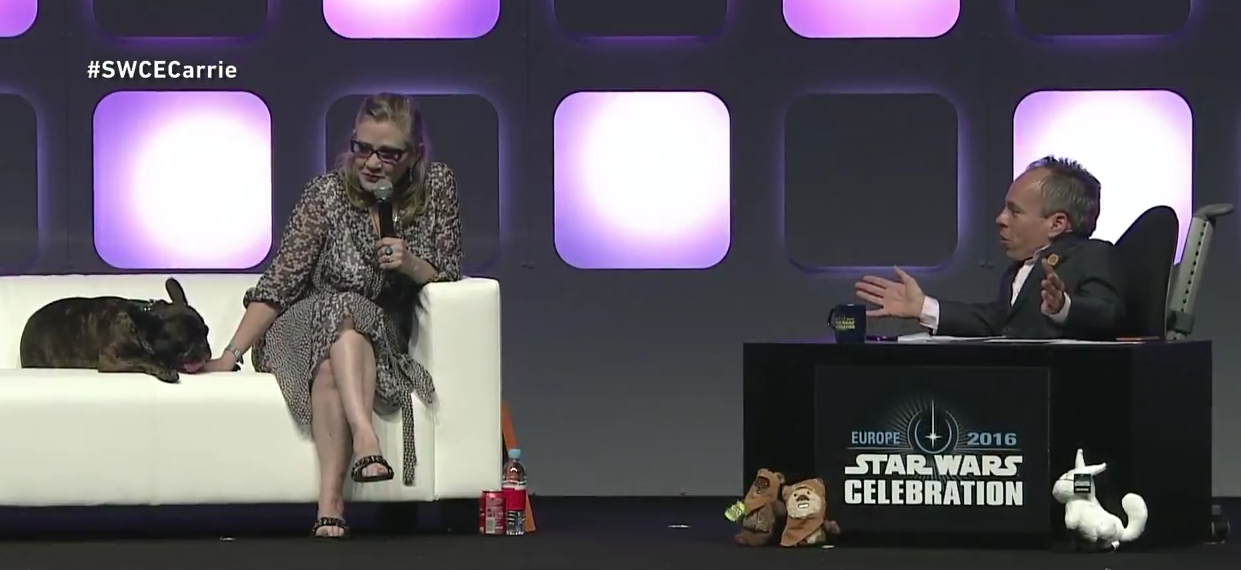 The middle portion of the interview went off the rails a bit as Gary decided to steal the show.  Davis' attempts to reenact their scene from RotJ turned into an exercise in slapstick as Gary decided that Warwick, with his fuzzy ears and comically long staff, was a threat to his owner and decided to protect her.  The resulting image of Warwick Davis crawling submissively towards a lordly Gary protecting Carrie as she lounged on the couch made the entire mishap worth it though.  These are the sorts of unscripted hijinx that seem to follow Carrie whenever she shows up at a convention and why her interviews are so entertaining.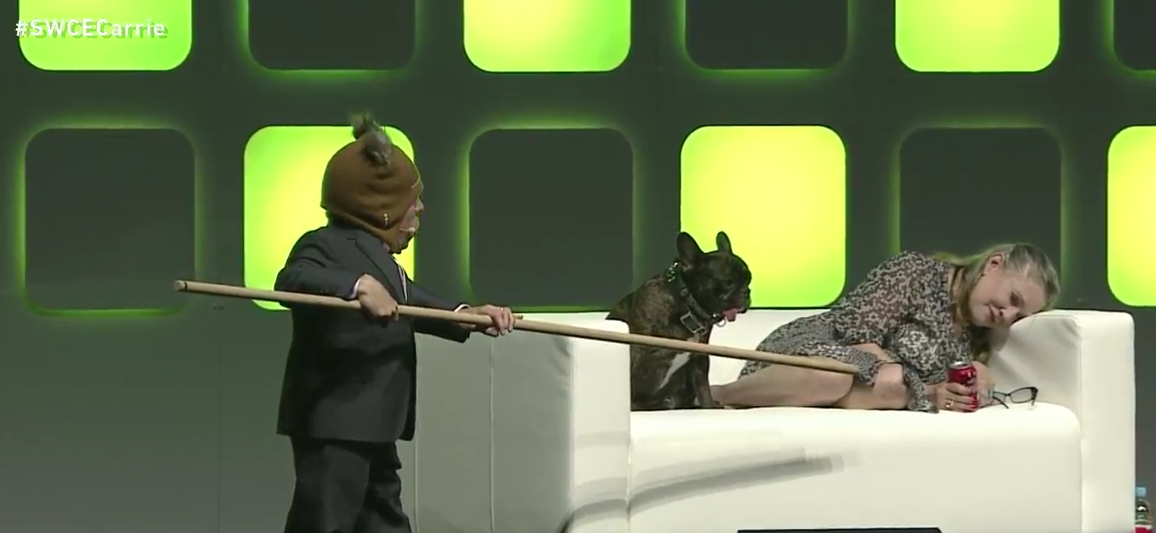 The interview ended with questions from the audience which again were typically illuminating and hilarious.  Highlights from the Q&A and the interview are below.
Leia in TFA is has more worries than she did in the original trilogy.  Carrie hopes that she will be able to regain some of the humor associated with the character in her earlier form.
Carrie doesn't believe Han and Leia are divorced, only estranged.  She blames their son being a "naughty Hitler" for the tension between Leia and her husband.
Davis and Fisher briefly discussed and showed a clip from the never finished behind the scenes feature from RotJ that featured a just cast Wicket trying to find his way to set.  the clip featured some fun early 80's appearances by Mark, Carrie, and Harrison.
She enjoyed giving the young cast advice on how to deal with the press.  Her approach is to not try to be funny, but to just lead with anecdotes and talk about what it is like to be merchandise.
More fans have started recognizing her on the street since TFA.  She blames people now being familiar with her older "melted" look for her increased recognition.
George showed Carrie drawings of the infamous gold bikini months before filming when it was in the design stage and she thought it was a joke.
Carrie's favorite Star Wars film is The Empire Strikes back.  She called it the John Lennon of Star Wars.  The spiritual film.
Carrie's favorite Star wars character?  Jabba, because she likes to kill him.
Carrie's favorite scene in TFA?  The scene where she gets angry with Han because she loves treating Harrison badly.
Fisher mentioned that she cried throughout her first viewing of The Force Awakens because she did not like seeing herself up on the big screen again.
Stay with us throughout the day as we wrap up our coverage of SWCE16.  There is sure to be much more as the day presses on.