Lucasfilm: The Art of Storytelling Panel
On the final day of Star Wars Celebration, David Collins hosted the panel Lucasfilm: The Art of Storytelling with Lynwen Brennan (EVP, General Manager of Lucasfilm, President of ILM), John Knoll (Chief Creative Officer of ILM), Kiri Hart (Senior Vice President of Development, Lucasfilm), Rob Bredow (Chief Technology Officer, Lucasfilm), Vicki Dobbs Beck (Executive in Charge, ILMxLAB), Dave Filoni (Executive Producer & Supervising Director, Star Wars Rebels), Douglas Reilly (Head of Games, Lucasfilm) and Matthew Wood (Supervising Sound Editor, Skywalker Sound).
Brennan opened the panel by discussing the culture of Lucasfilm and values that George Lucas brought to the company. She thinks of Lucas as "original rebel" who had incredible foresight and vision. He brought the group of people together, people who believed that his vision is possible when everyone was telling him that it was not. That spirit of fearlessness is the DNA of all Lucasfilm companies. They are all brought together by the passion for storytelling which Lucas had and Kathleen Kennedy inherited.
Kiri Hart said that collaborative spirit, interdisciplinary approach to things and accessibility to expertise were the most helpful when you are putting together the film or game or show. Everyone is willing to work with everyone else, everyone collaborates on everything.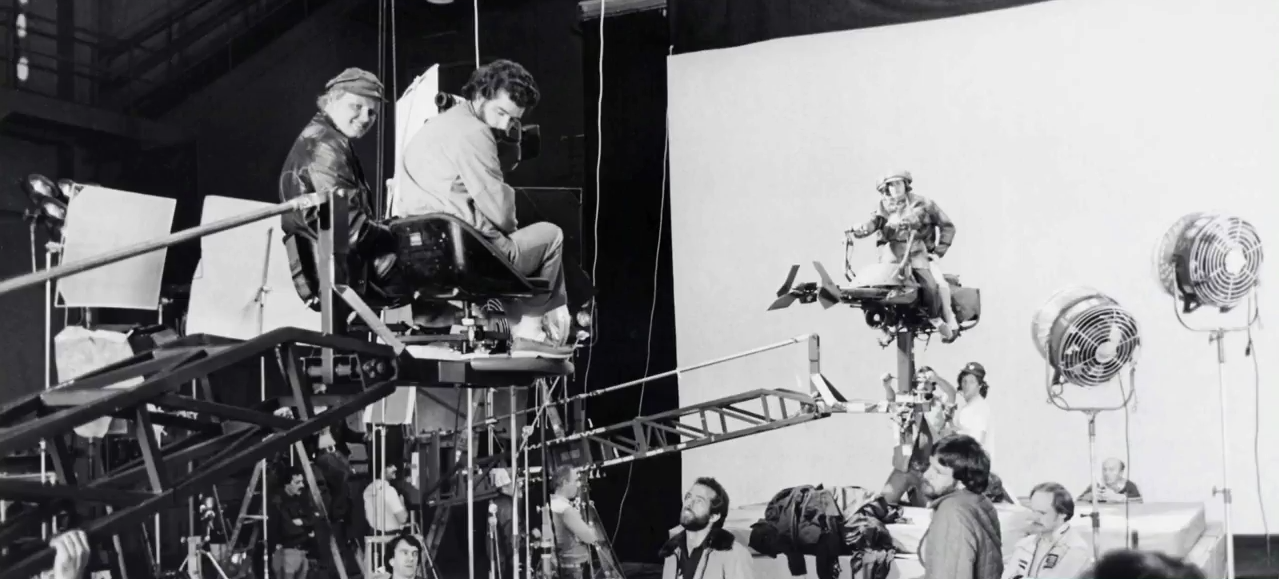 When Lucasfilm was acquired by Disney, one of the first things Bob Iger said that it was important to preserve the culture of companies they acquire. He assured them that it was also important for Lucasfilm because their culture is reflected in their products.
Speaking of fans and how they influence and inspire Lucasfilm, Dave Filoni said that most of them are fans themselves (he just the most talkative one). After the Revenge of the Sith, many people thought that Star Wars was over, but the fans kept it alive until George Lucas created The Clone Wars. Because the fans were interested, they were able to carry on for almost ten years. They want to reassure and include the fans because they made many things possible. That is the reason for Celebration; people from all around the world come together because they love Star Wars.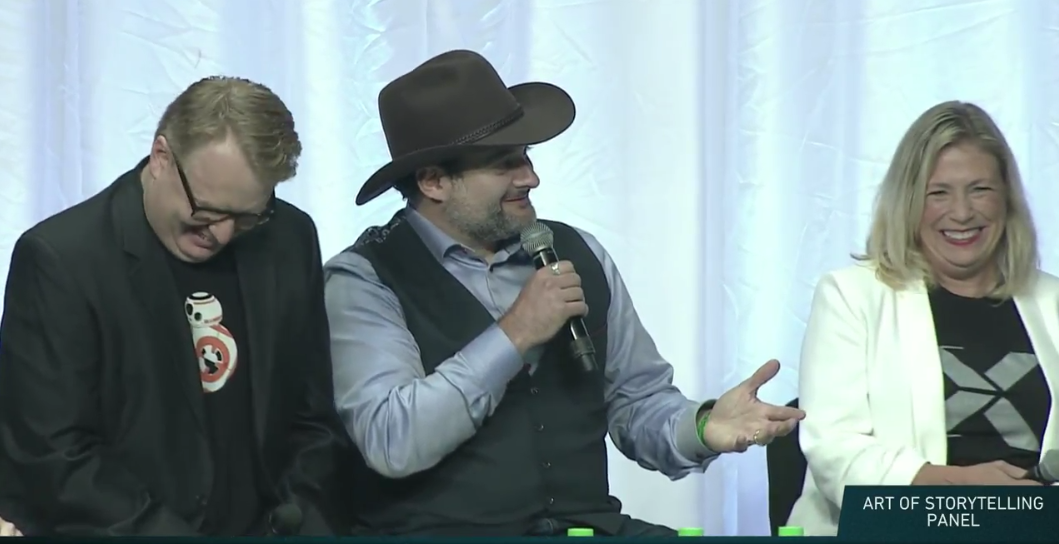 Kiri Hart added that nothing gives you more passion to make something excellent than love of it. They know, as fans, what they would love to see, what fans would love to see and what is meaningful to them and plan for that – like the reveal of Grand Admiral Thrawn. It's also something they think about while building family of filmmakers, like Gareth Edwards who is also a big fan.
When Kathleen Kennedy took over, Lucasfilm needed a development group for new content, a hub that can support different types of storytelling, bring them together and made them feel unified, which is why the Story Group was created. Speaking how everything is connected, Reilly told how they connected the Battlefront to The Force Awakens by incorporating Battle of Jakku into the game.
Mathew Wood spoke about incredible sound library created at Skywalker Sound. Nothing sounds like Star Wars and it is his job that that carries through everything: animation, games, feature films, etc. They are allowed early in the film-making process. They are allowed to read the script before the filming to get inspired. While working on The Force Awakens, this enabled him to let Adam Driver hear how Kylo Ren's mask will sound and help him in the creation of the character.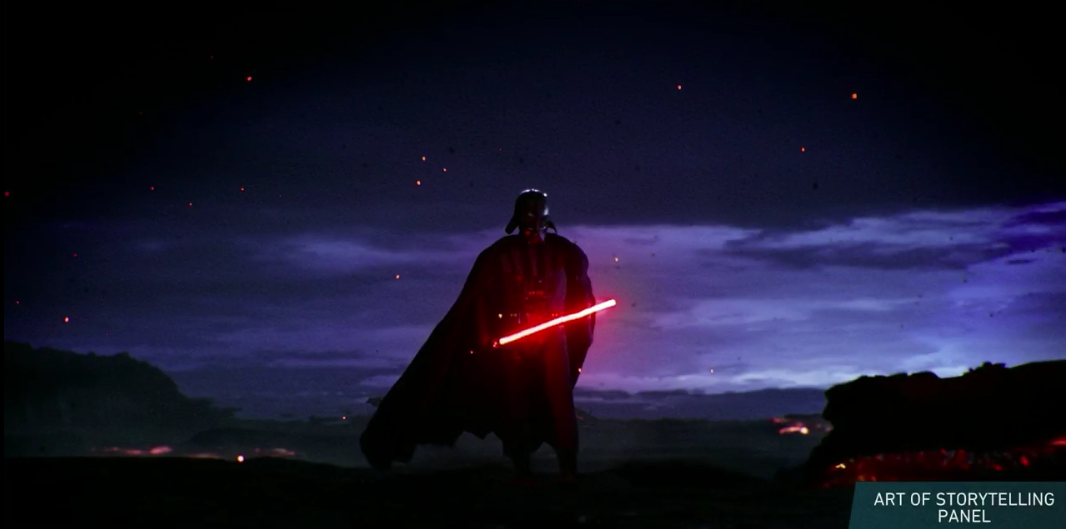 Vicki Dobbs Beck from ILMxLAB said this division was designed to create immersive entertainment experiences provided by virtual and mixed reality technologies. It's unique story telling platform which allows the audience to step inside the story which combines all the elements of Lucasfilm. They announced the VR experience based on Darth Vader. David Goyer works with them on that project. It's the new experience, beginning of the new way of storytelling. Trials on Tatooine was one of their first projects, an experiment from which they learn as they move forward.
Knoll spoke about the role of visual effects in the story. Sometimes they develop a single line in the script. The entire pod race sequence in The Phantom Menace was developed from the line: "And then they race." "The shimmering tentacle of water" became the water face scene in The Abyss. The most exciting projects are those where you don't know how you will do something.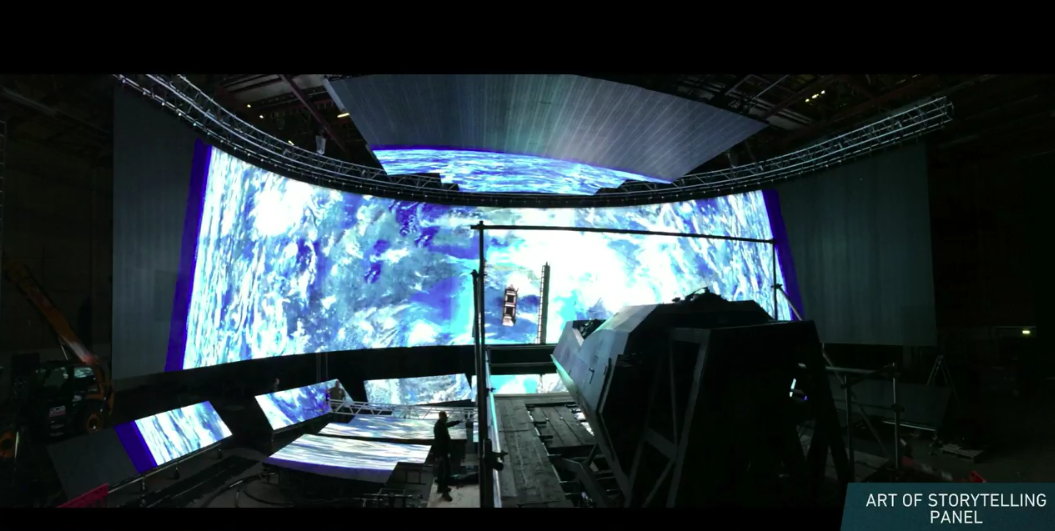 Bredow spoke about the technical challenges they are facing and how they are reinventing the technology. They helped Gareth Edwards by placing him in the virtual reality in the primitive model of the ship that would appear in the film so he can make changes. The technology is helping the actors as well as they are able to be included in the creation of their virtual characters, like Maz Kanata for example.
Looking into the future of Lucasfilm, Brennan told the audience that the story and timeline are planned for many years in advance, which allows them to tell the best stories which are all connected. They plan to also practice restraint to not overdo anything in the world of Star Wars as well as Indiana Jones. The Story Group tailors their collaboration to every filmmaker, for example, Rian Johnson lived for weeks in San Francisco and interacted with them before he wrote the script for Episode VIII.
They never get tired of Star Wars because they love it so much and they cannot afford to get tired. They do exciting things and they love it. Lucasfilm takes ideas from many sources, but they also do a lot of them internally by brainstorming. Everyone who has the idea should express it and if it is good – it will be used.
Dave Filoni closed the panel with the great speech about all the people involved in the Lucasfilm and how much they care about everything we do. "Its taken care of", he said.
And judging by the people involved, it is.
Staff member, comic and book reviewer. Cheers for the Light Side, but would drink with Grand Admirals.