Future Filmmaker Discussion. What to Expect from Episode VIII and Han Solo. Alden Ehrenreich Confirmed!
During the last panel at this year's Celebration Europe LFL's Pablo Hidalgo talked with filmmakers Rian Johnson, Kathleen Kennedy, Kiri Hart and Han Solo directors Chris Miller and Phil Lord. Read on for the details on what was revealed about Episode VIII and the second spin-off movie – Han Solo…
From StarWars.com's LiveBlog:
The first question asked was how did they pick Rian Johnson to direct Episode VIII?
Kathleen Kennedy replied that she was very impressed with his previous films and she compared him to Spielberg (how he moves the camera).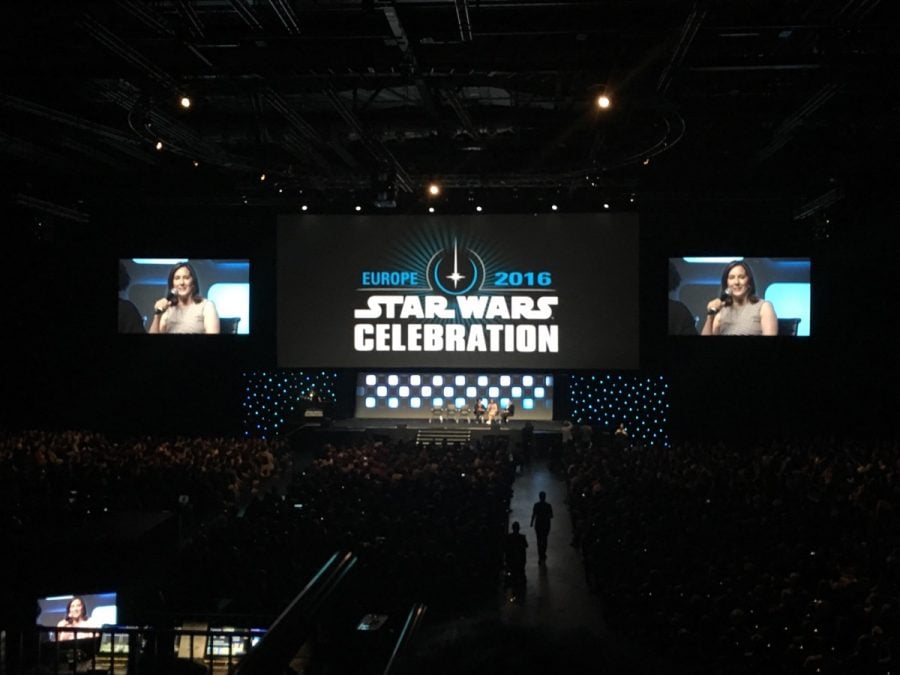 Then Johnson takes the stage
…….gulp pic.twitter.com/7LlSHBGpQN

— Rian Johnson (@rianjohnson) July 17, 2016
Johnson started working on Episode VIII while VII was still in production. "One of the first things I did was go up to San Francisco, and spent about 6 weeks figuring out the story." He would go over it with Kennedy and Hart, and watched dailies of VII. That helped shape where the story would go. "I think it was a good thing," he says.
It was confirmed that Episode VIII will begin right after the events in The Force Awakens. This is the first time a Star Wars movie does that.
Rian Johnson on the difference between TFA and Episode VIII:
The first movie was "an incredible explosion of adventure." VIII digs into character, challenging them.
Then Johnson showed some behind the scenes photos from Episode VIII:
Johnson said that the amount of sets they've built for Episode VIII is absolutely ridiculous. Also Dave Filoni visited the set several times.
Rian Johnson used to play Daft Punk on the set. He also mentioned that the working title of Episode VIII was Space Bear which logo he really loved (Panda with a helmet).
Han Solo directors take the stage.
Chris Miller and Phil Lord just moved to London and are still working on the script with Larry and Jon Kasdan.
On what Han Solo means to them:
"This is a guy who, on the playground, everyone was fighting who gets to play Han Solo." They say the dichotomy of his seeming cynicism and heart make him an amazing character. "He's a maverick, he's a scoundrel, he's clever but he's not smart. He positions himself as this tough guy, but in the end he does the right thing."
Lord and Miller almost got cameos in Rogue One. They were dressed but couldn't make it. However Rian Johnson did get a cameo in Rogue One as a Death Star operator!
Also Gareth Edwards has a cameo in Episode VIII! And Miller has a cameo in The Empire Strikes Back, during his interning at ILM. They put out a call for extras for the Special Editions.
On casting Han Solo.
Alden Ehrenreich takes the stage!
They've seen thousands of actors. "We turned over every rock to find someone who has the charisma and magic swagger," says Lord. Miller: "But it was a waste of money because the person to get the part was literally the first person to walk through the door."
He auditioned for 6 months and he auditioned on the Falcon itself with none other but Chewbacca! He expressed his excitement.
Filming starts in January or February and there will be lots of droids and sets…
John Boyega surprises the fans appearing on stage! He is asked what is it like working with Johnson.
"The characters have been pushed in a new direction in a very, very cool way."

So…is Finn OK after getting sliced by Kylo Ren? They won't say. Johnson says they toyed with the idea of continually cutting to Finn in a coma throughout the film.
Johnson on Kelly Marie Tran:
"She's really something special." He can't wait for the fans to see her in the film.
Mark Hamill and Carrie Fisher are invited on stage!
Mark:
"It's so moving. You can tell you're apart of people's childhoods…Sometimes I get light-headed with it."
Carrie:
"It's like family," she says. She says taking your children to the family and sharing the saga with them is special. "It's a fantastic thing."
It's a wrap!
For the full LiveBlog go to StarWars.com