Review: Legends Novel 'Wedge's Gamble' Leaps Off the Page with New Audiobook
A few years ago, I was lucky enough to hear author Timothy Zahn speak at the Rose City Comic Con in Portland. If you've ever had the pleasure to meet Zahn, he's incredibly generous with his time and has nothing but good things to say about the Star Wars universe he's been playing in for nearly thirty-years. When questions began, an member of the audience asked Zahn to weigh in on the Legends/Disney-canon debate, referencing Lucasfilm's wiping of all literary, comic, and video game content after the Disney acquisition in 2012 to give future storytellers a clean slate. Zahn has a unique perspective, being an author who created one of the most iconic characters and trilogy in Legends, then seeing the character not only repurposed but brought to life in animation. As the audience awaited some sort of controversial statement or hot take, the author simply said, "These stories are yours. No one can take them away from you." Del Rey and Random House Audio reminded me of this recently with the audiobook adaptation of Legends novel, Wedge's Gamble by Michael A. Stackpole
Del Rey continues to celebrate the era of 90's and 00's Star Wars storytelling with The Essential Legends Collection. Not only are selected titles from the Legends pool reprinted and given beautiful new covers, Random House Audio is creating entirely new audiobook adaptations narrated by Marc Thompson. Thompson has a very impressive resumé in Star Wars audiobooks, whether it's as sole narrator or cast member in the new audio dramas of Star Wars. 
Wedge's Gamble is the third novel from The Essential Legends Collection finding its way to audiobook form. The production is first-class, from the spatial-audio (with a good pair of headphones, X-Wings sound like they're flying right above you) and Thompson's vast collection of voices, the story feels fresh as ever. John Williams Star Wars suites are also sprinkled in, adding to the escapism of the listener.
I received my copy this week, and it's been an absolute delight revisiting this story, not to mention delving back into the story of Wedge Antilles and the X-Wing series. The story is a thriller, sending Wedge and Rogue Squadron on a reconnaissance mission to Coruscant, as the Rebel Alliance prepares their invasion of the Imperial stronghold. Taking place a few years after the Battle of Endor, the Empire still clings to power. Rogue Squadron must figure out a way to help the Rebel Alliance deal a crippling blow to the remnants of the Empire and its new leader, "Iceheart".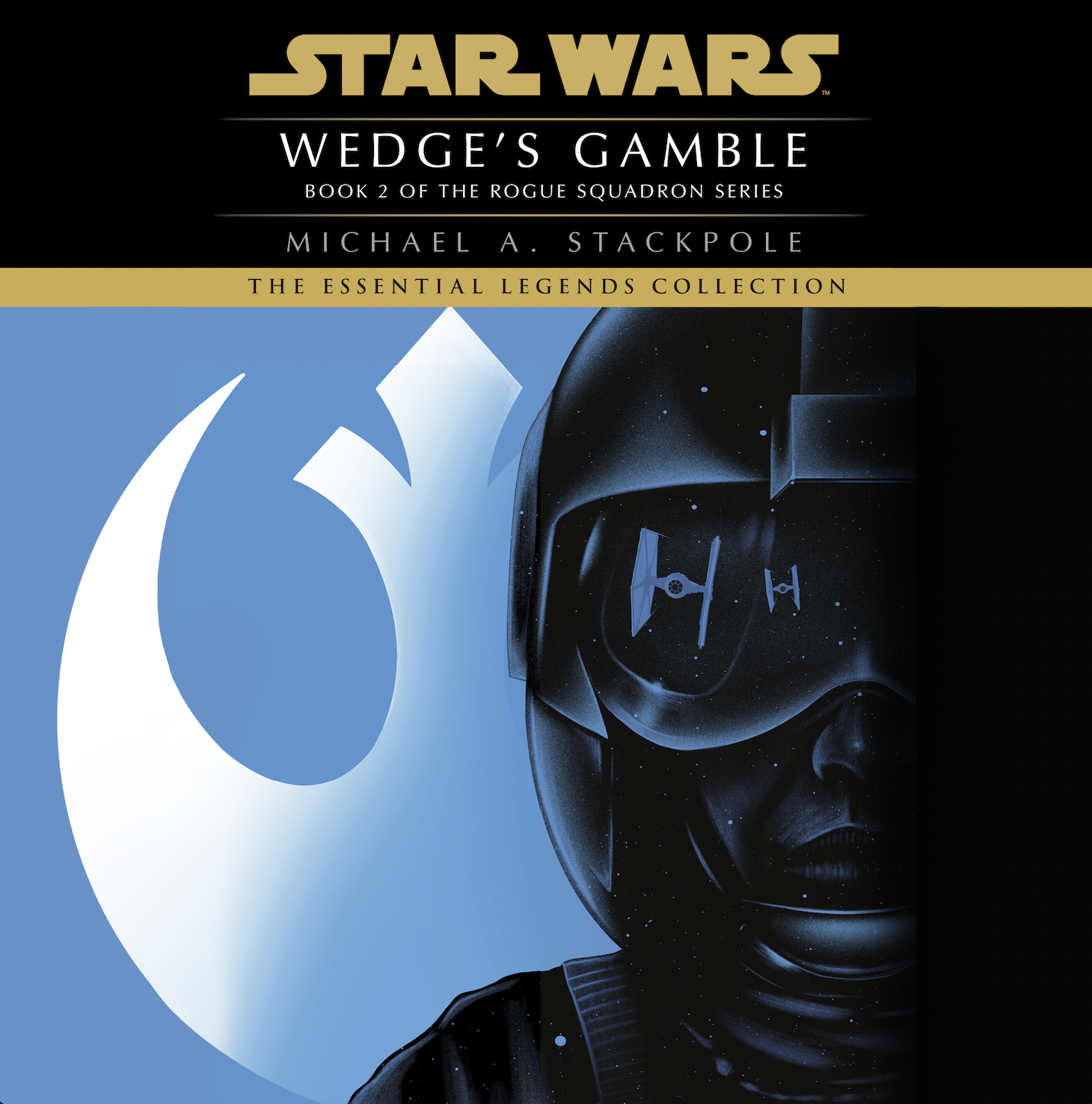 Author Michael A. Stackpole wrote the bulk of the X-Wing series, and with the forthcoming Rogue Squadron film on the horizon, it's great Del Rey is revisiting this series. If you enjoyed Rogue One, Marvel's Poe Dameron series, and Rebecca Roanhorse's Resistance Reborn, Wedge's Gamble is right up your alley. My advice is to forget about whether this is canon or Legends, and just let yourself escape in a wonderful Star Wars story. As The Essential Legends Collection continues to grow, I look forward to rediscovering more stories from my childhood and teenage days in fandom. It's exciting to me that many young and new fans are discovering them for the first time with these beautiful re-printings. As the story moves forward in the galaxy far, far away, and in our own fandom, it's good we can look back and appreciate the storytellers who helped bring us here.
Wedge's Gamble is available on all audio book platforms. Special thanks to Brittanie Black and Penguin Random House Audio for the review copy.
Kyle Larson lives in Portland, Oregon. When he's not running trails, he's reading and writing.