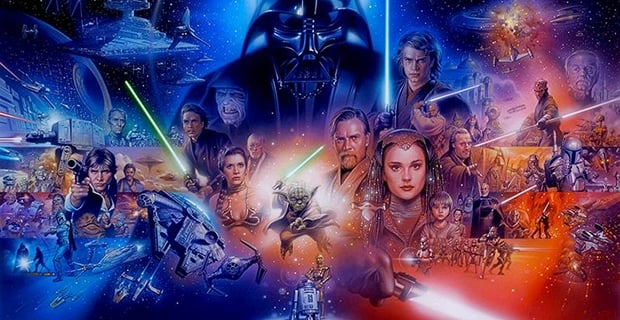 Film Marathons leading up to the newest chapter of a film series to be released have become somewhat commonplace in recent years.  So, it is not much of a surprise that we are starting to see rumors of six movie Star Wars marathons that will lead directly into the first showing of The Force Awakens.
Last month, a supposed errant tweet from AMC theaters caused a stir when it gave an early announcement of an upcoming marathon of all 6 movies.  After the fact, AMC officially denied that the tweet was made by them, insisting the capture was just a Photoshopped image. But although they disavowed the tweet, they did not say there would be no marathon.
Well yesterday it was brought to our attention that Fandango has a place holder page ready for a star wars marathon here. The page lists nothing but a header saying it is for 2015 Star Wars Marathon showtimes, but has no details or showings listed yet. Thanks to Lloyd Hewitt for the heads up on that one.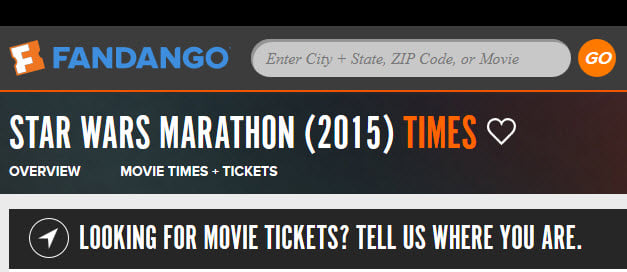 The idea that Fandango would have a page prepped for likely marathons is no surprise either, but still no confirmation or anything substantial to go on. But where there's smoke there's…more interesting smoke. Smoke in the form of an anonymous tip from a SWNN reader mentioning not only a marathon, but also some information on a possible release date shift:
I really don't know exactly how much of this is common knowledge at this point, but I was talking to someone at customer service of an AMC Theatres, and managed to get some Force Awakens release information.

AMC is indeed hosting a marathon for all 7 films that is currently starting on December 16 at 1 AM and will be $65 a ticket. And 7PM Thursday screenings are happening (obviously).

However, the most surprising information was that earlier today, tickets were on sale at the customer service I initially talked to. But when I called my preferred AMC (which sounds really pretentious), they told me that the sale was cancelled because there was a possibility that the film might be moving to a Wednesday release to coincide with the European release. Again, take this with a massive grain of salt, but it seems like something Disney would consider doing.

I realize this is probably ultimately nothing, but I figured it was worth passing along.
Massive grain of salt is correct. Although pushing a blockbuster film up by a day isn't without precedent, it would seem an odd choice for this specific release. Big film releases have been known to be pushed up by a day, especially around holiday weekends or during the summer when Thursday or Friday can act as an additional weekend day. This can help inflate opening box office numbers and can be a significant boost to a movie that faces significant competition in week 2 and expects a big week to week drop off. But Star Wars has none of these issues facing it.
Kids are in school and people have to work on December 16th and 17th. Those will be very slow box office days. A new Star Wars will drive attendance on any day, but it is not like these are days ripe for the plunder. And Disney does not face stiff competition in its second week, or third week for that matter. They have the release landscape essentially to themselves outside of counter-programming or Oscar bait limited releases which are unlikely to significantly eat into the totals for Star Wars.  The likely strategy for Disney here is sustained prolonged box office success over the typical lines around the block for one week success of a summer hit.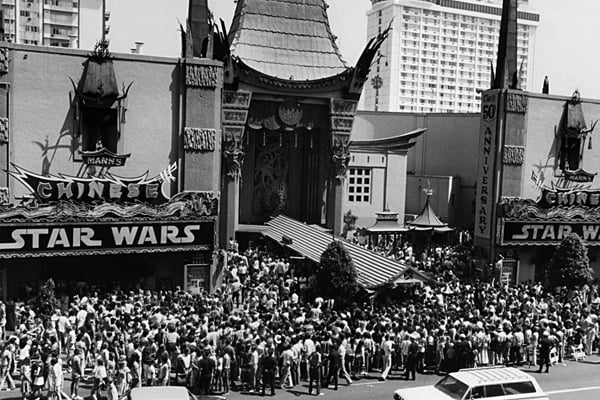 Disney has already likely accepted that this being a December release they will not be shattering any opening weekend records. And, Wednesday and Thursday box office receipts wouldn't technically count towards the official opening weekend anyway. On top of all those considerations, the amount of work needed to change release marketing materials that are likely already under production would make this a costly change.
All that being said, it is a possibility that there is something to this. It is not without precedent. It just seems highly unlikely to make that sort of change at such a late hour. My speculative guess would be that AMC stopped selling tickets in order to wait for The Force Awakens pre-sales to start up next week so they could package the two together and drive more interest in the pricey marathon screenings.   But mountains of salt ingested, its still a very interesting bit of news, and something to keep an eye on as we approach the release date.