Peter Mayhew on Star Wars: The Force Awakens, Harrison Ford, John Boyega and Daisy Ridley!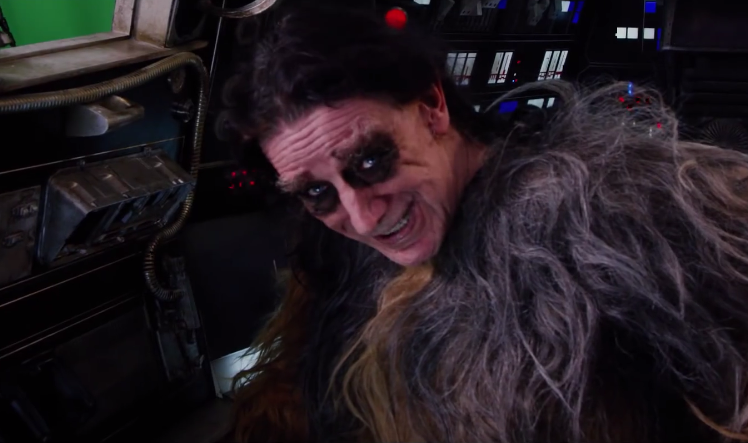 The Australian magazine Bmag caught up with everybody's favourite Wookie, who will appear at Supanova Pop Culture Expo at the Brisbane Convention & Exhibition Centre from 27-29 November, to talk about The Force Awakens, the old cast, the new young additions and more.
On The Force Awakens 2nd teaser shown at Celebration:
"When I saw it, I had 7,000 people around me. We were at Star Wars Celebration, and George said… no, JJ said, 'Do you want to see a trailer?' And everybody says, 'Yes, please'. The lights go out in the hall, I'm looking up at the screen, and I'm thinking it's just going to be the sand dunes and blah blah blah. But then Han and Chewie are there, and the line is, 'Chewie, we're home'. And everybody in the hall is crying, or laughing, or cheering, or whatever. And I just thought, 'Wow. How can we not have a success when you get 7,000 people reacting like that?'

"Even the Lucasfilm people, even [producer] Kathleen Kennedy, she'd been up on stage all day, and she was crying. I was standing six or eight feet away from JJ, and he was just going, 'Hmm… I like this'. It was terrific. It was a terrific thing that we were able to do, and it was such a good way of getting it out to all these people. It was marvellous. It was one of those moments… it gives you pride in what you've established."
Peter Mayhew
On Harrison Ford:
"Harrison's one of the guys," he says. "We've been friends for a long time, and he's always been about giving advice and talking things through. He'll ask what you want to do, and he'll tell you how he wants to do it, too. He'll say, 'No, let's try [the scene] this way… don't look over there, look over here'. Just little things. He's got a really soft voice, but I know he's very interested in what's going on, not only as an actor, but almost as a director. And as a friend!

"There was a marvelous camaraderie on the set, right the way down to all the guys who were working as part of the crew. It couldn't have been better."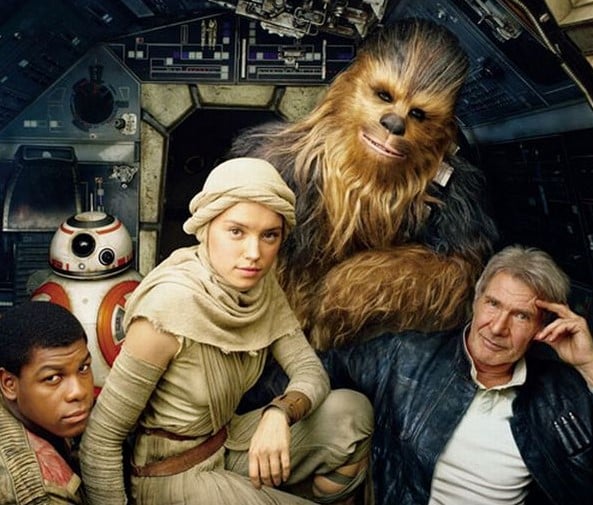 On John Boyega and Dasiy Ridley:
"John, I liked very, very much. He's a great actor. We had several scenes together, and John is one of those guys who knows how to react to any situation. He's got a marvelous face… he's got a wonderful personality. He has an advantage because he has a comic's sense of humour.

"Daisy… was a little bit solid. More like Natalie [Portman] on the other movies [the prequels]. But I think, once she gets to see everything going on, she's going to enjoy it, because it's going to relax her. She's going to be one hell of an actress. She will tell you, she will say, 'I never thought we could do this, but now I see it'.

"When we were at Star Wars Celebration, she was completely different to how she was on set… I think she got taken aside by her agent and told not to be too stiff. So we watched her blossom, from a quiet young lady, into the girl who was there at Star Wars Celebration. She had blossomed; she was beautiful and full of personality. I think she's got a lot of personality still to come out, and if the right movies come along, she will do very, very well."
Mayhew's comments on Ford, Boyega and Ridley are particularly interesting, especially the parts where Ford was almost directing certain scenes, and the fact that Daisy Ridley was more nervous than Boyega on set during the shoot, which is absolutely understandable for a newcomer in such big franchise.
For Mayhew's thoughts on why he didn't get a medal at the end of A New Hope make sure to go to Bmag for the full interview.