UPDATE! Star Wars: The Force Awakens in Negotiations to be Streamed on Netflix.
The latest Star Wars movie isn't even out yet, and who gets the streaming rights to the film is already a hot debate amongst people inside Disney. While The Force Awakens should theoretically go to Netflix, Disney has to resolve a small rights dispute with Starz first.
From ScreenCrush:
Back in 2012, Disney and Netflix struck a deal that would allow all of Disney's films — including Marvel, Pixar and Star Wars properties — to stream exclusively on Netflix Instant, starting on January 1, 2016. As that date approaches, many have speculated openly about the Star Wars films finally coming to Netflix. There were even rumors recently that Netflix was prepping their database for the Star Wars movies, though Netflix denied those reports. While they have yet to comment specifically on the existing six films in the Star Wars library, Netflix did confirm that, as of now, they do not have the rights to Star Wars: The Force Awakens, but are currently in negotiations to bring that title to their streaming library.

Because it opens in theaters in 2015, The Force Awakens is the last title included as part of Disney's previous home entertainment deal with cable channel Starz. That deal expires at the end of the year, but as of now, Starz still holds the exclusive rights to that film. On getting the rights to The Force Awakens for Netflix Instant, Netflix CEO Reed Hastings said, "It's up to Disney […] It's an ongoing discussion."
Something worth noting is that all of the Star Wars films that Disney has the rights to – with the exception of A New Hope, which is still owned by Twentieth Century Fox – will go up on the streaming service in Latin American nations sometime soon. A New Hope's addition to the service is dependent on whether or not Disney can make a deal with Fox, but given that the movie was distributed digitally earlier this year alongside the other films, it's likely that something will be worked out before the new movie comes out.
UPDATE!
Good news and bad news on this subject, coming from Variety. The good news is that they worked out a deal for Netflix to stream the movie in 2016. The bad news is it only applies to Canadian viewers for now. Due to the way the contracts are written, The Force Awakens will be the last movie available for Starz to broadcast in regions outside of Canada, which they'll take advantage of for as long as they can. That being said, all other Star Wars movies released past that point are free to go up on Netflix in the months afterward. Presuming, for instance, that Episode VIII hits the library in late 2018, The Force Awakens will probably be a part of the streaming platform's library at that point. It's just a matter of waiting, it seems.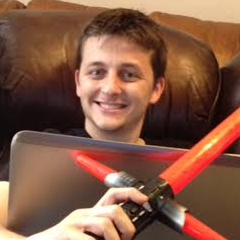 Grant has been a fan of Star Wars for as long as he can remember, having seen every movie on the big screen. When he's not hard at work with his college studies, he keeps himself busy by reporting on all kinds of Star Wars news for SWNN and general movie news on the sister site, Movie News Net. He served as a frequent commentator on SWNN's The Resistance Broadcast.