UPDATE 2! Poster and a First-Look Video for Star Wars Celebration 2015 Revealed, Plus Full List of Artists.
Hero Complex got an exclusive first look at the poster for the 2015 Star Wars Celebration. The highly anticipated event for all Star Wars fans will be held in Anaheim from April 16-19.
From Hero Complex:
"It's going to be really interesting, because we are way ahead with ticket sales from where we usually are this far out," said Mary Franklin, senior events and fan relations lead for Lucasfilm. "I feel safe saying this is going to be the biggest one yet."

Programming will include interactive events — such as diorama building, Jedi training and "Star Wars" tattooing. A new session of "Star Wars University," a classroom style presentation that in the past has featured a lesson in storyboarding with "Star Wars Rebels" executive producer Dave Filoni, also is set to take place.

As for major announcements about — or possibly early footage from — "The Force Awakens," no details have yet been confirmed.
While the poster is really fabulous, the absence of Luke is kinda puzzling.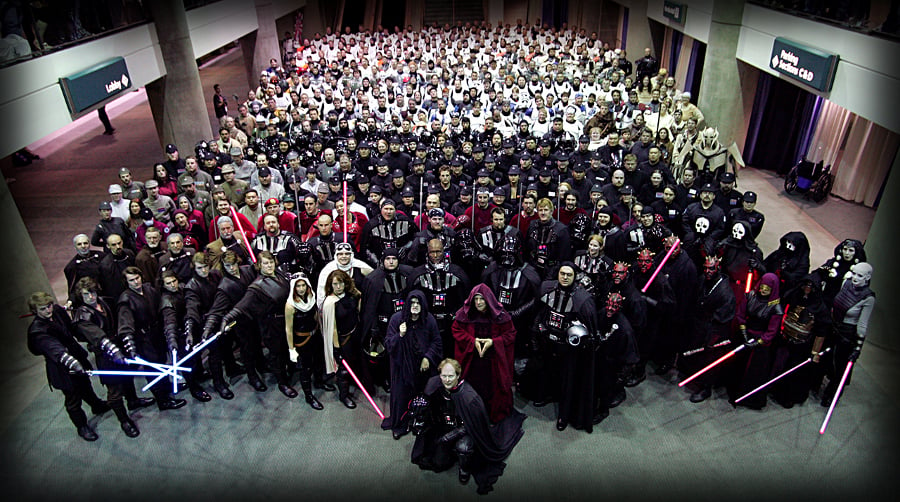 UPDATE!
HeroComplex revealed even more exclusive details about the event, including a breathtaking first-look video:
Lucasfilm senior events and fan relations lead Mary Franklin believes attendance for the 2015 gathering in Anaheim could top the record set in 2007 (the last time the Celebration took place in Southern California), when roughly 35,000 ticket holders turned out for the event.

Franklin also confirmed the involvement of prominent fan groups, including the famous 501st Legion of costumed fans who dress like Imperial stormtroopers.
Also expected are the Rebel Legion, the Mandalorian Mercs, droid builders and Jedi saber fighting groups that perform choreographed light saber routines.
UPDATE 2!
The official Star Wars site revealed the full list of artists coming to the event, plus a closer look at the show's art.
For the full story go to StarWars.com