Star Wars: The Force Awakens Running Time Confirmed. More on Finn and Rey.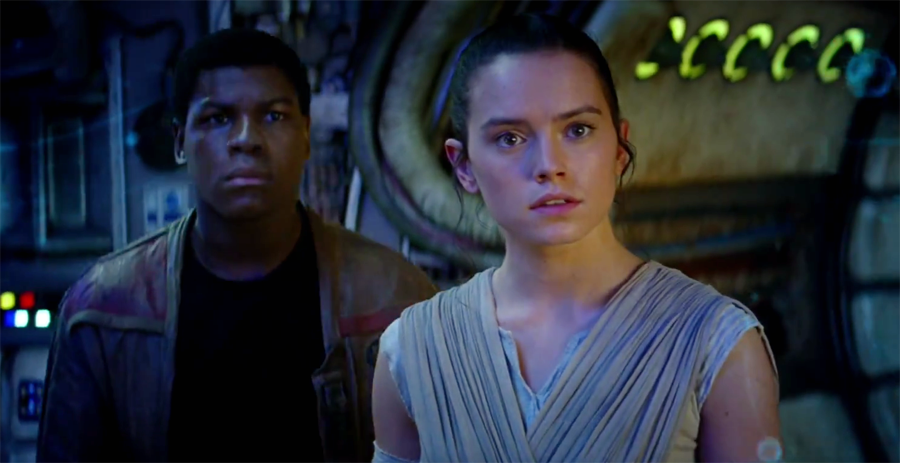 The last excerpt from Entertainment Weekly's special Star Wars: The Force Awakens double issue (available now for purchase) focuses on Rey and Finn and their impact on the new movie. The new EW issue also finally confirms the running time of the movie to be 2 hours and 15 minutes.
First of all /Film noticed that the cover story in the latest issue of Entertainment Weekly reveals that the final edit of The Force Awakens is  complete and has a running time of 2 hours and 15 minutes:
Picture was locked on November 3rd 2015 at midnight, but JJ Abrams and crew will be spending the next few weeks finalizing the film's visual effects, sound effects and a final scoring session with composer John Williams.
Our staff member Trevor confirmed that the running time printed on the voucher he got after he picked up his tickets today also said 2:16. That running time was mentioned before, but now we have an official confirmation.
Now to the latest Entertainment Weekly piece focused on Finn and Rey:
"Writing this script with Larry Kasdan, I didn't know what Rey was going to look like, I didn't know what Finn or Poe would look like. I just knew that this movie needed to look the way the world looks," director and co-writer J.J. Abrams tells EW.

So, Finn and Rey may not look alike, but their commonalities far outweigh their differences. Both are essentially war orphans. He was a child soldier, bred to wear the white armor of a stormtrooper and fight and die, if necessary, on behalf of The First Order. She was abandoned at age 5 on the desert world of Jakku, and has been waiting ever since to be reclaimed.

"There was no one really guiding her. She's never sat around a table and had a meal with someone else," Ridley says. "She has a boss, she has someone to answer to, she has to trade the junk for food, and that's how it has to be. She works to feed herself, and she goes to sleep, and she gets up again. It is a sad life."
When she meets Finn, a fellow discarded person, they activate something in each other. She has been told she's nothing, and he has been told he's only good for one thing. "It's about looking for a greater purpose, rather than thinking 'this is the only thing I can do,'" Boyega says. "He wants to change. He wants to make a difference. He's trying to find some kind of moral dignity in this war."

From climbing ropes through fallen Star Destroyers and battering henchmen with her staff, to flying the Millennium Falcon, both on her own and alongside Han Solo, Rey is living out the dream of every fanboy or fangirl.

She even got some sage starship-flying advice from Harrison Ford. "I was doing randomly switch-flipping," Ridley said. "But I was probably flipping switches a bit too much, and Harrison kind of put his hand out and said, no, everything had to have a purpose. Like, you flip a switch and then you see what it does, before you do anything else. I was probably flipping switches too quickly!"
The adventure also had its awkward moments. "Um, probably when I sat in his pilot seat," Ridley says. "There's a shot where I pilot the Falcon by myself. And then [on another day] Harrison and I went to film together. I went to get into the pilot seat and he was like, 'That's mine,' and I was genuinely mortified. And J.J. was sitting there like, 'Oh my God, oh my God.' And, you know, I moved into the co-pilot seat."

For Boyega, he got to live out the childhood dream of swinging a lightsaber in a battle against the Dark Side of the Force.

"It started in rehearsals. We had [Kylo Ren actor] Adam Driver. That was the first time ever I had a stick in my hand that I could pretend was a lightsaber, which was the first stage of excitement," he says. "I had to do all the sound effects and stuff by myself."
In front of the cameras, he was given a much more elaborate prop. "That's when I got the real saber, which is blue, it's lighted, and just looks really epic," Boyega says. "It felt monumental in my hand. I knew not to play like I used to when I was a kid, but to actually use it in serious combat for a scene. It's absolutely crazy to have in your hand. It's a bit heavy but it's worth it. "
Special thanks to Anthony Breznican and EW.com for the great series of articles. We've learned many new details about the characters, without giving too much away of the movie's plot. We will find out more on the plot in just 34 days. We're almost there….