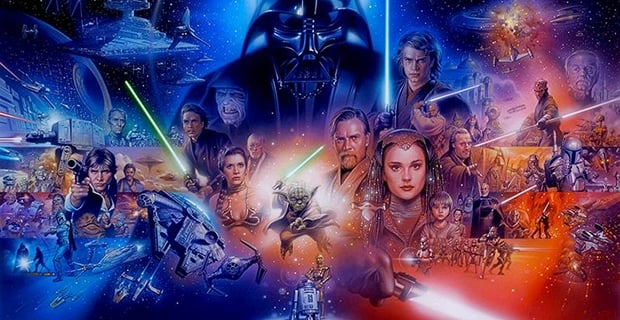 Today we have hints of upcoming theatrical screenings of the Original and Prequel trilogies in the near future.
Briefly this afternoon, AMC Theaters tweeted a link with a tease that we might soon be able to see all six previous Star Wars Theatrical Films in theaters before The Force Awakens is released on December 18th. AMC quickly removed the tweet as it seems they may have jumped the gun a bit, but our friend (and Cantina member) over at Star Wars Junk was able to snag a screen capture before it was pulled down.
The link that was included in the tweet redirected to an error page, but it wasn't just any error page. It was a Star Wars specific error page featuring the words "this is not the page you are looking for…" and an image of Old Ben himself.
Although, it could all be a big mistake, the Star Wars themed error page makes it seem more likely that someone over at AMC let this go a bit too early and we can likely expect an official announcement of the screenings in the near future.
And here's a brief update from StarWarsJunk:
Update on Star Wars Saga at AMC. The tweet was removed cause there still some legal issues to finalize.

— A Princess Alone (@StarWarsJunk) September 16, 2015
Also if/when AMC does show the saga the will be the blu-Ray editions of the films. — A Princess Alone (@StarWarsJunk) September 16, 2015
UPDATE!  
AMC's Director of Communications Ryan Noonan, took to Twitter to debunk the story:  
@Ethan_Anderton AMC didn't tweet it out. Bad photoshop job. The Obi Wan 404 has been around for like 3 years. http://t.co/34u9wBh6uv

— Ryan Noonan (@ryanjnoonan) September 16, 2015
Click HERE to check out and comment on this topic in our forum The Cantina