Episode VII Cast Party Honoring Carrie Fisher's Birthday.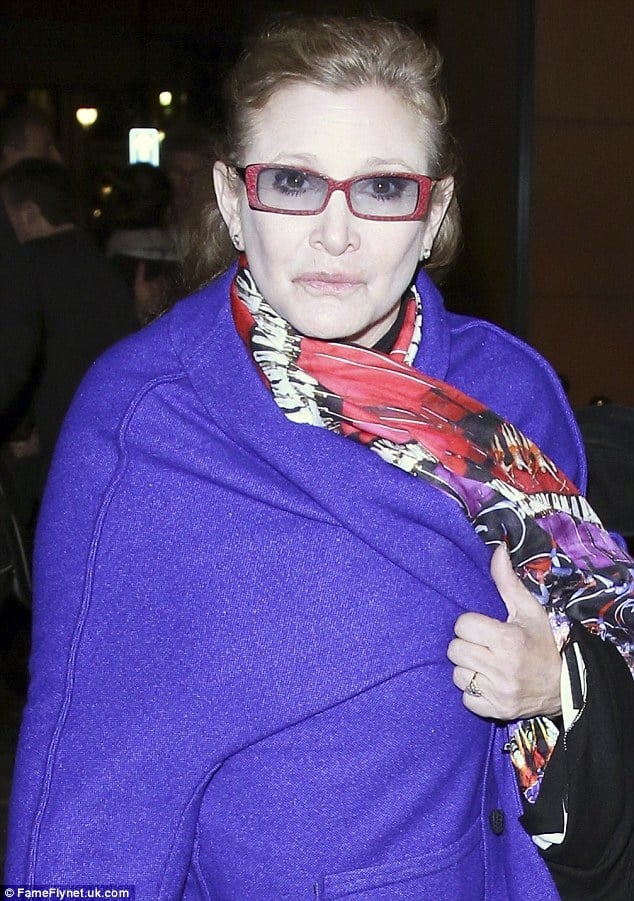 With recent news of Star Wars: Episode VII soon to wrap we've learned that there was a special cast party celebrating Carrie Fisher's fifty-eight birthday! Read more after the hyperspace jump.
Last week, during the opening of a new Industrial Light and Magic studio in London, Lucasfilm President Kathleen Kennedy revealed that the highly watched Episode VII production was soon to wrap in a short three weeks time. With that in mind, and with various reports of key actors wrapping their parts, we learn via entertainmentwise.com that many of the cast were in London Monday giving Carrie Fisher a birthday bash.
Among those photographed leaving Zuma in London were Harrison Ford. Note that Ford has his hair parted in the middle as he does for "Han Solo," aside from his traditional side part, which is only interesting as he was supposed to have wrapped his role already as Viral Hide reported via The Daily Mail. Perhaps he stayed on for the party OR perhaps he hasn't wrapped at all? It seems that since he was the one who had to miss the time filming that he would be the last of the major actors to wrap his part. Just speculation though.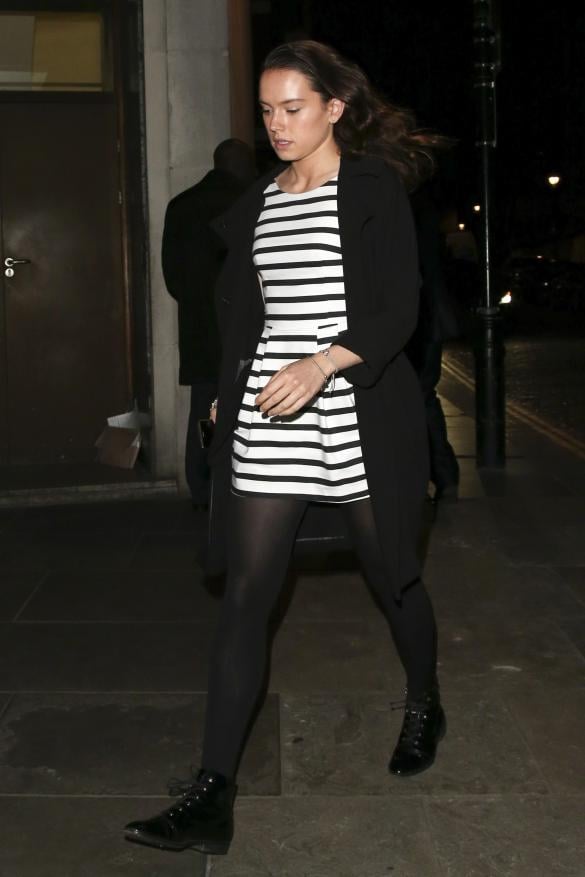 Those photographed included JJ Abrams, as well as Daisy Ridley and John Boyega. Adrien Brody, he of King Kong and Son of Sam fame, was also seen exiting the party, although he was never mentioned in association with the Episode VII production. Before anyone runs around scouring the net for info on who he's playing, the Entertainmentwise suggests that it is "Harry Houdini" since Adrien has been working with JJ's dad, Gerald, on the TV mini-series.
Speaking about Daisy Ridley, Deadline just reported that she has signed with CAA and the plan is "for her character to carry through the second and third films that will be directed by Looper helmer Rian Johnson".
Remember that she first signed with UTA two months ago.
Agency signing pursuits are often helped if they rep the director and have cause to be around, and Abrams is a CAA client. Ridley also dropped her UK rep Jonathan Arun, but continues to be repped by attorney Shelby Weiser of Sloane, Offer, Weber & Dern.
Also Disney's Chief Alan Horn was among the guests.
Those NOT photographed leaving the party include Mark Hamill, Oscar Isaac, and Gwendoline Christie. This suggests that those NOT in London still filming have already departed on to other projects or just home for rest.